Whether you're in Sunriver, Bend or Redmond, Central Oregon offers ample opportunity for ice skating. Dust off your skates (or rent a pair if you don't have your own) and get to these ice skating rinks before the snow melts.
Downtown Redmond's Outdoor Ice Skating Rink
The ice skating rink in Redmond is located downtown on 7th Street between Deschutes and Evergreen. It's one of the only ice skating rinks that is completely outdoors, and the rink is open most afternoons and nights for skating. It's also one of the cheapest places to skate in Central Oregon, especially if you have your own skates.
When: Open every day
Price: $1.25 if you have your own skates, $5 if you rent skates, $15 family price
---
The Pavilion
The newest ice-skating rink in Central Oregon, the Pavilion opened two years ago to large crowds with no signs of slowing down today. Through Bend Parks & Recreation, you can join pick-up hockey games, join a curling league, or ice skate at one of the open sessions. The Pavilion is mostly open air, so you'll want to be extra bundled on colder days. When you're ready to warm up, there's a café on the site where you can find hot chocolate and other warm drinks.
When: Open every day, but times and sessions vary. Check online for an updated schedule.
Price: $7-$12. Free for children under 3 with purchase of an adult pass. If you know you'll be skating often, you can purchase a season pass or a 10-visit pass.
---
Seventh Mountain Resort
Located on Century Drive on the way up to Mt. Bachelor, the ice skating rink is completely outside and open air. The rink is part of Seventh Mountain Resort, but open to the public. With the all-day rate, you can come and go as you please. One of the best times to skate is at night, when there is a laser light display while you skate under the stars.
When: Open every day
Price: $7 all-day admission, $5 skate rental. Free admission for children under five with purchase of an adult ticket.
---
Sunriver Village
Part of the growing village in Sunriver, the ice skating rink was recently updated with an expanded and remodeled warming area. The rink is located in the middle of the village allowing skaters to enjoy the village ambiance as they lap the ice sheet. When you're done skating, there are lots of places in the village to grab or a treat or a warm drink, including the adjacent Sunriver Brewery and Goody's confection shop.
When: Open every day but sessions vary. Check online for updated skate times.
Price: $10-$14. $3 discount if you have your own skates. Free admission for children under 4 with purchase of an adult ticket.
---
Reynolds Pond, Mayfield Pond, and Beyond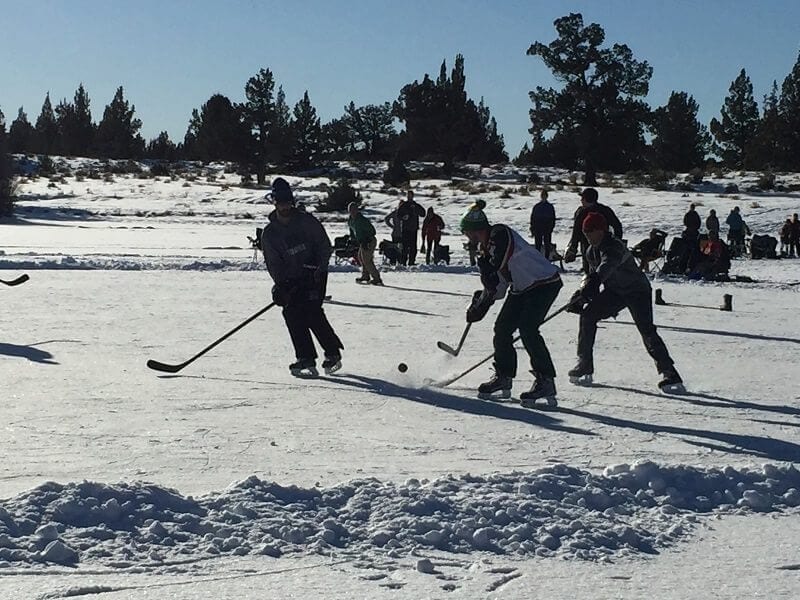 You don't need anything more than a spell of cold weather and some ingenuity to make your own ice rink. Central Oregonians have been skating on frozen lakes and ponds since long before the Bend Pavilion opened in 2016. While the freezing and thawing cycle can make for unpredictable conditions, there are a few reliable locations for DIY skating when the weather is right. Reynold Pond in Alfalfa is good bet, as is Mayfield Pond just east of Bend. Closer to home, there are areas around the Seventh Mountain Resort where conditions can allow for skating on the natural sloughs adjacent to the Deschutes River.
When: After a good week of consistently below freezing temperatures.*
Price: Free for those willing to make the trek and put in the time to clear the ice.
---
*Note: Venturing out on ice can be dangerous and should not be done alone. Adults familiar with ice conditions should be present with children. If you are unsure, avoid it.