Keep the outdoors cozy until late in the evening this summer.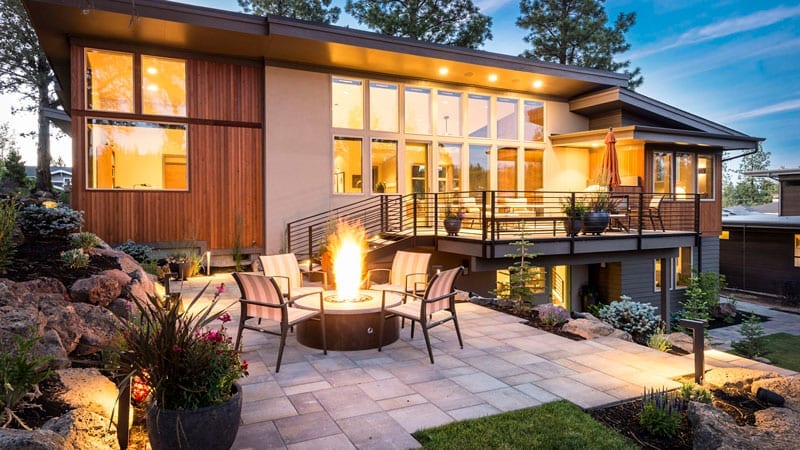 Summer in Central Oregon is our time to bask, play and even dine in the sun. But when the sun starts to set, the high desert air gets chilly and the sky gets dark fast. We asked Bend resident Patrick Howard, master host for outdoor entertaining, for a few tips to illuminate and warm up your outdoor areas to extend your summer days well into the night.
Make it Hot
At home in  his backyard, Howard has a built-in gas fire pit, which delivers not only warmth but also ambiance for guests, who gather around the fire while sipping wine at the NorthWest Crossing residence.
Fire pits come in various shapes, sizes, and fuel sources, from gas-powered to wood-burning. Growing in popularity are table fire pits, which ensure your guests stay warm at dinner time, as the flames are centered in the middle of a patio table. Other popular alternatives to a fire pit are outdoor fireplaces and outdoor heating towers.
Many families prefer the outdoor fireplaces, as they're self-contained units which are generally safer for young children, but because they are a built-in part of an outdoor patio they tend to be pricier than a fire pit or a heating tower. Others prefer heating towers, as they're portable and can be moved from deck to patio with relative ease, many brands come with base wheels, making it more portable.  These outdoor heaters are either gas or electric powered, and most newer models have an automatic anti-tilt shut-off for safety reasons.
Heating towers generate a good amount of radiant heat to a specific area, from a 6-foot to 20-foot radius depending on the model you buy. Similarly, radiant heaters can be mounted onto outdoor patio ceilings or walls.
Before you make a decision, check your city or neighborhood's regulations. Some cities, like Bend, do not allow outdoor wood-fueled fire pits.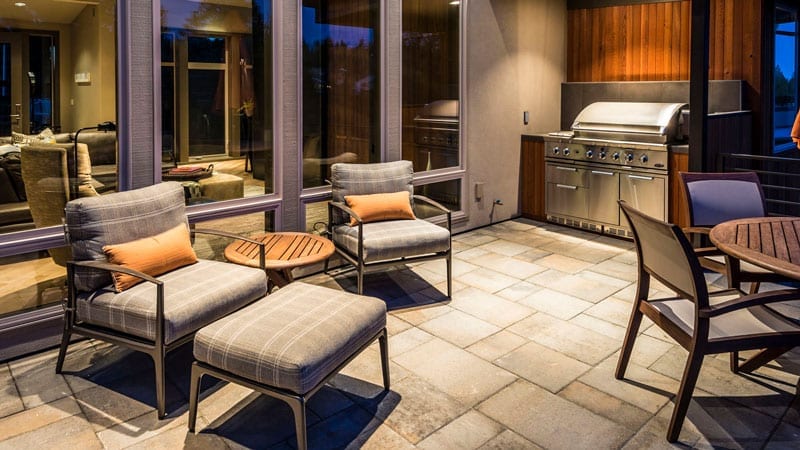 Outside Lighting
We're fortunate here at the 44th parallel, because the summer sun stays high in the sky late into the evening. But when the sun does set, you want your guests to be safe as they wander your backyard area, especially if you have stairs.
Howard has a three-tiered outdoor entertaining area, and as a retired engineer he planned low profile lighting on all the walkways and stairs. The lighting blends in with the landscape, so during the day, the units are barely noticeable, but at night they illuminate areas where guests may gather.
"I worked with my landscaper on illuminating the backyard area," explains Howard. Lighting needs vary, and direct lighting to provide illumination on a pathway was varied with more decorative lights to cast a glow on a landscaped feature. "We even illuminated the tree area, so you can see it at night." Decorative lights are generally not as bright, as those used for illumination, so keep this in mind when selecting your outdoor lighting.
Most recent outdoor lighting fixtures use LED lights, which not only illuminate brighter, but also are more energy and cost efficient. Solar outdoor lighting has improved over the years, but generally is not as strong or reliable enough to provide adequate illumination for walkways.
String lights in a patio area are used primarily for decorative use, and can set the mood for a sparkling night.
Don't Forget the Music
As an engineer, Howard believes every party needs a good sound system. He placed 30 speakers throughout his home, with another 15 speakers outside on all three tiers of his yard. He can control and stream his music from his Iphone or his Ipad, and have different music playing inside than outside. Howard is happy to deliver advice on music selection too. "Make sure your music playlist matches your guests' taste," says Howard. "My party playlist usually includes older and newer songs, to please my friends and their teenage children."
For an amazing outdoor space this summer, don't forget about keeping your guests warm and safe when the sun goes down.  This is our time, when the snow is but just a distant memory.