Unconventional collaboration defines the work of artists and twins Lisa and Lori Lubbesmeyer.
To spend an hour with Lisa and Lori Lubbesmeyer is to glimpse into the world of identical twins. It is a window into challenges of being separate within the undeniable pull of inseparableness. Four paintings that hang in their Old Mill District studio tell their remarkable story: two acrylic paintings that reaffirmed their collaboration and two darker expressions of today's political and social climate.
Known nationally for their serene and colorful fiber art "paintings," the Lubbesmeyers were once so professionally competitive that they didn't speak. But on their thirtieth birthday, they agreed that they needed to be together and that art was the path.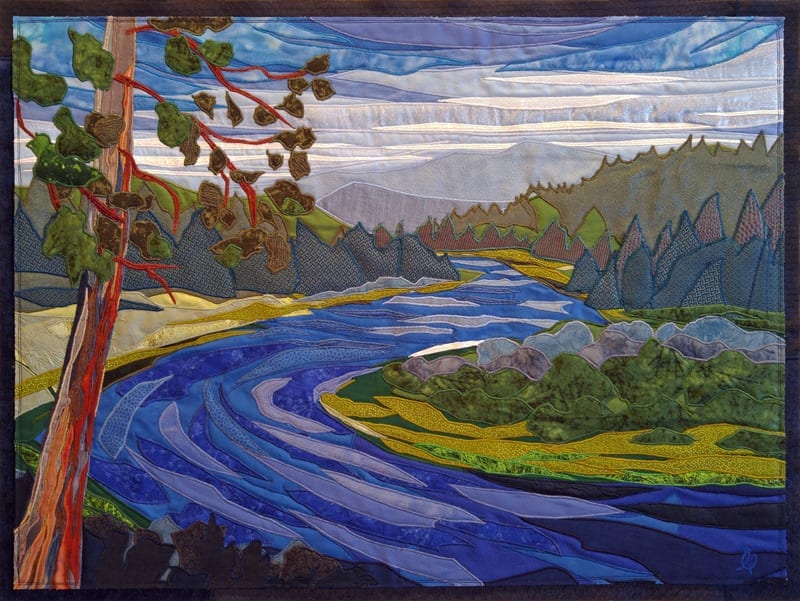 The creative partnership was not necessarily intuitive; Lori was a painter and Lisa a printmaker. Compromise was in order. They decided to give up their own disciplines and agreed on fiber as their new medium. The sisters learned to sew, and over the years found their way to an unconventional collaboration. Their process involves taking turns working on the same piece without discussing it, without looking over the other's shoulder, and without critiquing or redoing the work. Each piece takes about a month to complete and contains a dozen to as many as thirty layers of fabric.
Dave Webster and his wife, Liz Fancher, have spent many hours with the sisters and collected several pieces. "They have the twin vibe, a shared consciousness that brings the rest of us into their world," Webster said. "A lot of their pieces take me to a place, and I'm really there, even though it may not be a real place."
In 2011, Lori was diagnosed with a disease that damages the nervous system, compromising her ability to work in fiber and altering the collaboration with her sister. Lisa worried about creating without her and wondered whether they should try another medium or just work alone. "I was acutely aware that we may have limited time," Lisa said.
Lori suggested they consider painting and asked Lisa to try an experiment. They set up two easels, back to back, and painted for an hour without looking at the other's work. No rules, just paint whatever came to mind. The moment they turned around and saw the other's canvas—almost identical pictures—it was an ah-ha moment that affirmed their creative connection. "It was thrilling and made us both cry," Lisa recalled. Not long after that, the sisters added painting to their professional repertoire, employing the same collaborative, back-and-forth technique that worked so well in fiber. As with fiber, each piece takes about a month to complete, with the pair finishing about seventeen projects each year.
Today, the Lubbesmeyer studio showcases fiber art and acrylic paintings that portray their sought after whimsical, layered renditions of nature and hardscapes. Their work is often acquired before it's finished and has been collected around the globe.
Now 48 years old, the sisters continue their collaboration in fiber and acrylic and hope to begin printmaking together. "We've realized there's a lot of meaning in showing up, slowing down, paying attention to the natural environment," said Lisa. And after nearly two decades of shared creations, they say they're on the same track—it just happens to lead in more directions.