Matt Hand started his career in 1994 at BendBroadband, where he built COTV BendBroadband Channel 11. Ten years later, he established his own company, Hand in Hand Productions—the name stemming from his own surname as well as his skills at working hand in hand to help clients and organizations with their video production needs. Today, his company creates story videos, produces content, live-streams meetings and handles all things audio-visual. Here, Hand answers questions about the power of video, compelling storytelling and our pivoting tech-life during COVID-19.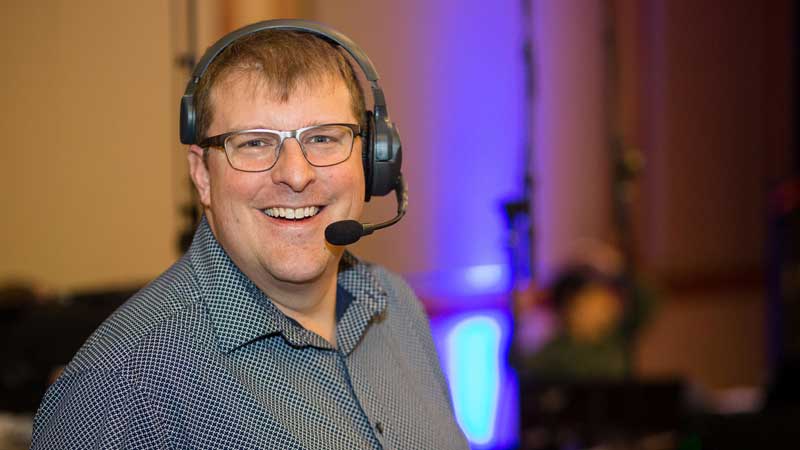 Your Facebook page refers to you as a "card-carrying AV geek." Tell us about your love of all things AV and how it came to be.
My third-grade teacher was the person I can credit with beginning this journey. We made a class film. Yes, it was film as it was shot on super 8 film. This process created a passion for visual storytelling and the way that audiovisual can combine to become a better way to tell stories. All through junior and high school I always knew that I loved working on videos and as time progressed, I just got more and more into it. 
You're a Bend native, right? What's it been like to be in this town for so many years, and grow a business here?
While I am not a true native, I moved here when I was 3 and have lived here ever since. It has been truly interesting watching this town grow into a city. Advances in technology have allowed me to stay here in Bend and give back to the community I grew up in.
You've worked on some big deal events around town over the years, including TEDxBend, Bend Venture Conference, Bend Design, EDCO's Pub Talk and EDCO's Annual Lunch, to name a few. How do you handle the pressure?
Interesting question, really. I build great teams around me. I have been incredibly fortunate to find some very talented people in the community. I allow them to help me sort things out. My brain seems to be wired to continually strive for improvement which allows me to see my way out of some complex situations.
COVID-19 made AV capability suddenly crucial to a lot more people. Tell us what changed for you and your business during this time and how you responded. 
I had been specializing a lot on story videos and on-location production. When the lockdowns started, I suddenly became unemployed. I had been working on a podcast with Broken Top Candle Company's CEO and Founder Affton Coffelt. We decided to just start doing programming for businesses. In the process of building the shows she and I were working on, the doors opened up to more and more clients that needed high-production for virtual events. Affton pivoted her business and fortunately got busy—she occasionally still joins me. My biggest focus now is directing virtual events that engage people from around the nation and, for a couple of projects, from around the world. It is so enjoyable to be able to help provide better production in this time of chaos.
What do you love most about your work? What is your biggest challenge?
I love the stories that I get to tell and share through the interviews, events and videos I help create, manage and produce. The biggest challenge is the daily grind of constant improvement in technology and being able to offer our clients these improvements.
Got any good AV disaster stories? 
No comment! Seriously, I have been pretty fortunate over the years. The projects I have learned the most from were those in which I pushed to do something bigger and ran out of time to make it as big as I wanted. However, failure is an event, not a person, as Zig Ziglar once said. We pick up the pieces and move on with a greater amount of knowledge.
Anything else you'd like us to know?

   
I launched the local interview podcast, "Show Up Central Oregon," right at the start of the COVID-19 quarantine. I have been incredibly moved by all of the stories of compassion that have revealed themselves. It is such a privilege to be doing regular interviews with community and thought leaders including State Representative Cheri Helt, Business Oregon's Tom Schnell, Mayor of Bend Sally Russell and Affton Coffelt from Broken Top Candle Company. I truly feel blessed to live in this community. You can find more information about Show Up Central Oregon at facebook.com/showupcentraloregon.