Ski days aren't just incredibly fun, they're also taxing. A lot of physical work goes into a good day on the mountain—around 400 calories are burned in one hour of downhill skiing. Carbs and proteins are required to make the most out of every run. With Bend just a short drive from the mountain, and plenty of fantastic food (aka mountain fuel) options at Mt. Bachelor, a little planning will ensure you stay fueled for the deepest of powder days from start to finish. Then, add libations to cap off the day and, well, that's just carrying out the apres-ski European tradition.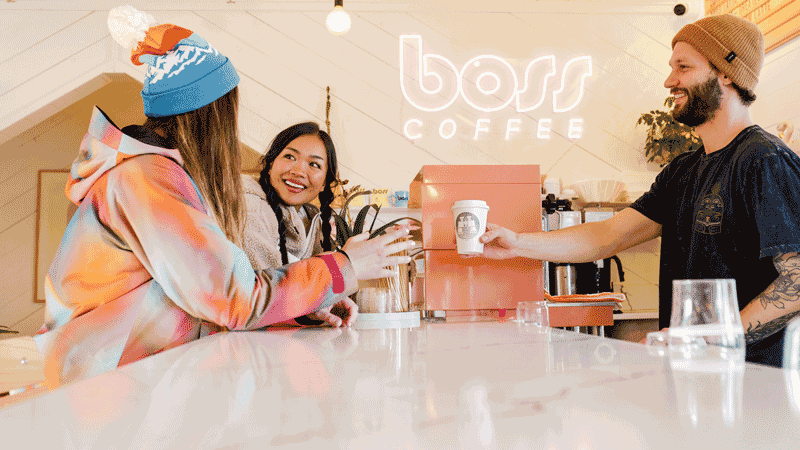 8 a.m. Getting Started
Bend Breakfast Burrito at Boss Rambler Coffee
Powder panic—the anxiety of getting to the mountain after fresh snowfall for an untouched line of snow—is real. Don't make the mistake of skipping the most important meal of the day. Bend Breakfast Burrito gives mountain-goers every opportunity to get a filling breakfast without slowing the momentum of getting a spot at their Mt. Bachelor lot of choice. 
Bend Breakfast Burrito began serving up burritos in 2021 from a prep kitchen and a homemade food cart now located within Boss Rambler Beer Club off Galveston Avenue. If there's snow in the forecast, plan ahead by pre-ordering their Ski Package by 7 p.m. online the night before and picking it up starting at 7 a.m. The package includes two breakfast burritos and two sides. Choose from vegan, chorizo, or the original bacon burrito. Sides include banana bread muffins, churro Chex mix, or more protein-filled "slope snacks" including trail mix breakfast cookies and homemade granola bars. "A lot of people like to snack on the sides on the chair lift between runs," said Valerie Hilton, owner. Recently rebranded as Boss Coffee, Bendites enjoy the coffee previously known as Megaphone Coffee that was located at Boss Rambler. For a drive up the hill, grab a drip coffee, a whipped coffee meringue or a staple, the G.O.A.T.—their greatest coffee of all time. Don't forget to pick up a six-pack of Stokes Light Lager or Ski Day IPA for tailgating in the lot later in the day. See bendbreakfastburrito.com and bossrambler.com.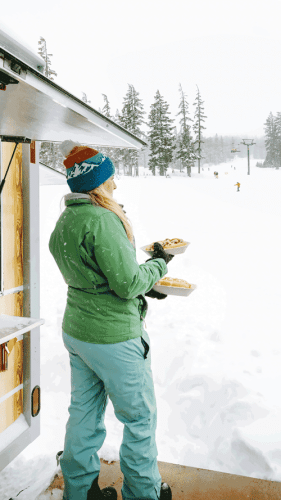 1 p.m.
 

On the Hill

 
Mt. Bachelor's Egan's Outpost
When it's time to refuel and rehydrate to make the most of afternoon laps, a brown-bag lunch doesn't always cut it. At the West Village Lodge, find a hearty meal at Cocoa's Cafe, snacks at the Subie Shack, or take in a plate of nachos at Clearing Rock Bar. Mid-mountain, enjoy Mediterranean and Italian fare with sit-down service and a view at Scapolo's Bistro within Pine Marten Lodge. While at the Sunrise base, fill up on a burger at Sunrise Grill, or stop at Egan's Outpost mobile kitchen for lunch to go. "Egan's offers soak-up-the-alcohol style food with carb-loading friendly food," said Brianna Batson, director of food and beverage at Mt. Bachelor. "We wrap meals up so people can shove them in their pocket and get back to the lift," she said. Cranberry boar bratwurst are served hot off the grill with sides of chili or hot and oozy mac and cheese. Satisfy a craving for calories with a cheese steak sandwich. Regardless of what base you land at for lunch, a high-protein and high-carbohydrate meal will provide food energy needed to take those last laps. See mtbachelor.com.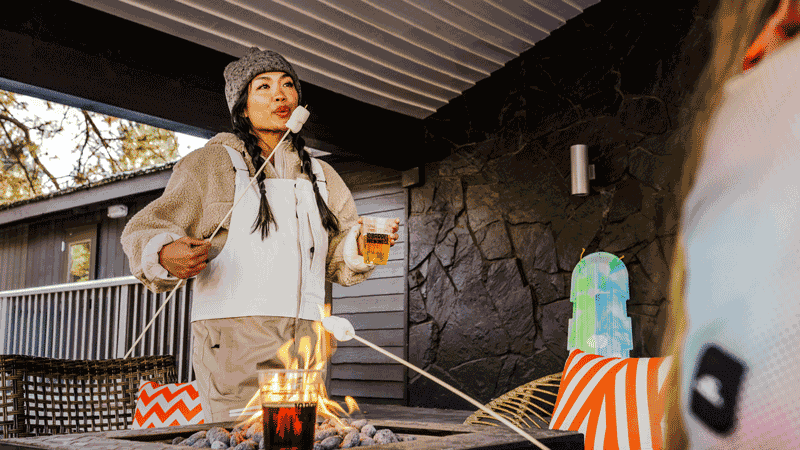 4 p.m. Apres Ski
LOGE
Skiing may be over for the day but keep the fun going. Conveniently located off Cascade Lakes Highway on the way back into town, the '70s ranch-style architecture of LOGE, modernized with an alpine mid-century modern style, provides a space to unwind after an adrenaline-filled ski day. Cozy up at their hot wax happy hour from 3 p.m. to 6 p.m. every day where your gear is prepared for the next adventure on the mountain, all while you relax, listen to tunes and grab a local draft beer to drink while you wait. A record player is available for people to pick vinyl of their choice, said Tom Wells, LOGE's general manager. The records are a collection Wells built by visiting local stashes around town and includes classics such as The Who's Kids are Alright and Steve Miller Band's Fly Like an Eagle. Play a board game or head out to the fire pit to roast marshmallows. Watch for LOGE's Puffy Jacket Concert series held one evening each month, Live Outside movies featuring Northwest filmmakers at 7 p.m. each Friday, and featured photography classes throughout the winter. See logecamps.com/bend-or.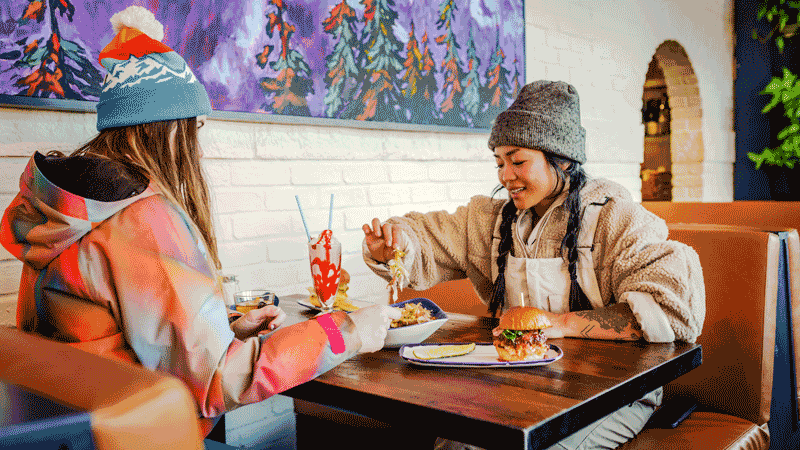 6 p.m. A Strong Finish
Mountain Burger
Enjoying a hearty meal with friends is second only to taking your ski boots off for the day. After building up an appetite, Mountain Burger, located in NorthWest Crossing and run by the team behind Drake and Washington Kitchen + Cocktails, offers the hungry a modern spin on the iconic American burger joint and a meal to look forward to. Classic orders have been thoughtfully crafted; the burgers are ground three times in-house with chuck and brisket and each milkshake is made to order. Executive chef Brian Walczyk puts a flair on classic dishes such as the Okonoko mountain fries, a Japanese pancake-inspired dish with sesame miso aioli, furikake, pickled ginger, bonito and scallion. 
Serving a diverse range of diets, expect the same dining experience whether digging into the most popular double mountain cheeseburger or into the vegan in-house Manzanita burger. Sit by the firepits with a handcrafted cocktail, before heading inside for a Cliffhanger Caesar, one of many items named after iconic Mt. Bachelor runs, and Swampy Lakes mountain fries, this one topped with Mountainwich chili, dill pickles and burger sauce. Finish up with a boozy milkshake like Summit, a delicious strawberry and white chocolate reward after Summit laps all day, or the Big Butte cookie. Mountain Burger's sustainability mission is to have net zero carbon emissions by 2025. One particular perk of the sustainability model is the local ingredients used throughout the menu, such as Big Ed's potato buns, North 44 Farm meats and Bontà Gelato. So, after a day of activities Mother Nature provided, feel good about where you're eating. An epic mountain day is officially complete! See mountainburgerbend.com.
---
Click here to read more about our local food and restaurant scene.