---
The mudroom may be the hardest-working room in the house.
---
Kids and jackets, hiking boots, muddy dogs, soggy mittens, soccer shoes, guest coats and wet gear—living and playing here in Central Oregon can be a dirty business and a storage challenge. The mudroom may be the hardest-working room in the house.
A mudroom was a must-have when Portlander Tiffany Talbott and her husband gave architect Scott Gilbride the wish list for their new home. "To a lot of folks, the mudroom is a pretty important space," said Gilbride. "It solves a lot of storage needs, and it becomes all-purpose. Some people include a laundry center or a pet area while others make it a hobby room or add a space for wrapping presents."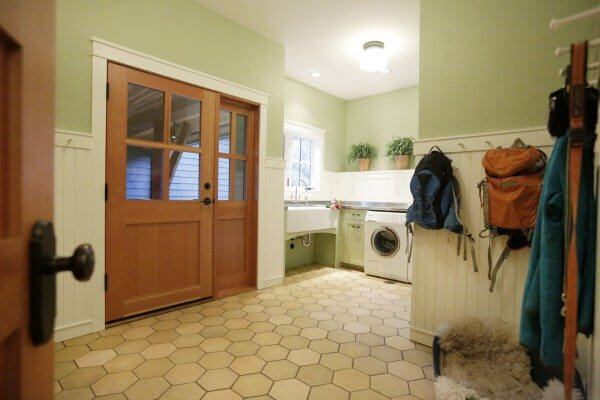 Storage and multi-purpose were two concerns for the Talbott family, who built their Bend home with an eye on eventually moving here permanently. In the meantime, though, they spend summers and vacations in Bend and needed to have an area in which they could shed coats, feed the dog, and dry swimsuits or ski boots—depending on the season.
"I had three notebooks of ideas," recalled Talbott. "I wanted it to be very practical."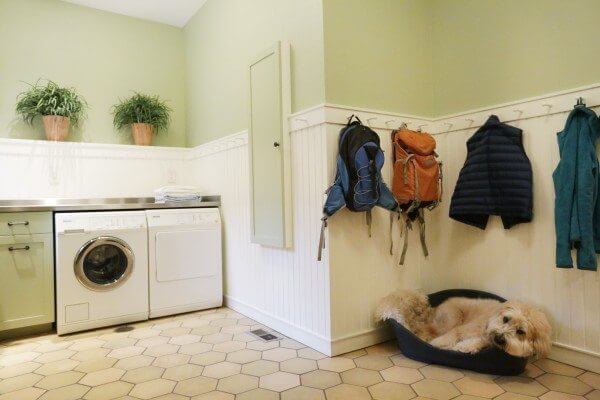 Among the included ideas were a drain in the floor, a dog area by the sink, a drainage area for skis and boots and copious amounts of storage. "We have a whole wall of cubbies," said Talbott. "They look like shelves but Scott designed them to slide out so they're really more like trays. We use them for shoes, hats, gloves and even our chargers. It's very easy to keep everything tidy."
Also included were pegs for hanging coats and jackets, and a washer and dryer in which to launder athletic clothing before dirt could be brought farther into the house.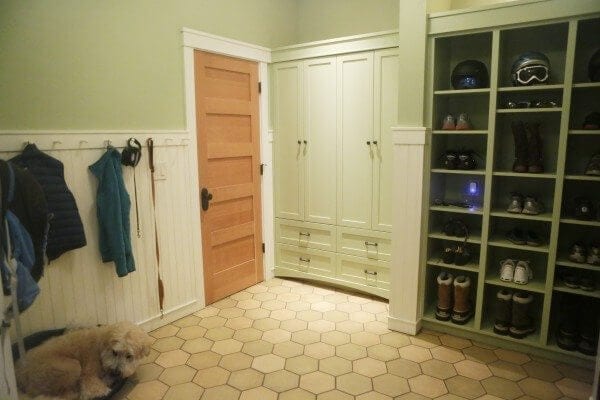 "I also wanted it be well-designed and pretty," said Talbott, "the green and white is very calming."
"Central Oregon has a very active community," added Gilbride "You need storage for all your sporting equipment and a place to take off your boots. We use these spaces a lot; why not make them enjoyable?"
---
"It had to have a window with a view of the backyard," said Manuela Bond of the mudroom in her Westside Bend home. "I like being able to see the kids play, and the room really had to be nice and bright. It is a well-used room," she added. That's a bit of an understatement.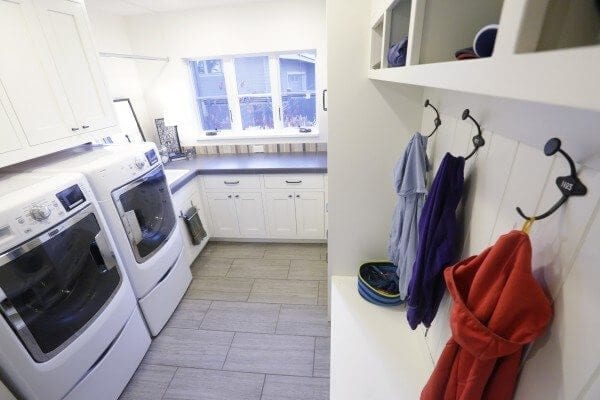 For Bond and her husband, builder Greg Welch, the mudroom served several duties: a buffer space between the house and garage, a laundry room, a store room for smaller sporting gear, and all the coats, hats, and other winter accessories that they and their three children bring in.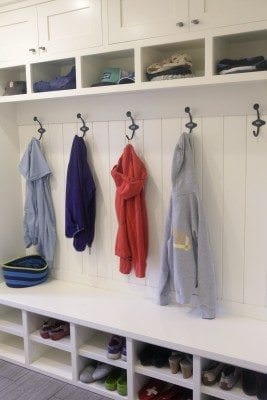 Designer Andria Garrett of Legum Design lined the room with the same bright white Shaker-style cabinetry used elsewhere in the house and covered the floor with plank porcelain tiles in the same tone as the home's wood floors. One side of the room is designed for storage; floor-to-ceiling drawers and cabinets can hold out-of-season jackets and boots. Each family member has his or her own storage area and place to sit in the adjoining built-in bench with hooks and storage above and cubbyholes below. Facing the bench and storage are additional cabinets, a laundry center and a utility sink with a drying bar. On the window wall are more cabinets and the requested view of the backyard. Counters are topped with large porcelain tiles that have minimal grout lines.
"The goal was to make as much storage as possible while keeping it looking nice as well as functional," explained Garrett. "I like things to be put away and organized," added Bond, "and I like that I can shut the door and close it off from the rest of the house. That may be the best part."