There may be a ton of snow on the ground, but there are also some great events to get you outside this weekend. Check out an art exhibit, live music or classical music, or join the Muse Conference or the Central Oregon Sportsmen's Show.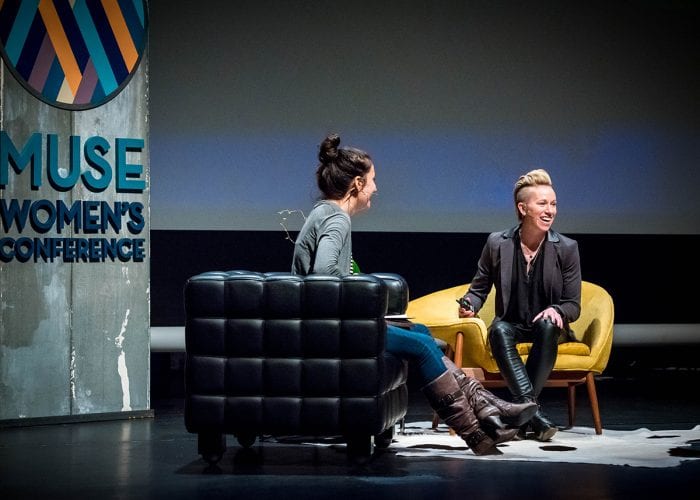 World Muse Conference
February 28-March 3 | Bend | $15-$395
Join a community of women activists, writers, artists, athletes, entrepreneurs and leaders for the seventh annual Muse Conference. There will be inspiring talks from leaders of industry, workshops, discussion panels, film screenings, art installations and more. Muse brings together women from the region and all over the country for a weekend of inspiration and connection.
Central Oregon Sportsmen's Show
February 28-March 3 | Deschutes County Fair & Expo Center, Redmond | $2.50-$18, Free 5 and under
With hundreds of vendors and expert-led workshops, the Central Oregon Sportsmen's Show draws thousands of anglers, hunters, climbers, watersports enthusiasts and more. Browse local and national vendors to find the latest gear for all your outdoor adventures. Book a dream trip with an outfitter and tour the latest RV's and campers. There will be tons of prizes and giveaways that you won't want to miss out on.
The Beauty of Wild Things: Drawings by April Coppini
Opens March 2 | High Desert Museum | General Admission Prices
A new exhibit opens at the High Desert Museum this weekend. "The Beauty of Wild Things" is a series of charcoal drawing by Portland artist April Coppini. Featuring animals native to the Pacific Northwest, "she makes images that are expressive, engaging and keenly observed in terms of their lifelike detail" according to the museum. Her work will be on display until mid June.
Music in Public Places
March 2 | Prineville, Redmond, Sisters public libraries and Wille Hall, Bend | Free
Take the opportunity to attend a free classical music concert at venues across Central Oregon. The Music in Public Places series from the Central Oregon Symphony will present four free performances at the public libraries in Prineville, Redmond and Sisters and at Wille Hall in Bend. Each performance will feature a different local quintet , quartet or duo. The first notes will be played at 2 p.m.
"Roll Red Roll"
March 4 | McMenamins Old St. Francis School Theater, Bend | $12
Named an "essential viewing" by the Hollywood Reporter, "Roll Red Roll" is a true crime documentary about a small Ohio town that becomes the center of media attention after a high school sexual assault fueled by social media and the "boys will be boys" culture. The film premiered in Oregon at the 2018 BendFilm Festival and tackles important questions today.
Live Music
Concerts are a great excuse to get out of the house this weekend. March Fourth with Maxwell Friedman group will be at the Domino Room. Volcanic has a full lineup all weekend with guests including MOsley WOtta. And Thursday night is Funk Night at The Capitol featuring Marshall House Project.