Some places and faces in the community seem to stick with the town as part of its identity. That's the case at Nancy P's Cafe & Bakery. A fixture on Bend's Westside for more than fifteen years, Nancy P's held onto its name when Katy and Tom Clabough bought the familiar breakfast, lunch and dessert haven from Nancy five years ago.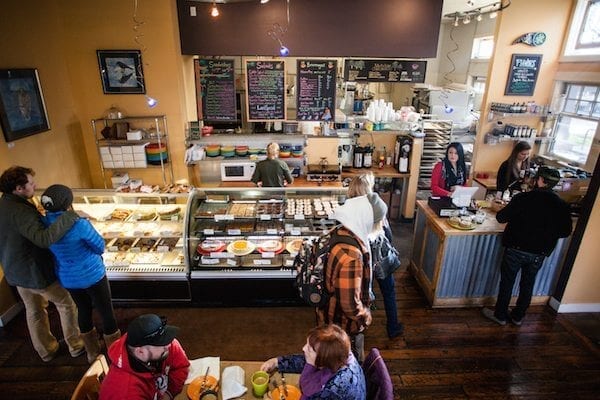 All of the bakery's planet-sized sandwiches are made with fresh, local ingredients heaped on, making them almost as tall as they are wide. Thick slices of Tillamook cheese put deli-slicers to shame and are stacked between bread slices that can't get any more local, because loaves are made fresh daily in house.
Baked goods such as New York-style black and whites, cupcakes and seasonal pastries tantalize patrons in a display case that runs almost the length of the bakery. It's hard not to buy out the entire case of calories, but if you had to pick one, try the Chocolate Puddle, a rich and dense brownie in an oversized cupcake holder with a gooey chocolate core.
A popular choice among patrons is the $8.50 lunch special, which includes two of three items: a cup of soup, a half sandwich (which is a full-sized sandwich anywhere else) and a half salad. On warm mornings, there's no better place to drink a cup of joe than the garden patio. On cold days, the Central Oregon sun fills the indoor space with warm light.
Art from Bend-area artists lines the walls, and the dining room is a comfortable spot to read the newspaper or work away at a computer. The Claboughs want their guests to feel at home when they visit, and that happens almost immediately. Perhaps it's because the building used to be a home?
Many folks who live in the neighborhood that surrounds Nancy P's have been consistent customers for years. Newcomers usually become regulars after their first visit. Its contemporary mom-and-pop charm and delectable baked treats set it apart from run-of-the-mill franchise coffee shops.