Salad truly is one of the most versatile dishes out there. With so many different ways to build a salad and so many flavors to pick from, getting started can sometimes be a daunting task. This simple guide will help you build your next favorite salad, and make sure that bland, boring salads are a thing of the past.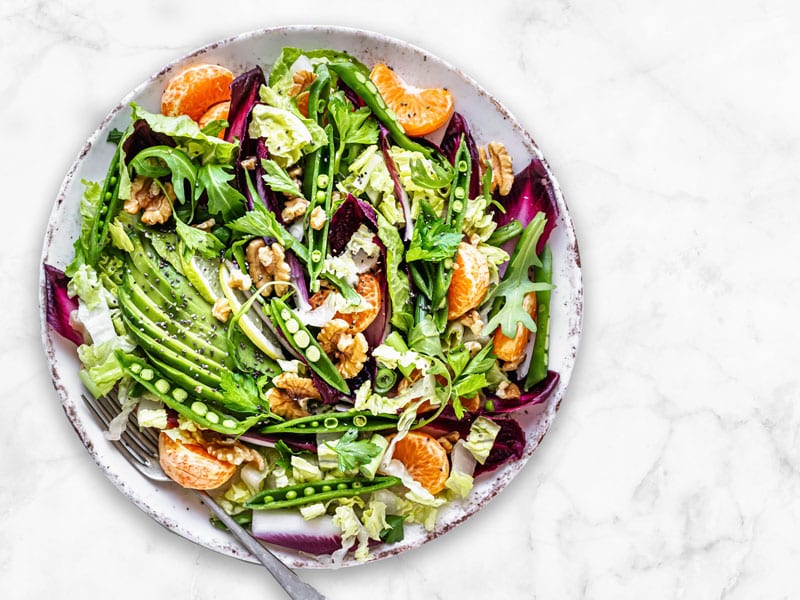 Add Veggies and Greens Galore
Try to match your raw greenery to your flavor profile. More delicate flavors go well with tender, leafy greens like butter lettuce and spinach, while more bitter greens like arugula pair well with dressings with stronger flavor profiles.
Once the raw greens are chosen, select an array of colorful in-season vegetables to add. Visit a local farmers market or join a CSA—community shared agriculture—program for a convenient way to have locally grown veggies available throughout the summer season. Slicing up fresh veggies raw is an easy salad addition, or try roasting or pickling to experiment with different tastes and textures. Don't forget herbs—small additions like chopped cilantro, basil and mint can boost the flavor of a salad.
Pick the Proteins
Protein rounds out a salad's nutritional value and keeps us feeling full longer, with options ranging from lean and tasty meats to nuts, eggs and other protein-rich toppings.
For animal-based protein, chicken, both breaded and fried or grilled, is a popular choice. Other options such as hard boiled eggs, salmon or steak can provide valuable protein, with many lean options. Outside of animal-based protein, there are even more possibilities. High-protein cheeses include parmesan and pecorino, while seeds and nuts, including hemp seeds or walnuts, also offer protein and healthy fats.
Many plant-based protein sources provide a good crunch to give the salad texture, especially when roasted. Roasting sunflower seeds or pumpkin seeds offers a protein-rich topping with an added crunch. Try experimenting with chickpeas, a protein-packed bean enjoyed raw or roasted, or quinoa, which is typically cooked like rice, but can also be roasted for a crunchy topping.

Dress it Up
Dressings typically come in two varieties: thick and creamy dairy-based dressings such as ranch and blue cheese, and lighter vinaigrettes. Both styles come in countless varieties, but even then, it's tough to beat homemade.
A simple vinaigrette can be made with just fat and acid—traditionally, olive oil and vinegar. The fun part about homemade vinaigrette is how the flavor possibilities are endless. For example, using lime juice as the acid and adding in freshly chopped cilantro into a basic vinaigrette will create a light cilantro-lime vinaigrette.
Homemade Vinaigrette
Start the base with ½ cup of olive oil and 3 tablespoons of vinegar (add more for a tangier taste).  Add a tablespoon each of Dijon mustard for flavor and maple syrup or honey for sweetness. Add two cloves of minced garlic and salt and pepper to taste. Shake it up! A tightly sealed mason jar is a great place for stirring and storing leftover dressing.
Find it Fresh – Fresh ingredients in Central Oregon
To find fresh ingredients in and around Bend, start with farmers markets, or locally sourced grocery stores like Locavore, an indoor farmers market open year-round on NE Third Street. The Bend Farmers Market runs from 2 to 6 p.m. Wednesdays in Brooks Alley downtown through mid-October, while the NorthWest Crossing Farmers Market is open 10 a.m. to 2 p.m. Saturdays from early June through September. Most Central Oregon cities, including Sisters, Madras, Redmond and Prineville, also offer a weekly farmers market.