Photo Visit Central Oregon/Steve Heinrichs
From the summit of Paulina Peak, nearly 8,000 feet above sea level, you can peer into the heart of the Newberry Caldera, home to the Big Obsidian Flow, East Lake and Paulina Lake. On a clear day, you can see iconic Cascade peaks, like Mount Bachelor and Mount Jefferson, in the distance. And if you squint, you can spy the sagebrush sea of the Fort Rock Basin to the south.
It's one of the most remarkable views in all of Central Oregon. And in a region literally shaped by its volcanic past, the rocky peak atop Newberry Volcano offers a glimpse, not just of that surrounding beauty, but at a half-million years of explosive history.
The broader Newberry National Volcanic Monument celebrates its thirtieth anniversary this fall, so there's never been a better time to get acquainted with its formation, evolution and geology—all of which continue to awe and inspire in equal measure.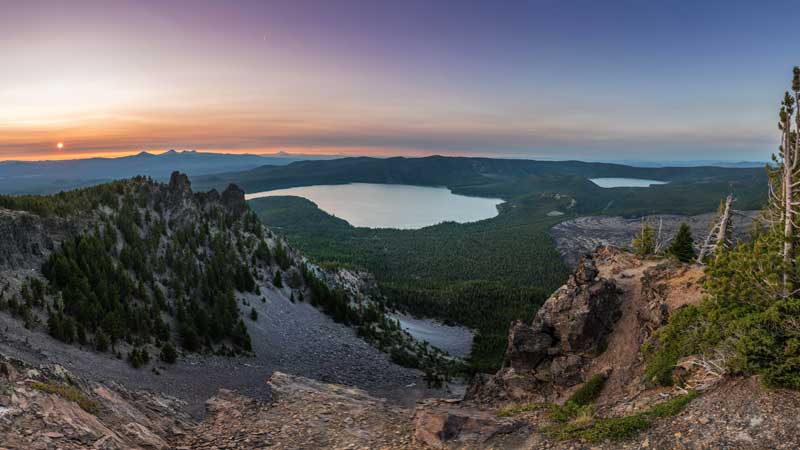 It's Bigger Than you Think
When most of us imagine Newberry Volcano, we instinctively see that rounded, shield-like shape rising above Bend to the south. (That shape is why it's officially dubbed a shield volcano.) Maybe we picture the glistening Big Obsidian Flow in our mind's eye. Or we focus on Paulina or East lakes, shimmering in the heart of the 4-by-5-mile-wide caldera at Newberry's summit.
But as impressive as these features are, each is just one small part of a vast complex that unfolds across Central Oregon like a wrinkled blanket. In all, Newberry Volcano comprises 1,200 square miles—roughly the size of Rhode Island—making it the largest volcano, by volume, in the Cascade Range. Roughly 400 cinder cone volcanoes and vents cover Newberry's pockmarked surface, and its lava flows have rerouted the Deschutes River, reached Lake Billy Chinook, and run under downtown Bend. Scott McBride, monument manager and recreation team leader for the Deschutes National Forest's Bend-Fort Rock Ranger District, said, "Newberry tends to be so large, you can't see it—because you're on it."
One good place for seeing that expanse comes from atop Lava Butte at the Lava Lands Visitor Center' a quick, 15-minute drive south of Bend. The cinder cone rises 500 feet above the visitor center, and a locator inside the working fire lookout atop Lava Butte helps identify the many peaks and natural features throughout the monument. Take a look around and see how Newberry sits at a peculiar place in the broader landscape of Central Oregon volcanoes. For another similar view, drive to the top of Paulina Peak, and peer into and around the caldera itself.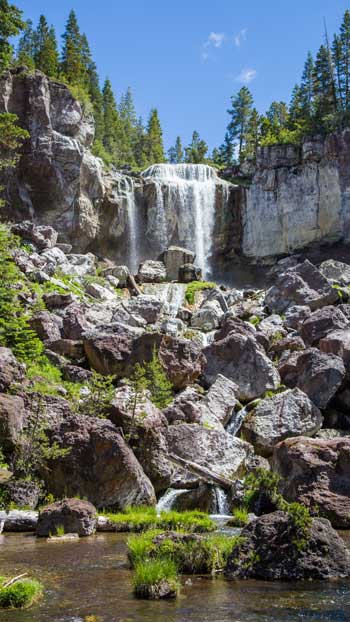 Eruptions Shape Newberry's History
Newberry is at the intersection of two volcanic features, according to Scott Burns, professor emeritus of engineering geology at Portland State University. The first, and most obvious, of the volcanic features is the Cascade Range. The second, and less well-known, is the High Lava Plains—a chain of volcanoes running east-west between Bend and Burns. At nearly 10 million years old, the oldest volcanic features along the High Lava Plains are in the Burns area—while the youngest, at less than a half-million years old, are what we know today as Newberry Volcano.
Roughly 400,000 years ago, a series of magma flows sent molten material miles in every direction and gave Newberry a rounded shape. That's about when the first of Newberry's many lava flows started oozing down its slopes, setting in motion a chain of events that, in a sense, continues even now.
Over the next 325,000 years, lava flows seeped toward Smith Rock, onto the modern-day Oregon Badlands Wilderness, as far west as Sunriver, and almost as far south as Fort Rock. And then about 75,000 years ago, a series of more violent eruptions started more or less hollowing out the onetime summit of Newberry. As lava flowed into the surrounding region, Newberry's highest walls collapsed, leaving behind the bowl-shaped caldera visible from Paulina Peak.
Even as Newberry evolved into the volcano we recognize today, it remained active. Between the end of the last Ice Age (some 12,000 years ago) and the eruption of Mount Mazama (roughly 7,700 years ago), Newberry erupted a dozen or so times. Those events deposited lava flows both inside and outside the caldera—and the most recent of Newberry's eruptions, which occurred 1,300 years ago, created the Big Obsidian Flow.
Today, a one-mile interpretive trail cuts through the pumice plain and piles of volcanic rock in the heart of the Big Obsidian Flow. The rocky path delivers wide-open views of the jagged, yet shimmering obsidian flow, along with background information on how it all happened. At Lava Lands Visitor Center, walk the paved trail through a jagged flow and see the lava close up. At the underground Lava River Cave, walk into the belly of a mile-long lava tube. At the 60-foot Paulina Falls, watch water tumble down the flanks of the volcano.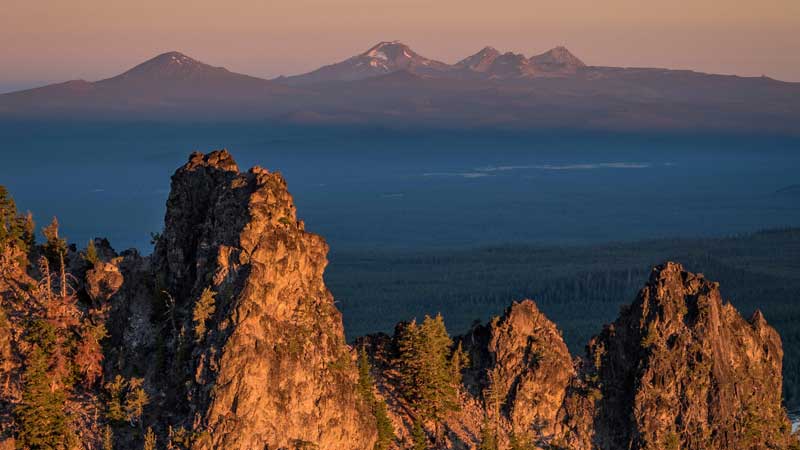 An Active Volcano Remains
Newberry remains a literal hotbed of geothermal activity; both Paulina and East lakes are home to bubbling hot springs, for instance. McBride said a push for Newberry to be recognized as a national monument or national park started as far back as the early 1900s; those calls went unheeded, and talk of possible development around that geothermal activity persisted into the 1980s. Faced with the threat of development, locals came together to advocate for protection—and Congress responded in November 1990, formally establishing the Newberry National Volcanic Monument.
Thirty years later, there are few better ways to understand the sheer size of the volcano than from on (or around) Paulina Lake and East Lake—both residing in the heart of the caldera. A seven-mile hiking trail forms a loop around the Paulina Lake shore, six campgrounds offer lakeside camping and both lakes are popular with boaters, kayakers, stand-up paddlers and anglers fishing for rainbow and brown trout.
And Paulina Peak, the highest point in the monument, stands over it all. Burns said the exhibition of natural features visible from Paulina Peak collide here like almost nowhere else on Earth. "It's beautiful," he said. "The diverse geological history, it just doesn't happen, except in Oregon and a few places around the world."