The No-Bake Cookie Co. went from a project for a family-owned deli to one the next great Bend companies.
Mmm. Cookies like grandma used to, well, not bake. Carol Healy started making old-fashioned, no-bake cookies for her family-owned Expressway Corner Market & Deli in Bend, and soon the nostalgic recipe dovetailed with one of the hottest food demands: gluten-free products. The wholesome treats, made with natural nut butters, premium certified gluten-free whole-grain oats, butter, Madagascar vanilla, cane sugar and milk also boast no preservatives, hydrogenated oils, corn syrup, wheat flour or genetically modified anything.
The cookies developed a fervent fan base among the market's customers, mostly from the Southeast neighborhood, who head there for burgers and other housemade dishes at the cafe-convenience store-gas station at the Reed Market Road and 15th Street roundabout.
In 2011, Healy and her husband, Tom Healy, created the No-Bake Cookie Co., and it took off quickly that year after she presented the sweet goods to Nordstrom. The high-end retail department store's buyer and her team had grown up eating no-bake cookies and loved them. The gluten-free certification fit Nordstrom's demographic and the timing was perfect because demand was building, yet not many products had been certified as gluten free. Stores were looking for them.
Now the cookies are in thousands of stores nationwide—from Whole Foods, Kroger stores and Fred Meyer to Alberstons, Safeway, Market of Choice and Newport Avenue Market—plus convenience stores, including Sheetz, with 550 stores. The growth prompted the Healys to recruit their son, Eric, as chief operating officer, who left his ten-year career as an aerospace mechanical engineer for Boeing and other big corporations. All twenty employees work in the 5,000-square-foot facility in Bend, except for a Los Angeles-based national sales director.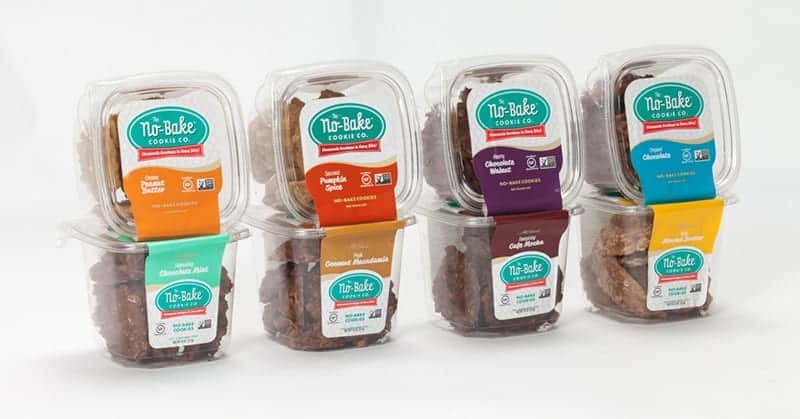 Entrepreneurship is also in the family's blood. Eric's grandfather, Bill Healy, founded the Mt. Bachelor ski area in 1957, and his uncle, Cameron Healy, founded Kettle Chips, now an international manufacturer of potato chips, tortilla chips and nut butters in Salem.
The company hit its goal on funding the recent growth with a summer funding round on CircleUp, a crowdfunding platform that serves consumer brands seeking to raise money from accredited investors.
Eric Healy said manufacturing in general has its challenges. Shipping from Bend, in particular, can be challenging, especially last winter, when big snowstorms slowed semi-trucks delivering ingredients. A local advantage has been working with FoundersPad, which is selective in funding and mentoring early stage companies.
"They have been very instrumental, helping with all aspects of the business, working on margins, supply chain, fundraising and branding," said Eric.