Building a custom home isn't for everyone. Prospective homeowners need the right location, a team of professionals who can deliver the vision and a budget to match the dream. After building and living in their first custom home, Bend residents Rachel and Scott McGuire knew they wanted something different for their second custom home and hired a team of design and construction professionals who could work through challenges and deliver their forever home on a budget they could afford.
The result is a distinctive dwelling carved from ancestral influences of Rachel's Swedish heritage and ideas built around their lifestyle and features in the Central Oregon landscape. 
The initial challenge for architect Eric Meglasson, who typically designs only modern homes, was to work with the McGuires on a contemporary version of a traditional-style home.
"Their Scandinavian roots reflected more of a European chateau," he said. "I adjusted it to fit the Central Oregon climate and specifically to fit narrow design guidelines for the neighborhood." 
The home's footprint was laid out on the lot to capture views of the Cascade Mountains from front to back through the large space at the center of the house. Compared with their first custom home, the couple sought to make this home lighter and brighter.
They used a Belgian window system not often seen in American homes. Four large windows tilt inward from the top for fresh air circulation and pivot open as doors in the great room. The five-foot-wide front door also pivots on a spindle rather than on a common hinge system. "They were able to create realistic simulated divided light windows approved for historic preservation in Europe," Meglasson said. In the front brick-courtyard, the divided light windows emulate historic buildings from the late 1800s and early 1900s in both Europe and America, he said. "It's a good look and super-high performance."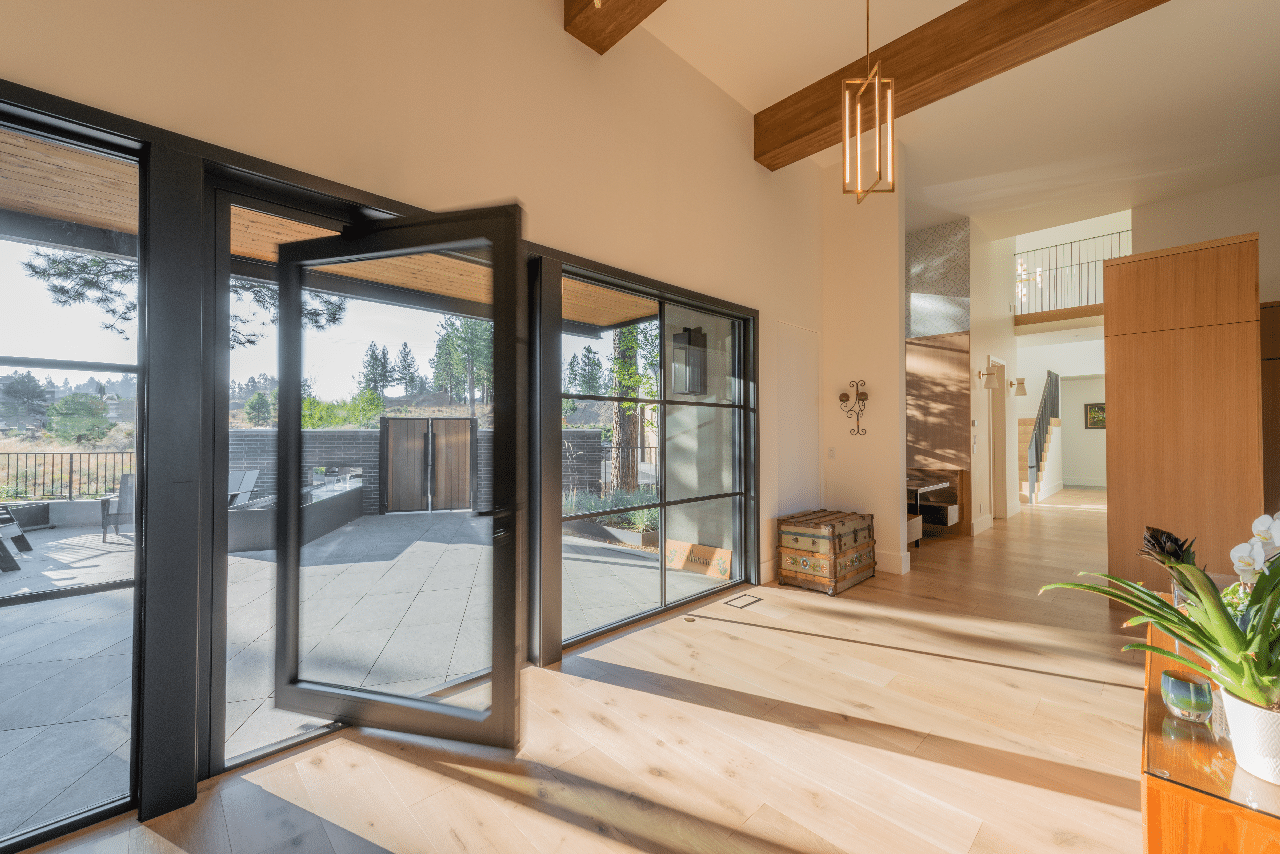 The 4,100-square-foot home contains three bedrooms (one doubles as an office for Rachel), three and a half baths, an office for Scott and a media room. The central room with 14-foot ceilings flows from kitchen to dining and living rooms where entry is off the front courtyard. The opposite side of the large room offers access to an outdoor kitchen, seating for entertaining, a sunken gas firepit and mountain views. 
The home has several special-use areas, such as a kitchen nook where Rachel and Scott enjoy their morning coffee. They incorporated a wet bar in a corner of the main room near the outdoor kitchen. It has a walnut bar and stools for seating while the McGuires make drinks, pull beer or sparkling water from a small fridge and put glassware in a mini dishwasher for cleanup.
There's a secret door fully integrated into the wood paneling along the hallway from the great room. The door leads into a pantry tucked behind the kitchen and is completely concealed until someone pushes a spring in the cabinetry to pop it open. The other end of the pantry has a glassed-in wine closet.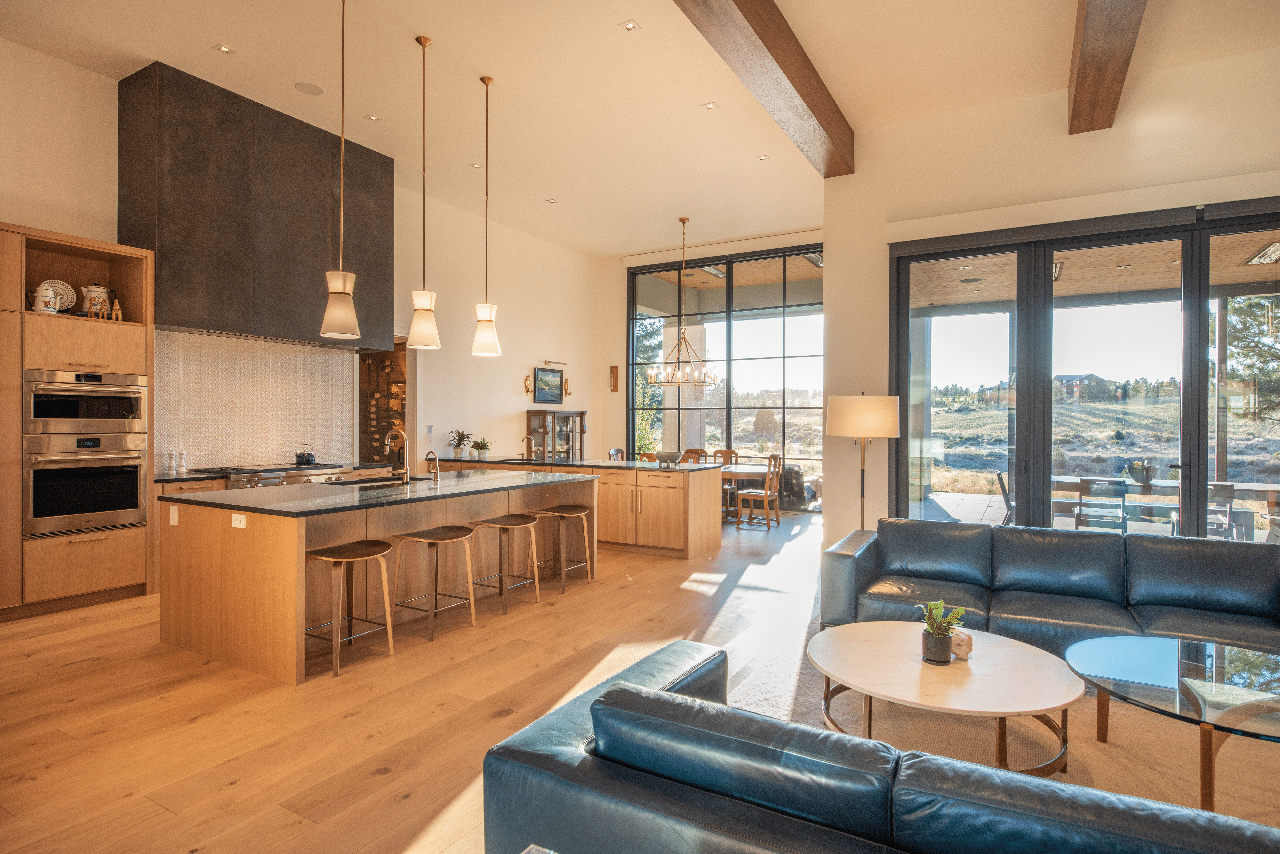 Interior designer Kerri Rossi said the cabinetry throughout the house is one of her favorite parts of the McGuire home. She worked with Anderson Clark Interiors, a local residential cabinetry company, refining and planning every detail of every drawer down to the hardware. "Those beautiful cabinets look simple," she said, "and sometimes simple makes it more complicated–all the attention to detail like getting the right stain and bead channels that line up perfectly." To create visually uninterrupted surfaces, all appliances throughout the house have cabinet panels on their fronts to blend in.
The primary bedroom is on the ground floor and has mountain views and a door leading to a partially enclosed in-ground hot tub for soaking after a day of skiing, playing 18-holes on the nearby course or cycling and hiking. Rachel is an avid golfer and skier, and Scott is skier, marathon runner and triathlete. The main bathroom is built around a "beautiful back-lit quartzite slab by Imagine Stoneworks behind a free-standing tub," said Rossi.
In addition to bringing Swedish influences to the home, Rachel worked closely with Rossi in several places, including a showcase powder room. "I started with the glass vessel sink and then picked out a Swedish mirror and wallpaper," Rachel said. A tulip light pendant and the floating cabinet finish the room with pizzazz.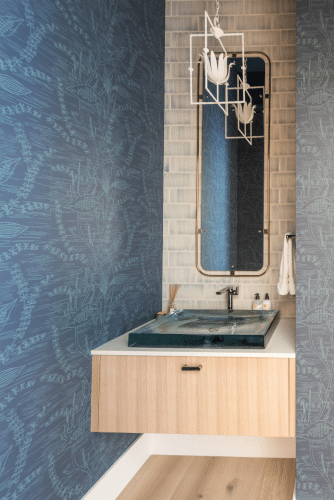 A staircase with vertical steel railings by Ponderosa Forge in Sisters and seven-inch blocks of oak stacked on the outside of the treads create a "beautiful and graceful staircase," Meglasson said. "I liked how we created a bridge heading into the bedrooms and overlooking the great room." Another hidden space runs the length of the upper hallway and is perfect for additional storage or an inner fort and sanctuary for kids who want to escape their parents.
Visitors to the home are greeted with the sound of a water feature running from the outside through a brick wall to welcome people into the courtyard. The water falls out of a weir into a 20-foot, horizontal trough that might tempt Bernese Mountain dog Nils to take a dip in on a hot summer day.
The courtyard itself is on a smaller scale than the home, with short brick walls and metal fencing around landscaping sections that create an eastside place to escape Central Oregon's afternoon heat and sit quietly to read or have a glass of wine. Even the McGuire's beloved housemates, Nils and Mainecoon cat Sven, have designated space inside the home for eating and sleeping, and Nils has his own wood-covered enclosed retreat with a doggie door to the outside. The McGuires had the right team to help them draw on ancestral roots and lifestyle preferences for a home that stands out in the high desert.  
Architect: Eric Meglasson | Interior Designer: Kerri Rossi | Builder: Katie Pendleton, The Fort | Landscaper: Ani Cahill Design with Landscape Elements
---