Jeff Sagner's detail-rich greenhouses are more than just a home for plants.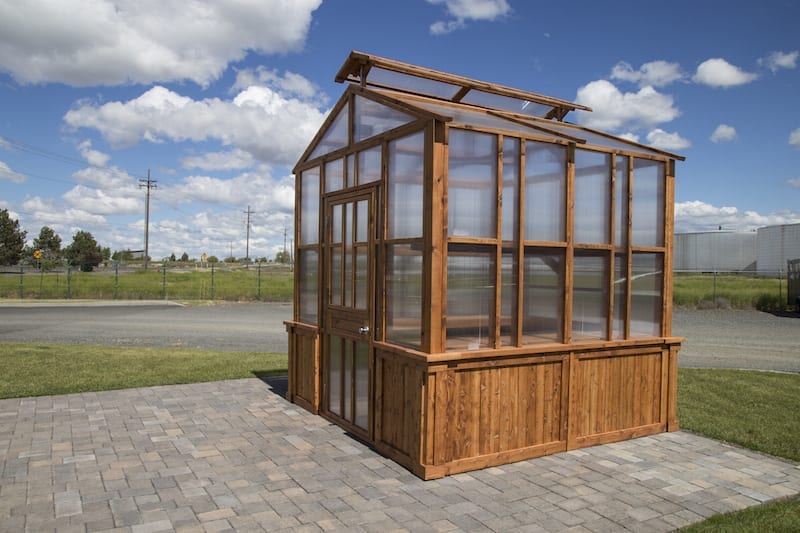 Dutch doors, French windows and wainscoting are not terms you would expect to use when describing a backyard greenhouse. Then again, these are not run-of-the-mill greenhouses. Custom designed, made with Incense Cedar, and handcrafted with wood and stone details, the greenhouses made by NW Green Panels are immensely Instagram-worthy.
Owner, designer and builder Jeff Sagner is the visionary behind the company. He has a background in carpentry dating back to his teen years, when he began building cabinets and furniture.
Five years ago, his wife was pregnant and wanted to grow produce to make baby food. When Sagner looked into buying a greenhouse, he ran into a trifecta of challenges. The greenhouse had to comply with strict aesthetic rules set by his homeowner's association, withstand strong Columbia River Gorge winds and expand as their garden did. "I wanted something that looked nice and was sturdy and I could make bigger if I wanted to," said Sagner.
After deciding to build his own structure, Sagner sketched out a rough idea of what the greenhouse would look like, though he primarily winged it from a mental picture. Neighbors and friends took notice of the finished product, and started requesting their own greenhouses. Sagner then advertised his greenhouse building service on Craigslist and requests rolled in, so he took the leap to turn his hobby into a business. He moved the company to Madras in 2014.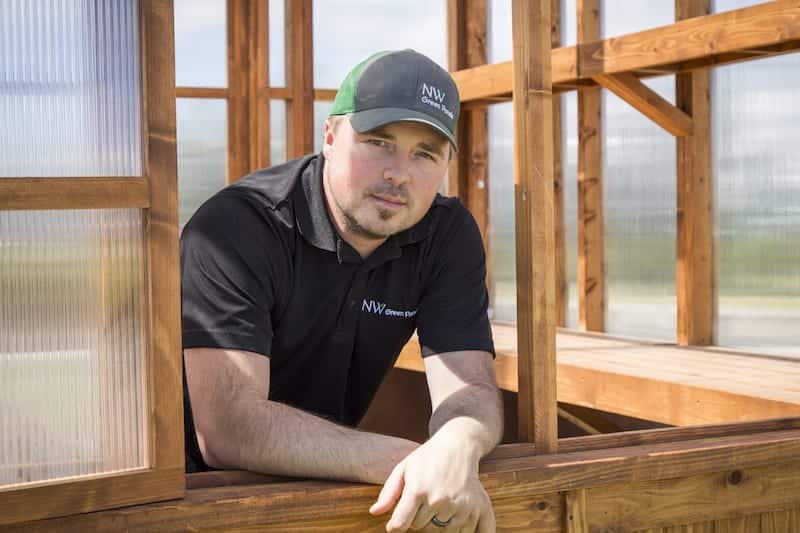 Double paned Polycarbonate glass embedded in wood panels makes the greenhouses more stable than traditional designs. As such, Sagner's greenhouses can withstand substantially more wind, rain, snow and extreme weather conditions. The prominence of the wood in the design adds visual appeal and lends itself to a modular system, meaning the configuration can easily be expanded. An automatic ridgeline ventilation system keeps the greenhouse from overheating.
For the wood, Sagner uses a high-quality wood, called Incense Cedar, that is grown and milled in Oregon. It can be stained a variety of tones, so the greenhouses are at once eye-catching and able to blend into their landscaping.
Though the business has grown substantially over the last five years, Sagner said he tries to remain true an ethic of sustainability. "We're dedicated to sourcing [our materials] as locally as possible," he said.
In addition to his modular business, Sagner also designs custom greenhouses. He recently debuted a greenhouse in the style of a Japanese tea room, complete with a slanted roof and sliding doors that form a geometric pattern using wood. Sagner, who still develops many designs on the fly, has an innate ability to envision a complete structure and execute it—though he is quick to point out the craftsmanship his six employees demonstrate.
Sagner said he is seeing more young people who are in their late twenties and early thirties show interest in NW Green Panels. He believes in the trend of consumers who want a closer connection to their food.
"This is my favorite thing that's happening right now," said Sagner. "I've got multiple customers that are in the late twenties and early thirties. I think that's a movement right now."
At home, Sagner and his young family still abide by the food-growing philosophy that inspired the business. Raised garden beds and a large greenhouse anchor their property. "All of our landscaping is edible," he said.