Riders on Good Bike Co.'s Ochoco Overlander Bikepacking tour | photo Good Bike Co. LLC
The first rule of gravel riding: Always carry a first-aid kit. And salami. Oh, and a fly rod if possible.
The glory of riding Oregon's forgotten gravel and forest roads is their remote beauty. But they are indeed remote. Yes, bring that extra PayDay and backup gauze, because anything is possible. 
Last June, looking for a buddy trip that wasn't too far from our homefront in Bend, my oldest friend and I plotted a bike-camping trip in the Ochocos out of Walton Lake. 
A brief interruption in our story to define bike-camping: It's not bike-packing, as we set up camp at the lake and did a pair of gravel rides that each day brought us back to our basecamp. And our burgers. And beer. Bike-camping is a fantastic way to get in some gorgeous backcountry miles and still eat and drink well after a full day in the saddle.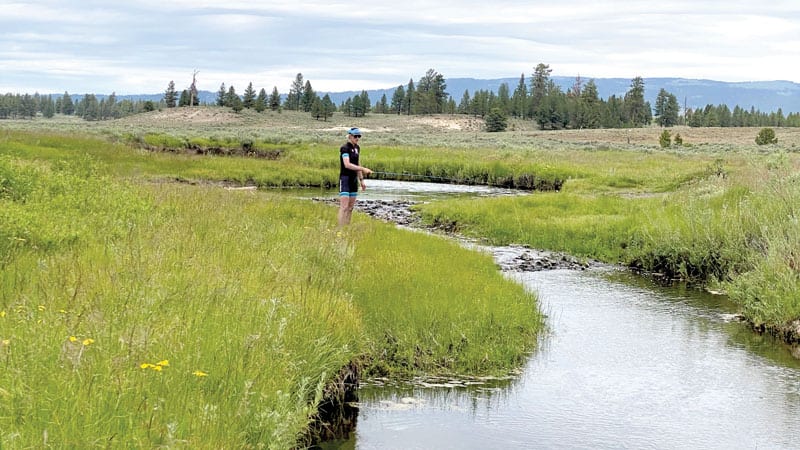 Back to the story: the riding—and more importantly the adventure—in Crook County did not disappoint. On day one, after driving the sixty-six miles northeast from Bend to Walton Lake in the early morning and luckily grabbing a lakeside campsite when some campers left early, we tackled a nearly sixty-mile loop put together by the gravel gurus at Dirty Freehub, affectionately titled Mitch & Walt. What a spectacular way to start the weekend. We eased downhill out of Walton for about two miles before making our first climb, giving our instant coffee plenty of time to kick in. Riding gravel on what was essentially the Old Ochoco Highway between Prineville and Mitchell, we jumped on an early climb of about 600 feet over five miles, taking us as high as 5,300 feet elevation. We had spectacular views looking north and east of the Ochocos, through the carnage of the Bailey Butte Fire from 2014. From that high point, it was a ten-mile, 2,300-foot descent that might be one of the most enjoyable stretches of gravel anywhere in the state. Even the eleven miles of pavement, the majority of which are on Highway 26, is bearable because you know there's a Doc Hawk Northwest IPA waiting for you at Tiger Town Brewing in Mitchell.
Rested and refueled on Tiger Town's beer and muffaletta sandwiches, the Mitch & Walt route took us up approximately 2,500 feet over fourteen miles before things started to level off, showcasing high alpine views more commonly associated with Colorado than Crook County, Oregon. An abundance of streams and mountain meadows practically begged us to stop and take a post-salami and marinated olive salad nap midway through the clockwise loop back to Walton Lake. The whole loop totaled fifty-seven miles with a little more than 4,800 feet of elevation gain, two beers drank from a hidden gem of a brewery, and zero—I'm not making this up—cars on the route in the last 30 miles from Mitchell back to Walton Lake.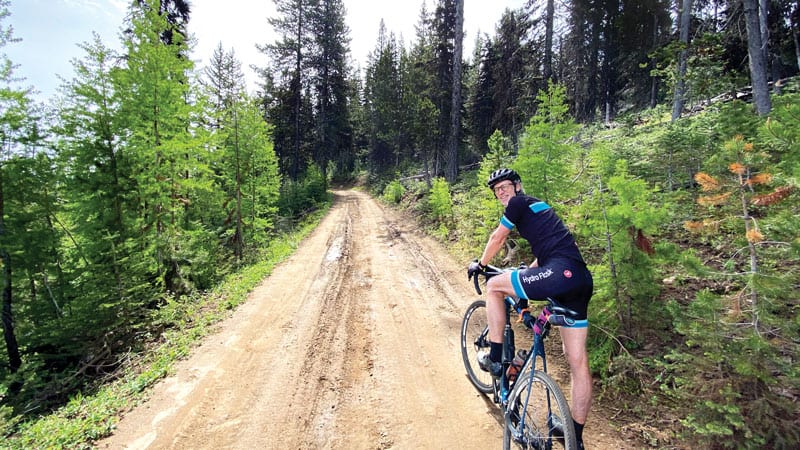 And again, here's the beauty of bike-camping. By the time we finished our loop, we still had plenty of time to cool off in the lake, grill bacon cheeseburgers—calories are goals, not concerns on a bike trip—and plot the next day's adventure before nightfall.
Where day one was flowy and meandering early on, all along a definite trail, we mixed things up a bit on day two. Again basing our loop off a Dirty Freehub suggestion, the Big Summit Prairie route, we quickly made a detour to avoid doing part of the same trail as before. It might have been our best decision of the trip.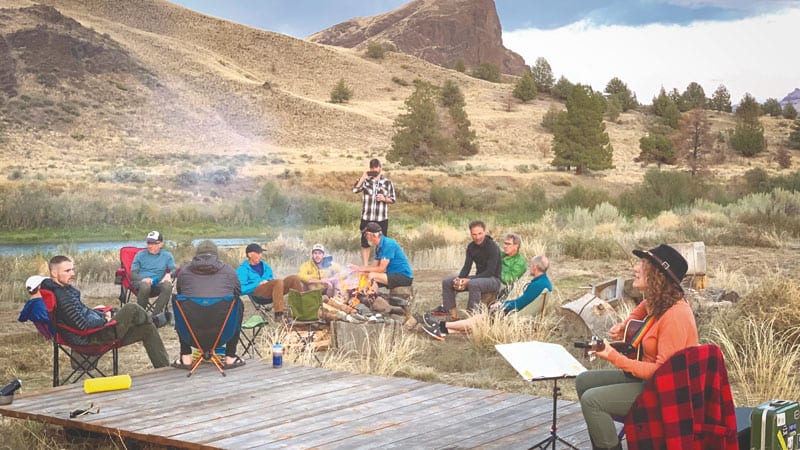 Riding east out from Walton, we jumped off the Big Summit Prairie loop less than two miles into the route and headed north towards the Bridge Creek Wilderness, which eventually took us to the ridge of the Ochoco Divide. From this point, water flowing north of the divide drains into the John Day River, while water going south makes its way into the Crooked River. The top of the divide featured sweeping views to both the north and south, before we headed south to circumnavigate the 55,000-acre Big Summit Prairie the route is named after. This fifty-mile ride had it all—a surprise fire lookout, an unexpected wreck where that first-aid kit came in handy, random historical markers, and a mid-day fishing break. We just missed peak wildflower season, for which Big Summit Prairie is best known, but turning our lunch break on the Little Crooked River into a fishing opportunity with our uber-portable Tenkara fly rods (they break down small enough to put into bike jerseys) quickly became one of the highlights of the trip. We recorded afew bites, multiple poor casts, and made way too many The Great Outdoors movie references.
The loop ended with a northern climb on the east side of Big Summit Prairie, where our pace was slow enough to enjoy the views of the wildflowers that were on their last legs, similar to us after two days of more than 100 miles in the saddle.
---
Click here to read more adventure stories with us!