Life in Sunriver is quiet and surrounded by amenities.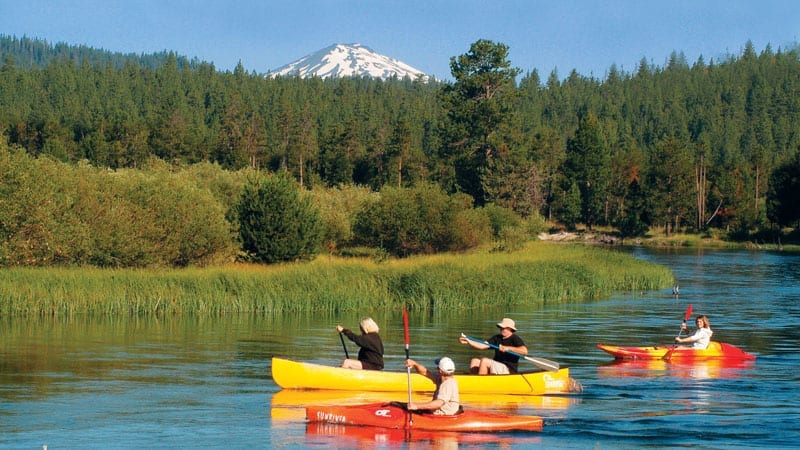 If there was ever an idyllic place to grow up, Sunriver may be it. Consider biking and walking trails right outside the front door, acres of forests to play in and explore, and, of course, the Deschutes River meandering and winding through. Sunriver has drawn families for decades who are looking for a little bit more space than a city offers. Part mountain village, outdoors mecca and arts hub, Sunriver has become so much more than a resort town. For many, it's a place to put down roots.
Carolyn Pearson has lived in Sunriver for thirty years. She and her husband, Rob, brought their three kids to Sunriver after she took on a teaching job at Three Rivers K-8 School. "We both wanted a calm environment where we could be in nature on a daily basis," said Pearson.
Today, Sunriver, about twenty miles south of Bend, has about 1,400 full-time residents, according to the latest census information. Built around Sunriver Resort, here families find plenty of amenities, including grocery stores, gas stations and the ever-growing Village at Sunriver. Local businesses like Goody's ice cream shop, Sunriver Sports, The Hook Fly Shop and Sunriver Books & Music have kept the small-town atmosphere alive and the local economy thriving.
Other draws to Sunriver include the Sunriver Nature Center and the Oregon Observatory, which has eleven telescopes and an outstanding view of the night sky. There's also a growing arts scene, with small galleries featuring local artists and artwork. Local restaurants include the award-winning brewery Sunriver Brewing Company, South Bend Bistro and Marcello's Italian Cuisine.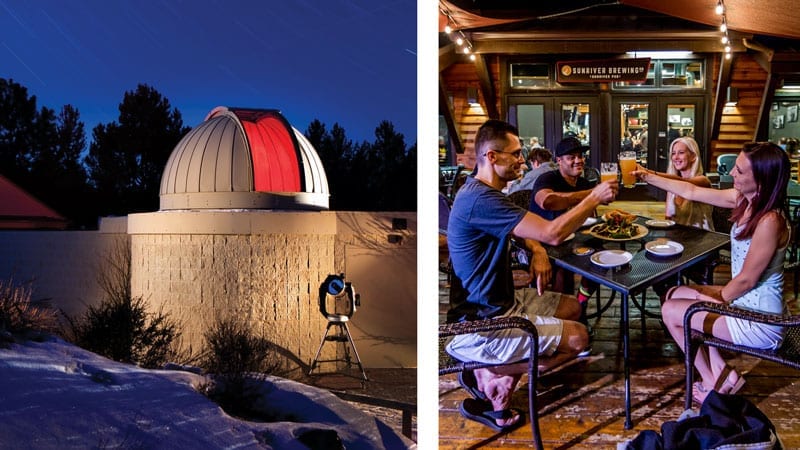 "Moving to a small community was not an issue for us," said Pearson. "You know each other, you have frequent contact with each other, and if you stay, you build a history with each other. Not everybody loves that, but we do."
Pearson and her husband, who worked at a local church, have been longtime active members of the community, developing scholarship programs for students at Three Rivers as well as the Sunriver Music Festival. "It helps you stay connected, so you invest in each other and the needs of the people around you," said Pearson.
Despite a consistent tourist population, the town has retained its community atmosphere. "There's always the downside and the upside," said Pearson. "It gets noisier, and tourists are less respectful of the environment. You take it in stride when you decide to live here."
For Pearson and others, living within easy access to natural areas makes up for the extra visitors. "There's a sense of gratitude that comes from being in a setting that Sunriver offers," she said. "It's a place that we have access to on a daily basis, so I just personally thrive on that."
Courtney Equall and her family are a new addition to the area. A few years ago, they moved from Texas back to the Pacific Northwest to be closer to family. "We landed on Bend, and looked at the market, but knew we wanted a little more room for our kids. We didn't seek out Sunriver, but we are really happy we landed here."
Equall runs a popular interior design blog Girl & Grey. Her home is in a growing neighborhood that has lots of room for her three kids to play. "We have a half-acre, and we're on one of the canals on the Deschutes. It's so much fun for the kids. We put kayaks in the water in our backyard and float to the river." She took advantage of the short drive to Mt. Bachelor and put her kids in ski school in the winter. Her kids also "go crazy" for SHARC, the Sunriver Homeowners Aquatic and Recreation Center that features indoor and outdoor pools.
Equall said that they were pleasantly surprised at how many young families live in their neighborhood, including a lot of transplants like them. "Everyone comes from somewhere else, and everyone who's here wants to be here."