Sponsored Content
Working to meet the unique fiscal and lifestyle needs of current and future Bend residents, Pahlisch Homes is breaking ground on its largest Bend community to date: Petrosa, Latin for "rocky ground," is planned as a 177-acre mixed used community in northeast Bend. Bound by Butler Market and Deschutes Market roads and a to-be-built extension of Yeoman Road, the new community will be developed over the course of the next ten-plus years.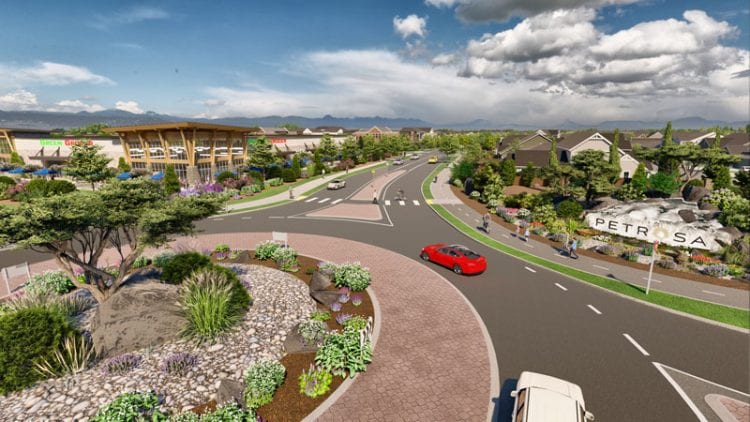 Providing housing to middle-income households is one of the great incentives for the project. Low inventory levels and a booming Bend population have resulted in a "missing middle" to the housing supply with few homes that are affordable to middle-income households. Petrosa, however, will have approximately forty percent of its homes priced below the median price of homes at the time of construction.
"The entire team at Pahlisch is focused on creating quality homes for every stage of life," said Dan Pahlisch, owner and president. "Whether you are getting your first apartment or buying your forever home, Petrosa is designed to accommodate the housing needs of a wide range of Bend residents."
Made up of various architectural styles, the multiple types of housing will include single-family homes and cottages and townhomes for a total of approximately 1,100 residences. The community will also have an apartment complex, Solis at Petrosa, in the northwest corner of the property.
In addition to housing, Petrosa will offer the private amenities that are a well-known and enjoyed feature of many Pahlisch developments, in this case a pool, clubhouse, bike trails, and more than twenty-two acres of open space and a 5.3-acre park are planned at the community's center. With the residents of the future community in mind, ten acres have been put aside for a new elementary school.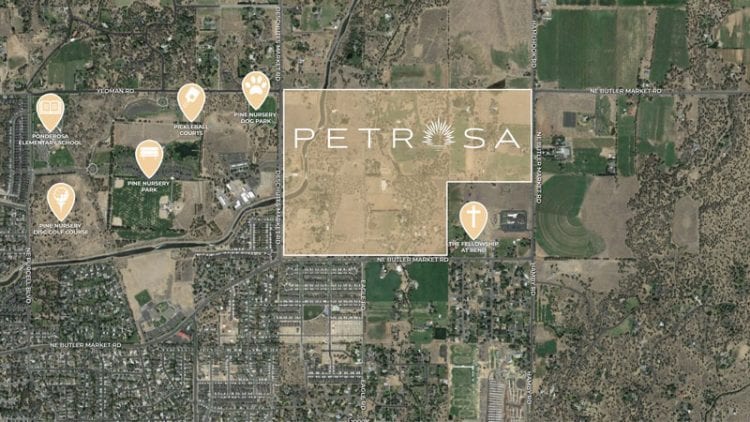 To further bolster the development's walkability appeal, the design calls for a commercial area in its southwest corner that could accommodate a grocery store and other retail businesses. The site would not only serve the immediate community but also other northeast Bend residents and the users of Pine Nursery Park complex, which is just across Deschutes Market Road.
We are striving to create places that celebrate what we love most about Central Oregon.
Petrosa lies within Bend's urban growth boundary expansion and is part of the city's twenty-year growth plan in northeast Bend. To ensure adequate infrastructure for the community and the surrounding area, three new roundabouts will be built to provide access and Yeoman Road will be extended eastward to cross Deschutes Market Road and connect with Butler Market Road. The first housing phase to be completed will be the apartments, which are planned to be ready for occupation in mid-2021.
A long-time contributor to Central Oregon's housing market, Pahlisch was established in 1983 in the Willamette Valley and moved its base of operations to Central Oregon in 2003. From its Bend headquarters, it now builds homes and communities not only in Central Oregon, but in the Willamette Valley and southeastern and southwestern Washington and has offices in Portland and Kennewick. The company, however, remains deeply committed to Central Oregon and the area's ethos of community, and has supported the Youth Choir of Central Oregon, The Center Foundation, Habitat for Humanity, the Boys and Girls Club and many other organizations.
While Petrosa is the company's largest master planned community in Bend, it has been heavily involved in Butternut Creek and Rosedale Parks, two similar projects, which are in the south Hillsboro expansion.
"We couldn't be more proud of our plans for Petrosa," Pahlisch said. "A community like this will bring much needed services to the northeast edge of the urban growth boundary expansion and we are striving to create places that celebrate what we love most about Central Oregon. Open spaces, parks, trails and community amenities such as a pool and clubhouse allow room for families and community members to come together."