On an artist's journey, natural landmarks can be an essential influence for what comes alive on a canvas. In the Pacific Northwest, diverse and striking landscapes seem to be endless, and painter Taylor Manoles has taken full advantage of the enchanting scenery that provides inspiration right outside her door.
Manoles, age 27, has entered Bend's art scene full-force and with gumption. Always a creative kid, she pursued a Bachelor of Science degree in Art Education at North Dakota State University and became a middle school art teacher. Knowing she and her husband, Joe, didn't want to settle down in North Dakota, they moved to Portland where Manoles was a substitute art teacher while still practicing her craft before the pandemic. Then, after settling in Bend a year ago for Joe to pursue a physical therapy program at OSU Cascades, Manoles launched her art career full-time.
When they moved to Portland, Manoles was first drawn to the foggy trees, the mountains and the ocean. "It definitely completely changed what I paint, how I paint, what I'm drawn to, and the landscape of Bend has been so amazing to capture as well," she said. Today, Manoles' studio in Bend finds work-in-progress paintings adorning one wall and her easel on another, and it is where her creativity has found a home in the form of her Pacific Northwest landscapes.
Beyond the Canvas
When looking at a painting by Manoles, the dramatic colors and layered paint illustrate the remarkable and breathtaking views from across the Pacific Northwest. Stunning florals and swans may grace a canvas in her trademark style. "Landscapes are just where my heart is," she said. "But with that [are] wildlife and botanicals. So they kind of feel intertwined at times." With the ebb and flow of the seasons, Manoles' inspiration on what to paint fluctuates.
The notable scenes—many of them Central Oregon landmarks—feature thick oil paint, smeared into layers, creating an almost multi-dimensional effect to the art. The colors in the paintings all feature the vibrant earth tones which Manoles sets out to honor. "I like to capture dramatic lighting," she said. "That's my favorite: when there's dark-darks and light-lights." When searching to be inspired, Manoles focuses on scenes with interesting lighting and lines, sometimes scenes in photos from friends or her own photography. But, she feels the most inspired when taking a hike, then coming home and painting the view from a photo she captured along the way.
The Artist's Challenge
Taking her art commitment to new heights, she pursued the 100 Day Project—one hundred paintings in one hundred days—two years ago. The project calls for any artist to remain ardent in their craft by completing something creative each of the one hundred days.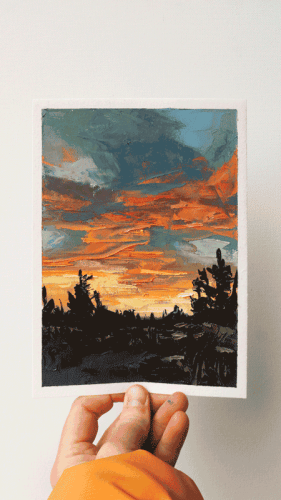 During that first round, Manoles challenged herself to paint using a palette knife, a choice which would change the outcome of her work from that moment forward. "I love the way it looks; I've always been drawn to the thick paint, but I never really felt like I could pull it off," said Manoles. The extra challenge of the palette knife resulted in the signature and consistent style seen today. 
In 2022, Manoles pursued the 100 Day Project once again. This time, she was able to paint while in Greece and France, and said that because of the challenge, a viewer can see the seasons change through the consecutive days of her paintings. 
Find Manoles' work on her website and prints at Lark in downtown Bend. Looking ahead, she said she wants to show her art throughout the community, and looks forward to showcasing her work at The Commons Cafe & Taproom in February. Also stemming from the 100 Day Project, Manoles is feeling the passion to paint on a larger scale. "Whenever I do a bunch of small paintings, I want to do giant ones," she said. "I already feel that itch like, 'I have to paint something huge now.'"  
See taylormanoles.com.
---
Read more about our vibrant Central Oregon art community here.