Sponsored Content
The Paulson's Floor Coverings name may be relatively new to Bend, but the company brings with it 100 years of history as an Oregon-grown family business. Fourth-generation owner Tyler Paulson and fifteen-year employee Johnpaul Morton oversaw the company's expansion into Bend about three years ago, taking over the former Floor Décor location on Franklin Avenue from retiring owner Marvin Wodtli. "We'd been talking about coming to Bend for years, and the timing finally felt right," said Morton, who started with Portland-based Paulson's in 2007 and serves as general manager of the Bend location.
Shopping at Paulson's is an inviting and fun experience that is less chaotic than at a big box store. Here, customers—which include designers, individual homeowners and builders—are offered a personalized shopping experience, working with a sales professional to explore flooring styles, collect samples to take home and ultimately order products. Paulson's is well stocked with samples of carpeting, hardwood, luxury vinyl plank, linoleum, sheet vinyl, wall and floor tiles and countertops.
Trending Designs
As the company has settled into Bend, the business has benefitted from Bend's fast-moving building and design industries. "It's been very busy," Morton said. "But it would be weird not to be busy in the current climate here in Bend. There's so much new construction, along with remodeling, additions and restoration work." 
Among the trends piquing the interest of customers today are more patterned carpets using geometric shapes and floral designs, more glossy, handmade, Zellige tile, more interest in waterproof laminate flooring and ongoing interest in light and medium grain hardwood. Paulson's caters in part to local design professionals, who are welcome to use the showroom's private design studio to bring in clients to shop.
Rich History
Paulson's has a long history in Oregon, dating back to the early 1920s, when Guy W. Paulson founded the business. Those in the home and design industry will notice the company's Construction Contractor Board license number, CCB #205, reflecting just how long Paulson's has been around. As licence numbers are issued in sequence, new companies today have CCB numbers that are six digits long. Four generations of family ownership means Paulson's has spent decades building relationships and learning the flooring business inside out. "We have good working relationships, which can help us solve problems," Morton said.
One quality that helps the company stand out is its honest commitment to customer satisfaction, Morton said. While other companies might choose to value profits over all else, the Paulson family empowers employees to make sure customers are happy no matter what. "When you come in here, you're going to get more individualized, personalized service, and we really care," Morton said. "We want the customer to be completely satisfied when they're done." These values are something the company has carried with it over the past 100 years, according to owner Tyler Paulson. "Our customers are our number one priority," Paulson said. "We take great pride in having multiple generations of families return to us again and again for their flooring needs. In fact, many of our customers become our friends and we are incredibly grateful for our friendships throughout Central Oregon."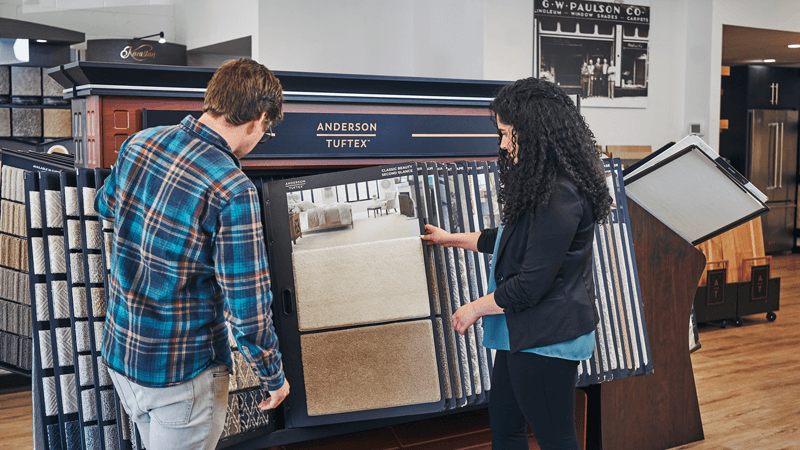 Giving Back
With the Paulson's Floor Coverings showroom bordering Northeast Second Street, the business has become familiar with Bend's houseless population, as many houseless individuals camp in the area. Despite the impact the presence of the houseless population might have on business at the showroom, it's become a social issue that staff have grown passionate about. Recently, the company used what they know best—flooring—to give back, donating flooring for renovations at Redmond's new homeless shelter, operated by Bethlehem Inn. "It's something we've become passionate about, trying to bring the community and the city together, hoping to find solutions for the unhoused," Morton said. "We have tried to be a voice of compassion and reason."
This year, Paulson's Floor Coverings is continuing its expansion into Bend with a new warehouse location on Southeast Ninth Street, which will allow them to keep more stock on hand locally. Learn more about Paulson's Floor Coverings and see everything the business offers with a visit to the Bend showroom.
Paulson's Floor Coverings | 184 Northeast Franklin Avenue, Bend | 541-383-2286 | paulsonsfloorcoverings.com | CCB# 205
---