If the Big Bad Wolf came upon the Beth and David Lawrence's house, he could huff and puff, but he'd never blow this house down. Its massive wood beams, lava rock fireplaces, stone columns and timber trusses convey a sense of strength and permanence.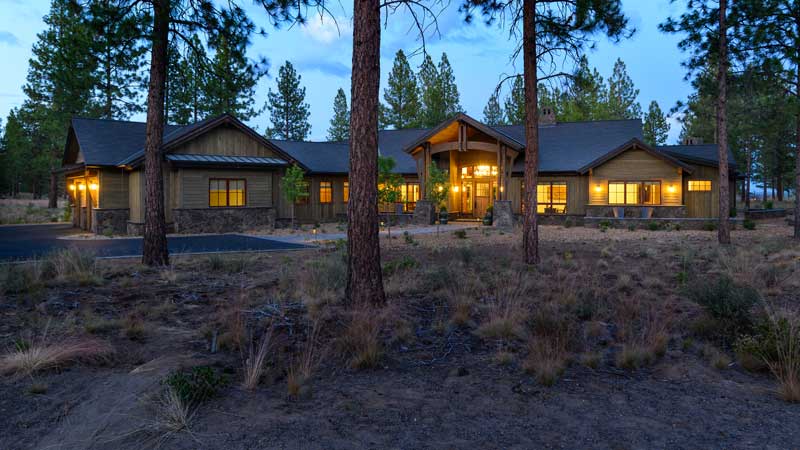 The recently completed home hits the mark for a classic Northwest lodge style, from its soaring 20-foot cedar ceilings to its solid wood plank floors. Its builder, Chris Christianson of Sunrise Construction of Oregon, said lodge homes went by the wayside in the past decade with the rise in popularity of modern styles, but "the Northwest lodge style really coincides with the Central Oregon landscape and is a timeless design."
The Lawrences moved to Bend in 2018 from Orange County where they'd planned to build a craftsman home to be near their children and grandchildren. "The kids said they didn't know how long they'd be in California, so we decided to do something for ourselves," Beth said. Thus began their search for a new place to call home.
"We love the mountains and hate the heat, which eliminated Nevada, Arizona, Texas and the Southwest," Beth said. "Our focus became Coeur d'Alene, Boise, a couple places in Colorado and Bend."
David said they had never been to Central Oregon before. "We got to Bend and were here a couple of days, and Beth asked me if I liked it. I told her I really did," David recalled. "We decided we didn't need to visit any place else."
The Tree Farm outside Bend's city limits on the west side appealed to them. It borders on the Deschutes National Forest and Shevlin Park. "We've always been outdoor forest-y people," Beth said. They found a building lot in the forest and retained Joey Shaw of Homeland Design to render their vision.
"They didn't come with a lot of preconceived ideas," Shaw noted. "They wanted angles, a great room, a single-story house that sat well on the lot and a shape that gave them privacy."
Building a Best of Show home in a pandemic
Converting plans into a lasting home would be builder Christianson's job, albeit it a challenging one. His crew broke ground in September 2019 on the 4,600-square-foot home, and were working steadily toward completion for the July 2020 COBA Tour of Homes, when COVID-19 hit.
"We encountered numerous delays due to COVID and lost about three weeks of production in the spring," Christianson said. A limit of ten contractors could be on the job site, and they had to observe stringent distancing and sanitation protocols. They also experienced delays in getting building materials and other items due to factory shutdowns across the country.
Nevertheless, the crew finished just in time for the COBA tour, ultimately winning numerous awards, including Best Feature for its lava rock walls and fireplaces, Best Kitchen, Best Master Suite and Best of Show in its category.
While the award-winning features are many, one design element stands out—consistency in everything from materials and warm earthy colors to large-scale structures like the exposed, arched beams that carry over from the entrance through the great room and out to the covered back patio. Countertops throughout the home are double-thick granite and quartzite with hand-honed drop-chisel edges.
Three natural stone fireplaces, one made of Oregon lava rock and two from Montana Mossy rock, create warmth and focal points in the master bedroom, living room and family media room. Sunrise Construction's design team, including interior designer Dani Bearup, added a lava wall in the powder room and a lava rock wall between the kitchen and dining room.
The kitchen is a cherished part of the home. The 7-by-12-foot island can seat eight humans or Goldilocks and three hungry bears. The kitchen also contains a built-in seating nook where Beth can enjoy her morning coffee. The wall behind the stove features a chiseled silver travertine with a granite inset niche that creates an elegant, Old World feel. There's a butler's pantry where the Lawrences can stash appliances out of sight and where David, who says he's an ice snob, can have a special icemaker.
Some of the dwelling's charm reveals itself in small details. The keystone, a favorite shape of Beth's, was inserted into the rock walls above fireplaces, three art niches in the dining room and other "hidden" places. The builder used chains, nails, rocks and adze tools to "distress" the heavy beams. The long hallway leading to the master suite, mudroom and garage has tile between the wood planks and mitered square "Xs" at corners.
The master suite's bathroom has a rarely seen fixture: a urinal, which is recessed into a wall. "For me, the urinal is kind of cool," David said. There's also a stand-alone bathtub set on mosaic tile with a chandelier overhead and a hand-forged bronze backsplash above the sinks and countertop.
Patios, fire and water features
"I love the outside of the house—its curved beams that soften the home's straight angles, the way you can walk up the front steps and see straight out to the trees in back," David said. "There are no ugly sides; the back and sides are as attractive as the front."
Beth enjoys the five patios where she can follow the sun around the house or avoid it when the day heats up. The large covered back patio is a peaceful place to enjoy a gurgling low-to-the-ground water feature, a firepit and BBQ set into lava rock.
Coming from California where wildland fire poses a constant threat, the couple appreciates the Tree Farm's Firewise Community codes, even though they had to remove thirty percent of the trees. The house also has interior fire sprinklers, a nonflammable roof, a fire moat around the structure and fire-resistant landscaping.
"The designers and builders—Joey, Chris and Dani—have made our vision come true," David said. "It has been much more than just building out a set of plans. So much of what we love is a result of this team's visions and their execution on those visions."
The couple looks forward to hiking the many trails within a few yards of their home and observing wildlife as it crosses their property. And when the grandkids come for a visit and wander through the forest, they'll warn them to run from the woodland creature with big ears, big eyes and big teeth, back to the sanctuary their grandparents built.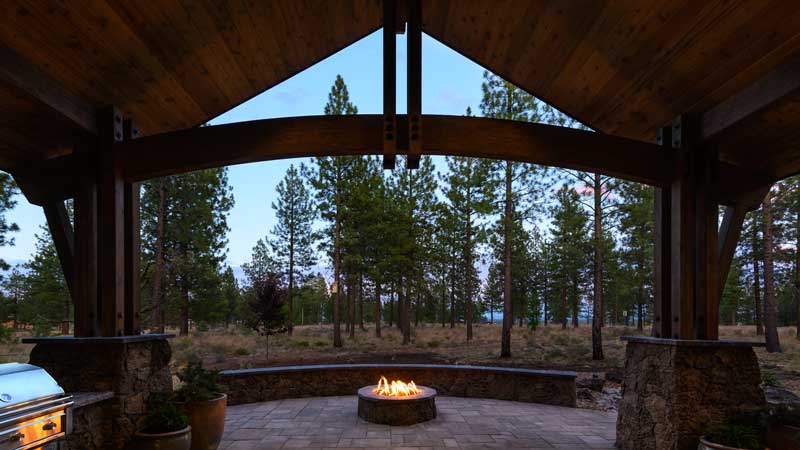 Resources:
Designer:
Joey Shaw, Homeland Design |
Builder:
Chris Christianson, Sunrise Construction of Oregon |
Interior:
Dani Bearup, Sunrise Construction of Oregon |
Landscape:
Becky Shaw, Homeland Design