A crash course in our favorite breakfast-in-a-glass cocktails and our favorite bloody marys in Central Oregon.

---
local icon: the victorian cafe
There are now dozens of bars and restaurants where discerning bloody mary connoisseurs can get their fix, but no tour of the region's bloody mary scene is complete without a stop at the Victorian Cafe, where you'll find the granddaddy of them all—The Proud Mary. It's a 23-ounce statement libation that includes a grilled prawn and andouille sausage, and is good to the last drop—or bite.
tastemaker: the row
Principal bartender Donnie Eggers demonstrates proper mixing technique for the restaurant and lounge's bloody mary. The from-scratch cocktail is the product of a trial and error formula developed three years ago at The Row. Eggers said he deliberately avoids a run-of-the-mill approach to this most regal of cocktails by incorporating non-traditional ingredients. The recipe begins with a basic tomato juice base and adds pineapple juice, wasabi and Sriracha to achieve a distinct and delightfully tangy profile.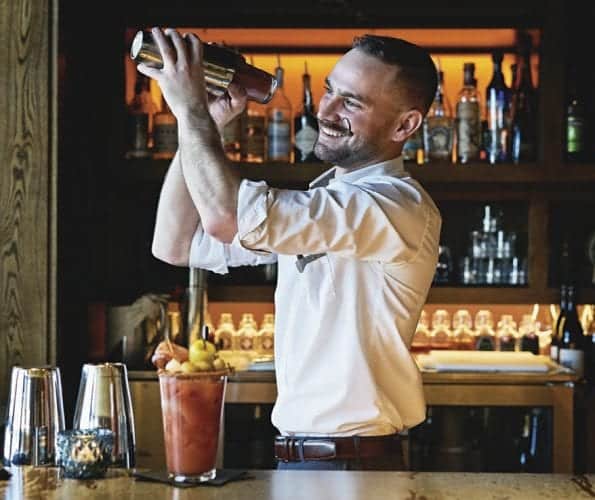 ---
The D&D Club (aka, The D) | Bend
Served up with little fanfare and plenty of gas, the D&D's bloody mary proves that good things really do come in small packages, or, in this case, glasses. Served in a 12-ounce, rocks-style glass, this little-cocktail-that-could forgoes the window dressing favored by so many others. The down-to-business bloody starts with a house-infused vodka that provides a robust foundation. Add in a housemade mix; garnish with olive and these hangover-busters go down easy. Maybe too easy.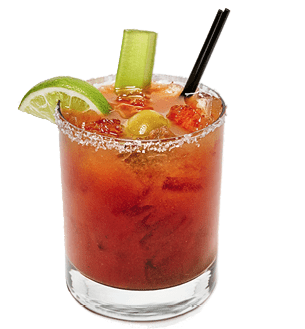 Cottonwood Cafe | Sisters
Bend might be the culinary and mixology hub of Central Oregon, but venture a little farther afield and you'll find there are plenty of options worth exploring. Just a short drive west, you'll find the charming and always welcoming town of Sisters with its Western-themed downtown and clusters of boutiques, delis and cafés. While options abound, those in the know make it a point to drop by Jen and TR McCrystal's Cottonwood Cafe. The cozy, upscale nook is the successor to the revered Jen's Garden, a fine dining favorite for years. Like everything else at Cottonwood Cafe in Sisters, the bloody mary is superb yet unfussy. It offers a classic mix with just the right amounts of horseradish, Worcestershire, pepper and heat topped with meaty olives and a cherry tomato. Enjoy it with any of the restaurant's delicious breakfast or lunch options. From egg bennies to the excellent Reuben with house-smoked pastrami or ridiculously tasty truffle fries, you cannot go wrong.
---
The Bloody Mary
Then and Now
According to most accounts, the bloody mary made its first appearance at Harry's New York Bar in Paris, a legendary hangout during the 1920s and '30s frequented by famous regulars including Ernest Hemingway and F. Scott Fitzgerald. With the influx of vodka that arrived on the scene from Russians fleeing the Revolution and canned juices and other ingredients brought by American expats fleeing Prohibition, a new world of cocktails was discovered.
Originally simply half vodka and half tomato juice over ice, the bloody mary began to spread its wings at the St. Regis Hotel's King Cole Room in New York City when its creator Ferdinand "Pete" Petoit returned to the United States after Prohibition was repealed. Then (and still at the St. Regis) called the Red Snapper, Petiot added salt, pepper, Worcestershire sauce and lemon juice to the concoction, and the modern Mary was born.
Fast forward a few decades and the variations are endless. From horseradish and celery stalk that have become standard in many recipes to house-infused spirits and elaborate garnishes that can amount to a salad's worth of pickled vegetables or meals on a stick, riffs on the bloody mary are as many as the number of establishments that serve them on any given day. In Central Oregon, that certainly holds true. Light and tangy or thick and savory, whatever flavor appeals to you can probably be found right around the corner.
---
Café Sintra | Sunriver
There is a certain profile to a great bloody mary. It can be spotted by a keen eye across a crowded room. It's a certain hue to the tomato juice base—a little closer to brown than cherry red with a tasteful, but not overly ostentatious, crest of garnish. That's what caught our eye at Café Sintra in Sunriver during a recent visit that was supposed to include just coffee and eggs but took a welcome detour. Looks did not deceive. This is a cocktail that's been refined, drawing out the subtleties in a drink that's not known for understatement. Like the food at the Portuguese-themed café, the bloody mary mix is made from scratch daily. Owner Tracie Landsem swears that the only secret ingredient in the cocktail is love, but we think it could be the house-brined veggies that set it apart. Order it plain, or spicy with Crater Lake Mazama Pepper vodka, and combine it with any of Sintra's delightful, Mediterranean-influenced dishes and you've got a recipe for satisfaction.

Victorian Cafe | Bend
A drink or a snack? Some mornings it's hard to know which takes precedence. Enter the Proud Mary at the Victorian Cafe. A colossal 23-ouncer, the Proud Mary serves up a beauti-fully seasoned bloody made with house-infused pepper vodka, garnished with a skewer of shrimp, andouille sausage, Pepper Jack cheese and veggies with a garlic breadstick to boot. A double cocktail plus all four food groups in one giant glass? Problem solved. If you're not ready to commit to a potentially itinerary changing cocktail, The Vic also serves up a more traditional version with all of the handmade goodness in a glass at a slightly reduced volume and price tag.
---
CHOW | Bend
If we had to pick just one cocktail on this list to recommend to the unabashed foodies in the room, it would have to be CHOW's bloody mary. From the garden-fresh garnishes to the locally sourced ingredients, the CHOW Bloody Mary may be the healthiest vehicle you'll ever find for drinking alcohol. Yes, there is vodka involved, but the mix of fresh-squeezed juices topped with a pile of housemade pickles almost makes you feel like you're on a cleanse. Enjoy it in the cozy cottage dining room or, weather permitting, on the deck or in the garden. Whatever you choose, you'll want to sample with a selection from CHOW's extensive farm-to-table menu. Just make sure to arrive early. The word is out on CHOW. Locals and visitors alike arrive in droves to huddle in anticipation of grabbing a seat in this intimate Westside eatery. Thankfully we can recommend a good libation to help kill the time.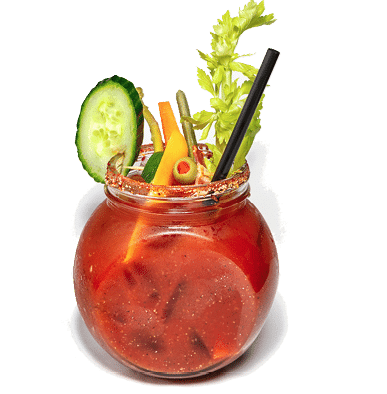 Bad Wolf Café & Bakery | Bend
A thoughtful balance of flavors makes the Bad Wolf bloody mary sing. Substantial citrus overtones are tempered by a healthy dose of horseradish and pepper. Add your choice of subtle infusions such as cucumber, basil, rosemary or serrano pepper to tailor it to your palate. Garnished with pickled vegetables, a bacon chip and a rim of savory seasonings, it's the perfect match for one of Bad Wolf's hearty meals made with fresh ingredients and housemade baked goods.
---
DIY
Infused Vodka
1. A good infusion starts with the right spirit. When it comes to vodka, specifically, it's all about the "nose" said, Donnie Eggers, principal bartender at Tetherow's The Row. It's not necessary to spend a fortune on a bottle, because the flavor will largely be masked by the infusion. However, avoid a spirit that has an overly strong smell of alcohol. A good mid-level bottle will suffice, says Eggers. "That way, you're not having an $18 cocktail."
2. If you're going for spicy, add in a mix of peppers, such as ghost chilis, to give your vodka a kick. If you want a smoky flavor, try roasting the peppers first to unleash that flavor found in hatch green chili infusions. If infusing with fruit, Eggers recommends using frozen fruit as the skin tends to break down more readily, imparting the desired sweetness and flavor.
3. Place the mixture in a sterilized container and store away from sunlight for at least two weeks for best results. Open and mix.
ENJOY!
---
The Row | Bend
Owing in part to its location just off Century Drive, The Row has become the go-to spot for skiers and boarders departing Mt. Bachelor and looking for a little après cheer. The Row, however, has more to offer than just commuter convenience. For one, the casual lounge atmosphere is not what one might expect from an establishment attached to one of the region's premier destination golf resorts. Then there is the food: creative upscale comfort with a twist. The Scotch Eggs, two farm-raised eggs breaded in Carlton sausage, for instance are not to be missed. As with most things at the Scottish-inspired restaurant and watering hole at Tetherow Resort, the bloody mary is notable for its attention to detail. From the housemade mix that artfully blends the bold flavors of the Worcestershire sauce and horseradish to the house-infused vodka, this is a drink that will leave you probing the bottom of the glass for those last few drops of peppered goodness.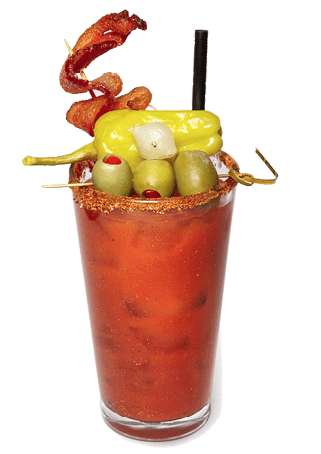 The Clearing Rock Bar | Mt. Bachelor
Full disclosure, this may not be the most artful cocktail on the list. (Mt. B uses an off-the-shelf mix and then redeems it with a liberal dose of Crater Lake's pepper-infused Mazama Vodka.) Yet, some-times a drink is about time and space. In the case of Mt. Bachelor's Mazama Mary, there is something borderline mystical about the first pull from the pint glass after a morning of surfing powder or carving corduroy. Take a look around at the cherubic, Gore-Tex clad faces and see if you can count on one hand the number of bloody marys in the room. Probably not. Raise a glass and know that this is your mountain, your drink and your tribe.