At Ponderosa Forge, a group of modern day blacksmiths are bringing back the traditional craft with raw power and subtle artistry.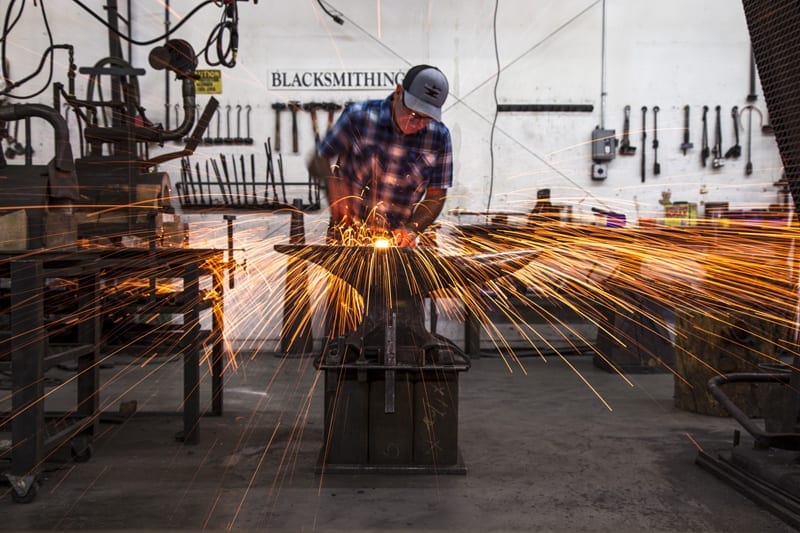 When Jeff Wester opened his blacksmith and custom ironworking shop in Sisters, he also built a hitching rail out front to shoe horses, which he had been doing for the last decade, just in case his new custom forging business didn't work out.
"I went out on a limb, borrowed money to buy this lot," said Wester. "I had it all penciled out, so if something didn't work with my business plan, I could shoe horses and pay for the shop."
It's been twenty-six years and one Great Recession since then, and he never did have to go back to shoeing horses.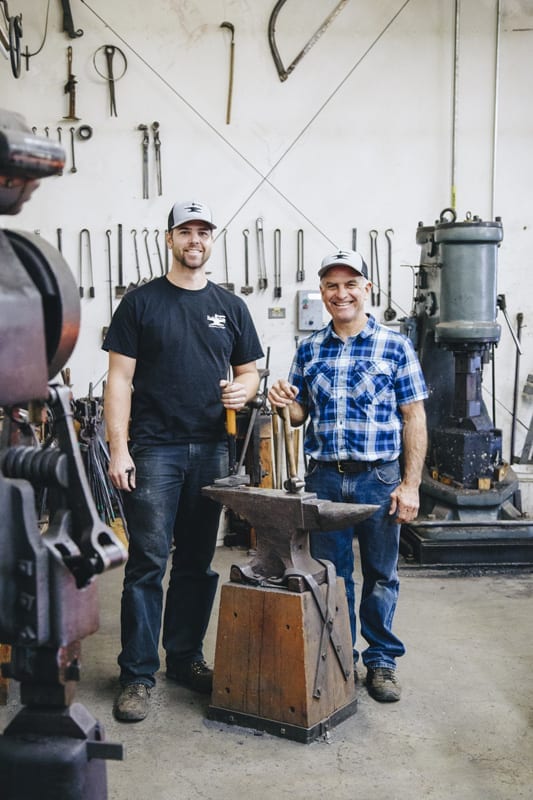 Ponderosa Forge is on the industrial side of Sisters. It's a blend of old and new. On one side, there's a computer-operated machine that automatically cuts steel. On the other, there's a hammering machine that was built in the 1880s. The 14,000 square-foot shop is lined with hammers and tools on the walls, and anvils are scattered throughout. A handful of employees, modern day smiths, work in the shop where they forge high-end hardware and ironwork, most often for custom homes.
It's deliberate hands-on work, a combination or raw power and subtle artistry. On a recent visit to the shop, Wester turned on a coil forge and pulled out a piece of steel to demonstrate. He placed the raw steel in the superheated coils and waited for it to turn orange at 2,000 degrees Fahrenheit. He carried the glowing steel to one of the oldest machines in the shop, and used his foot to power the hammer that flattens the steel. Then he took the flattened rod to an anvil, and started hammering. Striking the steel with the precision of a metronome, he guided the steel to the cone of the anvil, and wrapped it around with the hammer. Within seconds, he had a perfectly rounded scroll, similar to the edge of a staircase railing.
"He's just really good at what he does," said Chris Corcoran, Ponderosa's manager who's worked there for eleven years. "I remember starting here and Jeff would [work a piece], and it would look so easy." It took Corcoran years to approach Wester's mastery with hammer and metal. "It's a lot of trial and error and observing, picking up on the subtleties of where he's holding the hammer, where his head is when he's swinging."
"It's probably one of the best blacksmithing schools you can go to," he added.
Wester landed in Bend in 1981. He picked up blacksmithing as a way to make money, running a small operation out of the back of a truck with a forge and an anvil, shoeing horses to pay his way through school, but found an affinity and a love for blacksmithing. At the time, traditional blacksmithing was a dying art.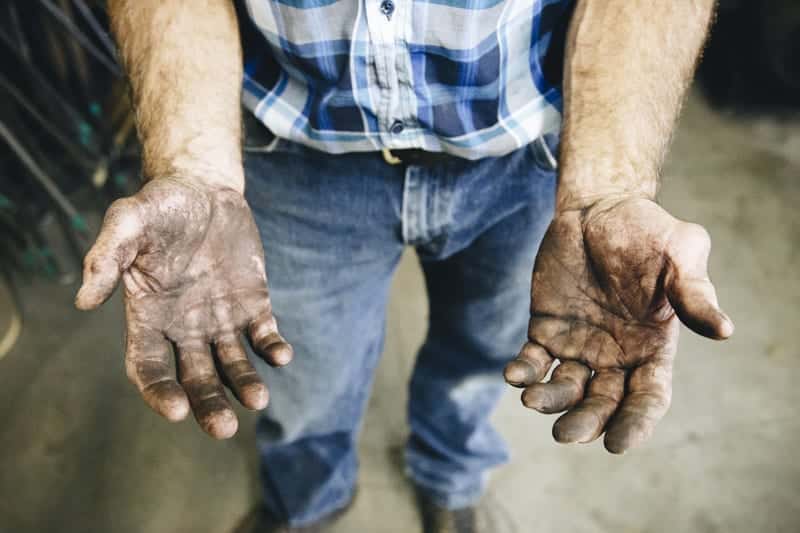 Throughout the 20th century, "every ranch and mill had a blacksmith," said Wester. Today, only a handful of traditional shops and artisans remain, with just three in Central Oregon. Part of the decline came when welding was modernized, and traditional forging wasn't necessary. Ponderosa Forge is one of the only shops that does this work on a large scale.
Wester found success in the custom homes market, where his designs have the rustic elegance that complements the mountain-style lodge homes found throughout Central Oregon. Today, everything from fireplace screens and staircase railings to overhead pot racks and cabinet knobs are all made using a traditional forging process, meaning the pieces evoke 19th century craftsmanship.
Wester's residential work is mixed in with commercial jobs. Ponderosa also designed and forged all the metalwork in the Deschutes Brewery downtown Bend pub, including hundreds of metal hops and hop leaves, strung together on a thin iron line. Each hop cluster and leaf was hand forged and hammered, and the intricate details give a sense of lightness and movement to the iron plants. Work such as that is a testament to the time and patience that it takes to learn blacksmithing.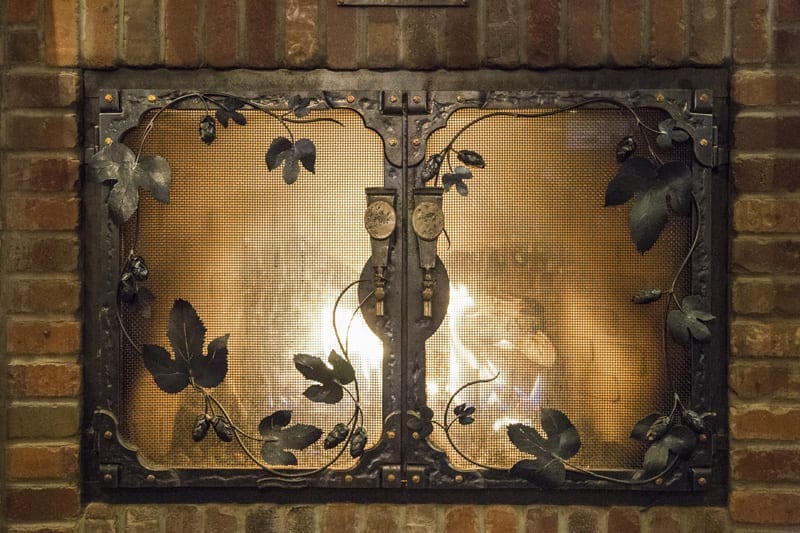 Wester usually has around four to six employees in the shop who joined to learn the traditional trade. "There's been lot of interest the last few years in the craft," said Wester. "There's a trend of people going back to the original crafts, and I hope it continues because we need way more people in all the crafts."
The work of Ponderosa Forge stands out in the market of cookie-cutter homes. One blacksmith is assigned to a project from beginning to end, ensuring a unity in the pieces that are created. Corcoran said that the skill comes from being able to see the details.
"With blacksmithing, there are tapers and scrolls and shapes that you can't really detail out on a plan, that requires a craftsman's mind and eye," said Corcoran. Every part is made from scratch, hammered at just the right temperature and time, with the just the right force, to create something that lasts centuries.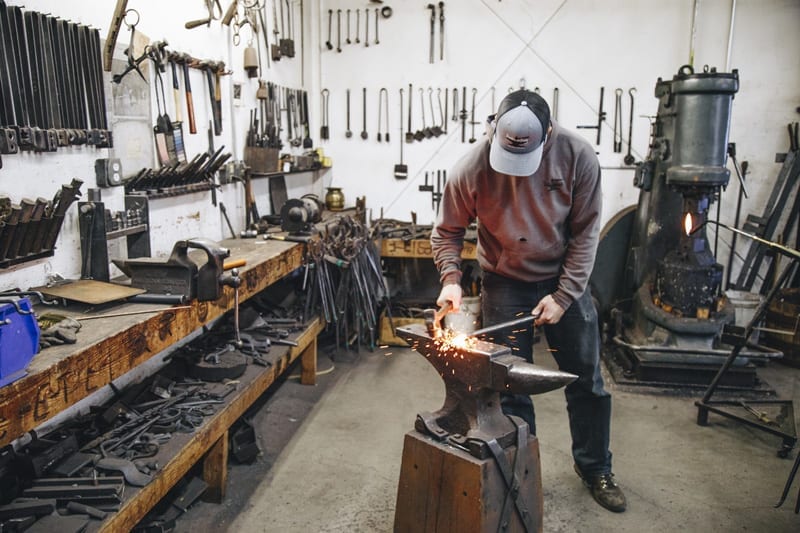 Wester ends the workweek each Friday at three o' clock, but opens up the shop to his blacksmiths who can work on any project they want. Wester said they all stay, sometimes late into the evening, working on their own projects and honing their skills. It's something Wester is proud of.
"Who gets to say they're a blacksmith?" asked Corcoran. "Not many people."