Golf is just the beginning in Powell Butte, a destination resort hub in Central Oregon.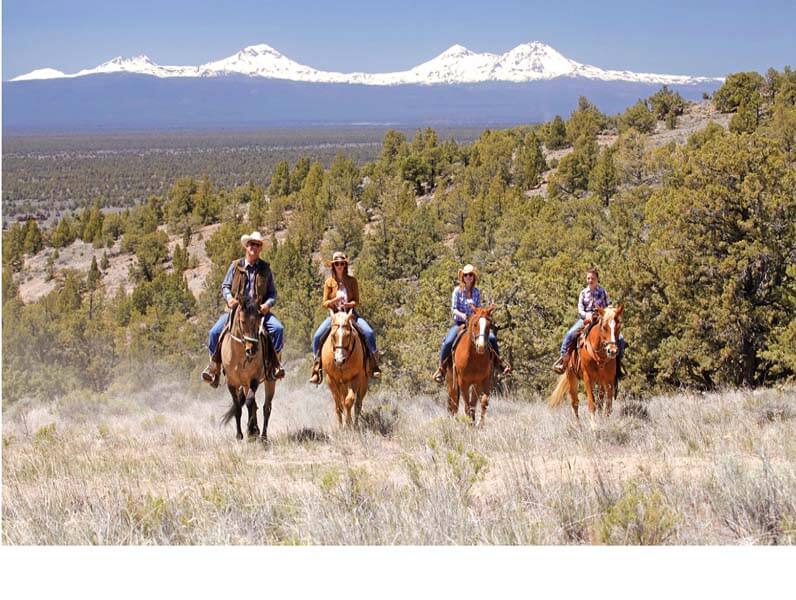 Being perched on the edge of the desert plateau has its perks—solitude being one of them. Within minutes of driving east from Bend on Powell Butte Highway, the expanse across vast swaths of sagebrush grasslands that are punctuated by ancient, gnarled junipers, clears the mind.
Powell Butte, which had its first post office established in 1909, is believed to be named for the Jacob Powell family who ventured east from Linn County, and for whom the surrounding area's buttes are also named. It is part of Crook County, named for Gen. George Crook, a U.S. Army veteran of the Civil War.
Today, the scenery from the two-lane road likely reflects what the Powells or Crook would have seen when they first arrived, with the exception of a grange hall, a church and an Oregon State University Central Oregon Agricultural Research Center. The university is currently considering a future use of the eighty-acre site, located here since 1986. The research had formerly focused on high-value, specialty-crop seed production, plus a potato variety development program.
Essentially, the winding, country drive has all the relaxing qualities of a road to nowhere, yet it isn't. Tucked away off this road are the luxury resorts Brasada Ranch and Pronghorn. Both are known for stellar golf, but even in the pre-season, amenities including spas, restaurants and well-heeled accommodations offer opportunities to unwind. Locals, too, can feel as if they are a world away, less than a thirty-minute drive from Bend.
Pronghorn is ideal for reconnecting with family, a spouse and the area's natural beauty. Stroll to the spa, located in the 55,000-square-foot clubhouse with views of nine surrounding mountain peaks and the Nicklaus and Fazio courses.
At Brasada Ranch, the Brasada Canyons golf course, designed by Peter Jacobsen and Jim Hardy, has no two holes running parallel and is known for lava-sculpted terrain, great views, and privacy. Play is reserved for members and resort guests.

stay
At Pronghorn, the rustic chic lodging, from suites to four-bedroom homes, are ideal for a romantic weekend or a family getaway. Master bedrooms have king beds, custom furnishings and décor, deluxe baths with soaking tubs, plush bathrobes and stone fireplaces for cozy evenings in. The private outdoor living spaces with fire pits are perfect for sipping wine under the stars or gathering the family together for hot toddies.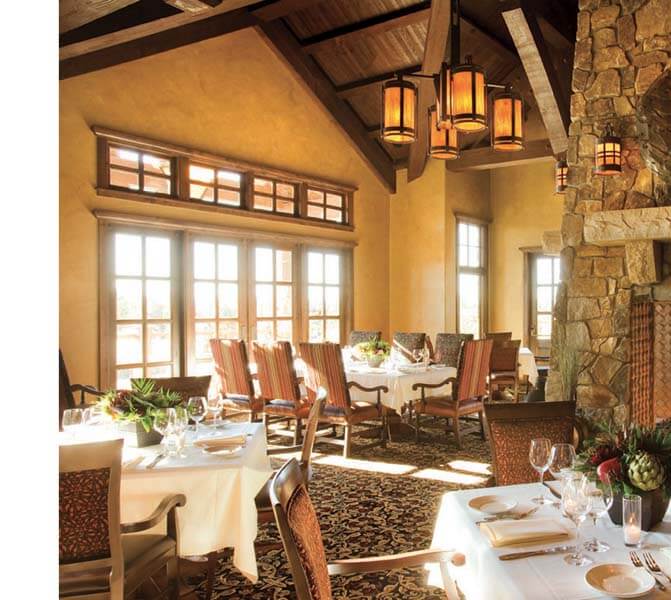 taste
At Chanterelle restaurant at Pronghorn, Chef Kevin Linde taps into the bounty from local farmers and ranchers, combining the region's terroir with global influences. The culinary experience offers a blend of classic and modern dishes and an extensive wine list amid stunning Cascade mountain views.

see
The famed 8th hole on the Fazio course. Construction crews unearthed a pair of lava tubes during construction of this short Par 3 hole. If accompanied by a member, guests can explore these natural caves, one of which stretches nearly half a mile before terminating in the subterranean desert.

play
The Brasada Ranch Equestrian Center has mustangs, draft-cross and Western pleasure horses with guides and instruction for all abilities amid more than 900 acres of rideable territory. In winter, ride to Spirit Rock for s'mores. Stroll to the spa for a massage or facial. A follow-up to dinner at the Range Restaurant is stargazing on the patio, far from the city lights, while wrapped in a blanket in a deep Adirondack chair beside the fire pit.