Eddie Swisher has a corner in Bend, Oregon where not only is he greeted on a first-name basis by his customers, but he makes a point of knowing  their names as well. A "secondhand store that sells antiques," his Iron Horse store celebrates fifty years in 2022, and will close its doors on the Congress Street location it has called home for thirty five of those years. Iron Horse will move to a new location on First Street and carry on. We talked to Eddie about where he started and what's next for this local tradition.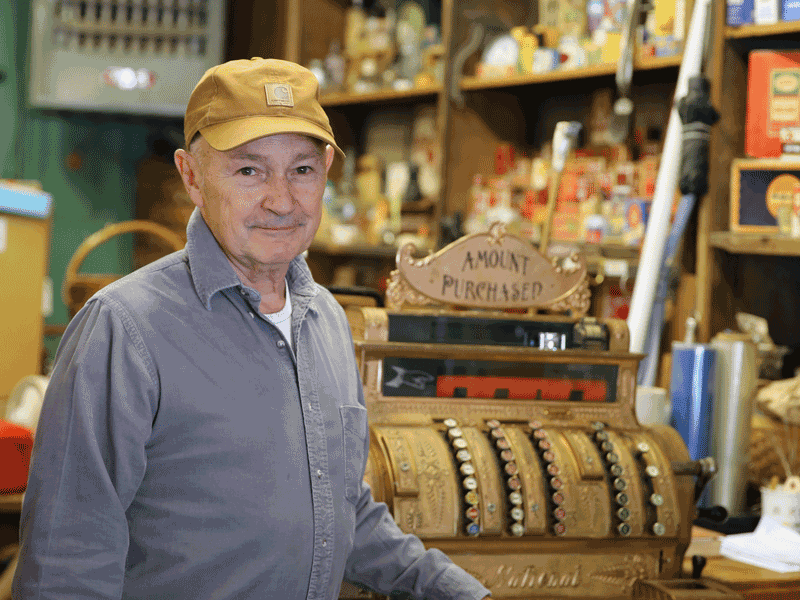 Tell us about how the Iron Horse began? 
It started in 1972 when my dad had a little secondhand store in Newport, Oregon called The Country Store. He had been selling at a flea market there first, and then we ended up renting up a whole block for the store for a couple hundred bucks. My dad had bought and sold for a long time, and he got me started. I had been a mechanic before that. In 1982, I moved the store to Bend. There were several places called Country Store and I wanted something that sounded a bit western to fit Central Oregon, so the name became Iron Horse. Longtime customers will remember our first store on Greenwood that burned down in the mid 80s, then we moved to Congress Street. I have spent thirty five years in this building—half my life.
What is your approach to procurement?
We find things everywhere we can—at estate sales, or when we get a call to come take a look at something in a person's home. People will pull up to the front door and bring something to us in the back of their truck.
How do you recognize what people want?
In the 70s and 80s, when I started, people wanted antiques. Today, a piece of mid-century modern furniture may only last a few hours. People used to collect things, too, like depression glass and pottery. Today, fewer people have the hobby of collecting and we've adjusted to that. People are sometimes looking for items that fit a need.  Not being a 100 percent antique store, we can sell a lot of other things. Today, younger people are maybe looking for different things, too, things that remind them of their own childhood. 
How do you recognize value to price things in the resale world? 
We may not always get it right, but having a great manager [Colleen Jones] is a big help. A lot of prices are subjective and pricing just comes with experience. If we do get a deal on something, we will pass the deal on to a customer and sell it for less. We want to have a reputation for getting you the best deal and we work to maintain that reputation with our customers. For this same reason, we sell to other dealers in Central Oregon. We try to move a volume of stuff versus trying to get the last dollar. 
How has the reseller market changed and evolved over the years? 
I was reluctant to have vendors for the longest time but realized they have a finger on the pulse of what people want. Now, we have eighteen vendors and the vendors know what their customers want and what to look for. 
Is there a business model for the reseller space?
Rarely can a business be successful for fifty years without help or support from others. In my case, I have relied on suppliers and vendors. I work at cultivating and maintaining loyal customers. I have hundreds of local customers who shopped at the [original] Greenwood location or people who shopped with us on the coast.
How have online sites affected the reseller business?
They have actually been a good thing. Some of the vendors share their items online, so it is a marketing tool. It's a plus for us, since a lot of our customers still want to see and touch stuff. 
What is one of the most unusual items you have procured? 
We had a skeleton in a casket for awhile. It was very old—a railroad worker in a handmade pine box that a person brought us. Someone thought the police should know so they came down, and we showed documentation [the skeleton was approved to be used for a "medical" or  "scientific" use]. The police said, "We would appreciate you not keeping it here…we don't want to have to come down again." We eventually found a home for it. 
On leaving the Congress Street location:
Many of our customers are really sentimental about this building, but I'm very optimistic about creating a new experience. Bringing in old fixtures will help create an atmosphere that is special—people aren't coming to grab something quickly, it's about the experience.
Is there a treasure you hunt for personally?
I like old store fixtures. I should have found something I like that is smaller.