Shanna Koenig Camuso launched the whole food artisanal nut and seed company Gather Nuts in Bend in 2019. The Texas native and certified nutrition consultant came to Central Oregon with her husband six years ago from Colorado, seeking a milder climate that still offered the outdoor recreation they both loved. When she was in nutrition school, Koenig Camuso had started making "activated" nuts and seeds, which means soaking them to release nutrients and roasting at medium heat to preserve good fats, in her kitchen. Over time she got more creative, adding unique flavor profiles like maple cardamom and turmeric curry. Soon others were encouraging her to sell these delicious treats, and Gather Nuts was born.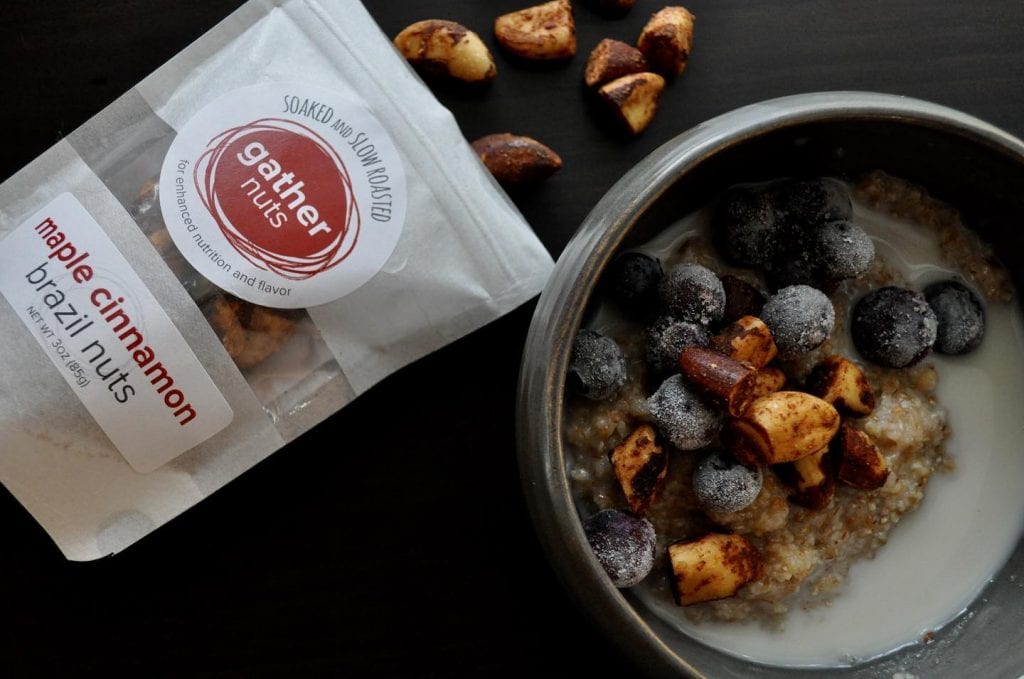 Why nuts?
I wanted to create a whole food artisanal nut and seed company to support healthy eating on the go. Our lives are increasingly busier and eating well can be a challenge. Recent studies show that people are snacking more than they are sitting down for meals. Nuts and seeds are the perfect snack—easily transportable, filling and nourishing—and they're nutritional powerhouses. High in fiber, healthy fats and protein, they keep you fueled throughout the day, while their vitamins and minerals support the body.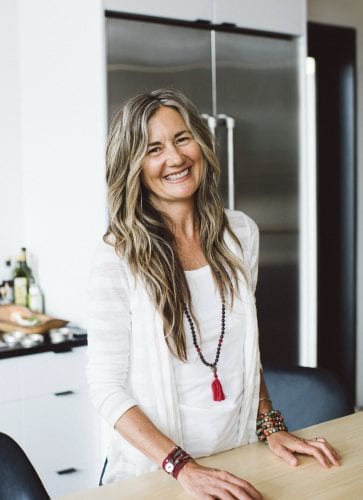 What led you to Bend and to this business?
Growing up, nuts were a staple food in my family, but I never truly understood their value until I was in nutrition school. I learned about the soaking process and the need to protect healthy fats from high temperatures. Nuts and seeds have barriers that protect them from natural threats in nature. If these barriers are not broken down through a soaking process, they can be difficult to digest and some of their nutrients remain locked away. I started to experiment with soaking and roasting at home. I'd open my spice drawer and imagine what would combine well—Turmeric Curry Cashews was my first flavor. I began sharing them with friends, who convinced me that I needed to sell them.
Tell us about the philosophies behind Gather Nuts.
Our mantra is People. Planet. Animals. We work in each of these areas to support healthy eating while minimizing our environmental footprint. Our goal is to not only provide snack options, but to encourage culinary creations with our products to add a quick and easy nutritional boost and added flavor. Some of our favorites: topping oatmeal or salad with our Maple Fennel Pumpkin Seeds, or sprinkling Chocolate Coffee Cashews over a scoop of vanilla ice cream. Every business decision revolves around how we can do the least amount of harm to the planet, from where we source our products to our packaging and efforts to reduce waste. Our nuts and seeds support plant-based eating, which has the potential to greatly reduce the effects of climate change. One of the leading causes of climate change is food: what we consume, the production of it, and its waste. One-fifth of greenhouse gas emissions are caused by meat production alone. Lastly, we offer an alternative to animal-based proteins that is more beneficial to your overall health.
What's it like to run a business such as this from Bend? 
Bend is a fantastic place to be an entrepreneur. You can really feel the hometown spirit here. People rally behind new brands and strong products. Retailers have been exceptionally open and embracing, especially because our products are a great fit for Central Oregon's active lifestyle. I've found mentorship from the local organization Opportunity Knocks, which facilitates a monthly small group meeting of food companies like myself. There's an increasing recognition that the food manufacturing industry is growing in Bend. People are making a concerted effort to ease some of the challenges food startups here face: high cost and low inventory of commercial kitchen space, lack of warehousing, distribution and co-packing.
Share some of your most significant challenges with us.   
One of our biggest challenges is making an initial introduction of our nuts to the consumer. We often do tastings at First Friday Artwalk, Newport Market, farmers markets and various retailers. After falling for our flavor combinations, people connect with our brand and the health benefits of our process.
Where are your sales strongest?   
Currently our retail sales at places like Newport Market, West Coast Provisions and Palate Coffee are strongest, but over the holidays, our ecommerce sales soared. People loved sneaking our nuts and seeds into stockings and giving them as hostess gifts.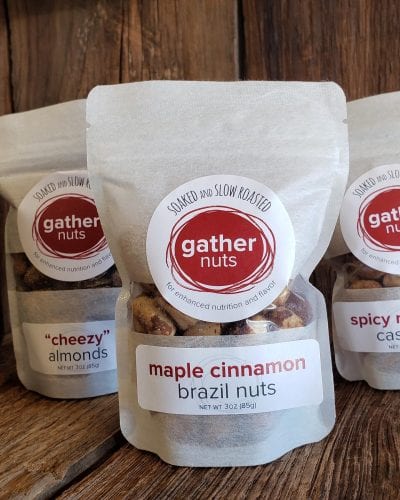 How is Gather Nuts different from other purveyors?   
Gather Nuts uses exclusively organic ingredients. We work with two wholesalers that are multiple certified in being organic and fair trade. Most commercial nuts are sourced from the least expensive places possible, with growing practices that aren't sustainable. So, we begin with a higher quality nut. Then, how we process our nuts is different. Most companies roast their nuts at high temperatures which can damage the fats. This technique produces nuts as quickly as possible. We soak our nuts and seeds in saltwater for twenty-four hours and slow roast them at a low temperature, which takes longer but it's the essence of why our products taste the way they do.
What are your goals with Gather Nuts?   
We are an ambitious company with high growth expectations. We know the snack industry is growing rapidly, as is the consumer demand for plant-based products. We are positioning our company to grow alongside consumer demand.