Oops. We may have given you some bad directions.  If you arrived here from a link in our weekly newsletter, click here to read our story on Bend's Roster of Olympic Hopefuls.
Ice skating in Bend has seen a renaissance since The Pavilion opened.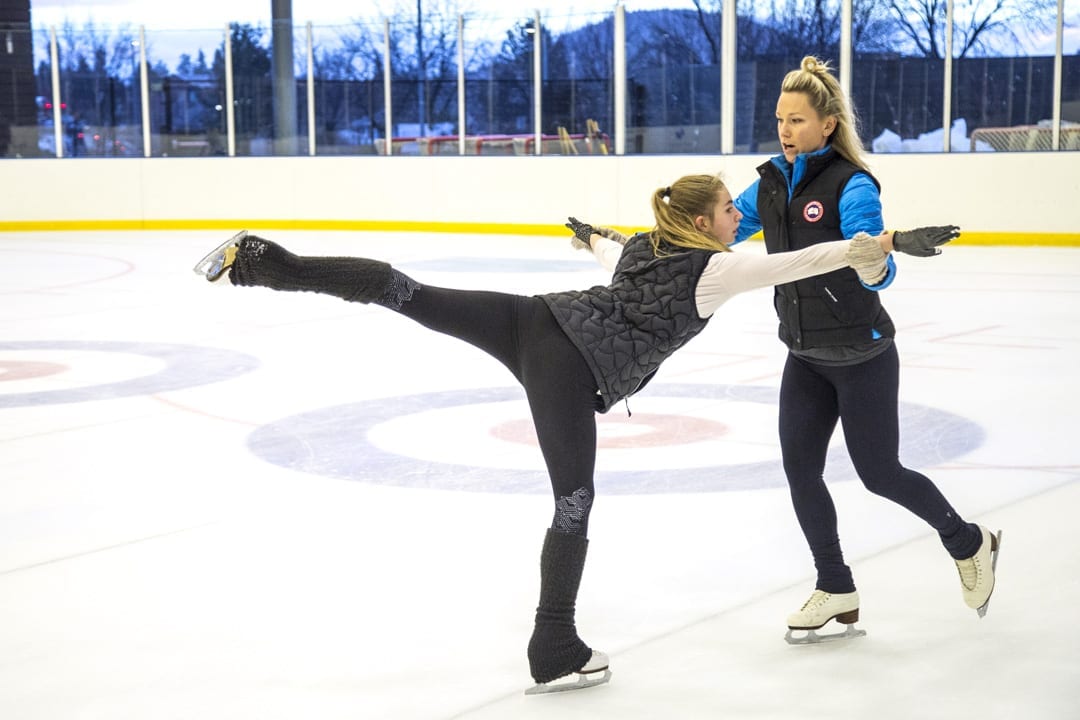 It's 6 a.m. on a cold, dark Monday morning in November, and a group of young ponytailed figure skaters files into the bright light of Bend's Pavilion ice rink. They are here to work on their edging and jumps with figure skating coach Rebecca King, carving arcing turns into the gleaming white sheet while the rest of Bend contemplates its first cup of coffee.
The history of ice skating in Central Oregon dates back more than a century, and longtime locals recall cold winters in the 1940s and 1950s when downtown Bend's Troy Field was flooded with water to create an ice rink. Children would skate for free at night, stopping to warm their fingers by the bonfires glowing at the edges of the rink. As winters warmed, skating waned. Now with the recent opening of The Pavilion, King sees a skating renaissance.
Hailing from Fairbanks, Alaska, King started figure skating at age seven and competed throughout the Pacific Northwest in high school. After college, she worked for Disney On Ice as its tour coordinator, or as she puts it, "tour mom," organizing all travel and logistics for the tours. In 2013, shortly after her parents moved to Washington, King made a quick weekend stop in Bend on her way to visit them. Like many Bend residents, she decided right then that she'd call Bend home. She started coaching at the Seventh Mountain Resort, then at The Pavilion when it opened.
Today, she is the vice president of Bend Ice Figure Skating Club and coaches anyone from young beginners to adults who skated in their youth and want to brush up on their skills. King can coach the tiniest of aspiring skaters and said that if they can walk, then they can get on the ice.
Thea Brown is one of King's dedicated students who doesn't seem to mind those early morning practices. At 13, she skates with King because she likes the challenge of improving, learning and making progress on the ice. "I like having Rebecca as a coach because she really pushes me and makes me face things head on. It takes my mind off of school and homework and gives me a different challenge in life." With King's guidance, Brown hopes to compete in regional and sectional U.S. Figure Skating competitions over the next few years.
Of course, the other key ingredient to figure skating is pageantry. For young girls, that means donning a sparkly dress that catches the breeze just so as the skater glides around the frozen sheet. When King was young, her mom made most of her competition dresses. Now, skaters anywhere can find reasonably priced dresses on eBay. "Through Bend Ice, we're also hoping to provide a cost-effective way to let our students borrow or trade dresses for competitions," said King.
What does she see for the future of figure skating in Bend? "I see nothing but growth in this sport. I'd love to see more boys and men interested in it. Even pairs or ice dancing would be a great addition."