For most boaters, kayaking is a summer sport. For the one percent, the best time to paddle is when the kids go back to school, the crowds subside, and old man winter begins to stir. With Jack Frost as our co-pilot, let's pull on our dry suits and explore what paddlers around here affectionately refer to as the "second season."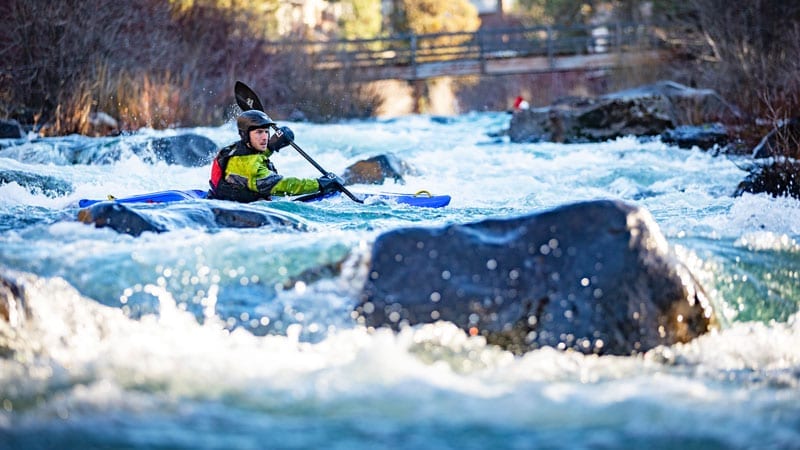 First Street Rapids
on the Deschutes River
Type: Slalom
Difficulty: Summer – Class II; Winter – Class I
Levels: Spring fed, dam controlled
Length: 100+ yards
Commitment: Low
The only form of kayaking to qualify as an Olympic sport, slalom boating was developed by European skiers who transitioned from snow to water after ski season. Like downhill skiing, the sport revolves around timed runs through a predetermined course. In this case, it's a series of hanging downstream and upstream gates.
Slalom boaters are known as rabble-rousing members of the kayaking community. They are also some of the most knowledgeable paddlers. In Bend, 71-year-old Bert Hinkley, a former Olympic coach and boater, leads the slalom covey that also comprises former Olympians, coaches and intermediate to beginner boaters.
While slalom boating was born in the Alps during spring, it's a winter tradition around here due to weather and river flows. "What's amazing, is in Bend, we have a mild enough climate to ski and boat on the same day," Hinkley said.
Riverhouse on the Deschutes River:
Sawyer Park to Tumalo State Park
Type: Freestyle
Difficulty: Winter – Class IV
Levels: Spring fed, dam controlled
Length: 4.6 miles
Commitment: High
Just downstream of First Street Rapids begins the so-called "Riverhouse" section. It's a churning stretch of boulder-strewn runs and narrow whitewater chutes that attracts the region's renegade freestyle boaters.
Will Howerton started his kayak career on Idaho's Payette River, classic big water and a bucket list river for many Western kayakers. Still, he enjoys the Riverhouse run's technical creeking charm. "The walled-in canyon section promotes a remote feeling, which is therapeutic for me," Howerton said. He compares this paddle to the upstream summer run at Meadow Camp, Bend's other backyard section of Class IV river. "Meadow Camp is a bit more difficult but has (the river) trail next to it, so it lacks the remote feel a bit," Howerton said. 
With four "named" Class IV rapids (The Wright Stuff, Flumes of Doom, Trex and Oger), the Riverhouse Run provides predictable risks and rewards, said Howerton.
Things can get even more interesting when dam releases upstream of Bend create surges that quickly push water levels from around 500-700 cubic feet per second (cfs) to 2,000 cfs. This typically happens in the fall or winter when irrigation district's need to create room for spring runoff in upstream reservoirs. (A similar event happens during spring on the Crooked River when strategic releases create a short-lived section of Class III-IV water in the Crooked River Gorge below Smith Rock State Park).
If you are wondering just how cold it gets on the water, well let's just say there's a reason the crowds are gone.  "I remember when, at the end of [one] paddle, my friends couldn't get their frozen life jackets off. Sometimes you have to get in your truck and warm up before you can remove gear."
Outsiders may wonder why anyone would paddle with ice on the water and frost on the ground. For many boaters, the misery is part of the challenge, plus there's bragging rights on the line.
"In whitewater, your weaknesses come out," said Howerton.
No matter the season, paddling challenges your body and mind.
"How well can you deal with fear? How well can you focus? How well are you prepared and organized?
"You will find out very fast what the answers are," he said.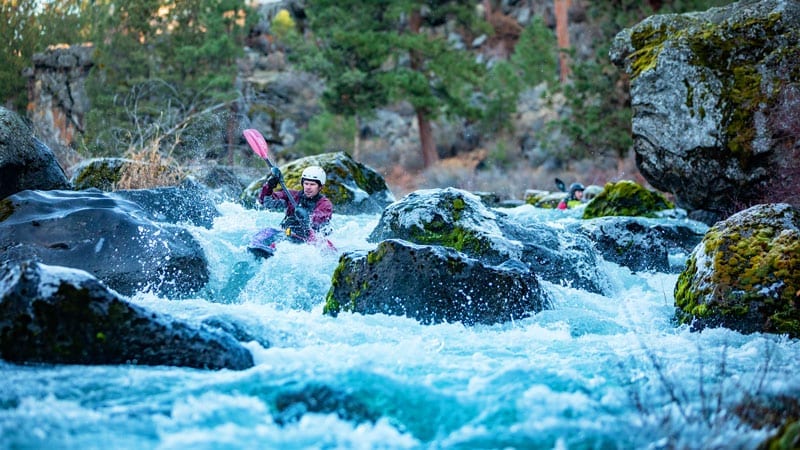 Metolius River:
Gorge Campground to Wizard Falls
Type: Freestyle
Difficulty: Year-round Class III
Levels: Spring fed
Length: Two miles
Commitment: Medium
Easily offering Central Oregon's chilliest splashes, the Metolius River springs from the earth with purpose, beckoning boaters and anglers under an umbrella of pine trees in a bassinet of basalt.
Artist and athlete Christina McKeown has been paddling for two decades and said there is nothing quite like the Metolius in a winter snow fall, when it's akin to  "paddling in a snow globe." Picturesque encounters like limbo-ing under bridges, drinking from riverside springs and grabbing a sneaky, tightly wound tributary creek line make for one-of-a-kind paddle experience, particularly when it's snowing.
The two Class III rapids in the gorge section are rhythmic, but rather short lived. Although bigger drops can be exciting, there's a certain playfulness to the Metolius. The river seems to escort boaters into each rapid, pacing out the frequency like a metronome. By the time a paddler reaches the crux of the run, there's a sense of rhythm to the task. Most other Class III's on the run are avoidable. (Note: Beware the rogue, river-wide snags and lost fishing tackle dangling like holiday tinsel from the streamside brush.)
"Absolutely magical," said McKeown, who's kayaked on rivers around the world. "The Metolius is one of my favorite winter runs in the Central Oregon area, and the rapids themselves will keep you on your toes."
North Umpqua River:
Horseshoe Bend to Gravel Bin
Type: Freestyle
Difficulty: Class III – IV
Levels: Spring-fed
Length: Seven miles
Commitment: Medium – High
Lushly painted in velvet green and moss, the North Umpqua rumbles down the western slope of the Cascades, charging toward the Pacific Ocean. The fabled river's abundant salmon and steelhead drew the likes of Ernest Hemingway and Zane Gray, but it has plenty to offer paddlers. There is scenery aplenty despite an adjacent highway. The Umpqua beckoned sisters Isabel and Violet Rodhouse, a pair of accomplished young boaters from Bend, who finish each other's sentences when describing the ambiance of the Wild and Scenic North Umpqua. The duo paddles year-round but appreciates the appeal of winter solitude on the water. How to deal with freezing water and rain or snow? Simple. Don't dwell on it.
"If you're cold, just try not to think about it. If you think about it, it'll make you more cold. I taught myself that skiing," said Violet, 11, as older sister Isabel, 14, nodded in agreement. 
The Rodhouse family started to paddling together four years ago, frequenting the North Umpqua. Father and national parks ecologist Tom Rodhouse said the landscape is part of the appeal. "There's more diverse flora than we're accustomed to in the high desert landscape," he said. That includes madrone, oak and a conifer mix, a confluence of the Southern California Mediterranean chaparral and coastal vegetation. He adds that it's fun to paddle through different geology, as well, including rounded boulders that contrast with Central Oregon's sharp young, monochromatic lava rock. That's right, Toto; we're not in Kansas anymore.
With multiple jaunty, terrace-to-pool drops, Horseshoe Bend to Gravel Bin contains one Class IV rapid, Pinball and several must-make moves on Class III rapids that occur with regularity each mile. The Rodhouse crew agreed that Pinball is easier to navigate at winter water levels. The fun begins just above this rapid with a difficult Class II-III "pour-over" feature. At Pinball, boaters should start right of center and bounce spryly to the left. The rapid finishes with a chute and a center boulder at the tail, best passed on the left. Navigating the twists and turns, the Rodhouses didn't miss a beat. When Violet flipped her boat, she caught a combat roll—no problem. All in a day's play.