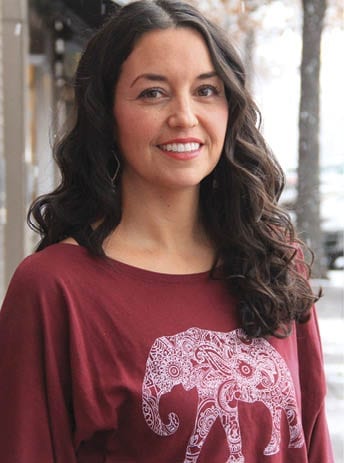 Sex trade survivors form the backbone of an international fashion collaboration based in Bend.
INTERVIEW BY KELLY KEARSLEY
At first glance, you might assume that Shannon Keith's mission is to sell exotic pajama pants to women and girls. But the founder of the Bend-based e-commerce company Sudara has a much loftier goal: to free women who have been victims of India's sex slave trade. The fashionable pajama pants, known as Punjammies, are proving to be just the means.
The social enterprise company, which just relocated its headquarters to Bend last year, employs about a dozen people stateside. Keith, however, is most proud that over the past eleven years, her nonprofit turned social enterprise has also employed more than 300 Indian women, giving them the economic means to leave broth-els and provide for themselves and their families.
We sat down with Keith to learn more about Sudara's beginnings, the jobs it creates and the significance of its transition to a B Corporation.
What prompted you to start Sudara?
I had visited India as part of a service project with our church in 2004 to help orphans, and went back the following year to dedicate a freshwater well as a gift to my in-laws. The well happened to be in the Red Light District, and I started to meet women and children who were modern day slaves. There were young girls who had been sold in the sex trade, young women who were trying to feed their families and orphans with no other option.
Through that experience my heart swelled and broke at the same time. I realized that while they needed a lot of services, at the most basic level what these women needed was a job so that they didn't have to sell their bodies. I started Sudara as a nonprofit that year.
Can you explain how Sudara's job creation works?
We work with nonprofit partners in India to identify sex trade survivors as well as girls who may be at the highest risk. For instance, a young girl whose parents may have died or girls who have grown up in brothels and are getting ready to work. We then work with Indian partners who have sewing and vocational training programs, where women can come to learn to sew our products as well as receive other services. We pay them a living wage that is twice as high as the fair trade baseline.
How did you land on pajamas as your first product?
I knew that if I could sell something that the women could make, then we could have some sustainable job creation. India has beautiful, high-quality textiles, and a pajama-style pant is simple and something that the women can succeed at. For consumers, we are slow fashion, which means we want to create good quality products that will last, and not turnover in a few months.
You transitioned to a for-profit, B Corporation in 2015. What prompted that decision?
The nonprofit form became a hindrance to our growth; and the more we grow, the more women we can offer jobs. A business is a tool to create jobs—that's what they're set up to do. Also with my background in sales, that's where I'm more comfortable. By becoming a registered B Corp, we preserve our nonprofit values and set ourselves up to scale. It's a way to say that we're committed to aligning our business and values with our operations. I also think it's a great litmus test for people. We're transparent with how we do everything, and people can look at us and see that our business truly reflects our values and heart.
You moved to Bend in 2006, and brought Sudara here last year. What drew you here?
Yes, I moved to Bend when the nonprofit was still in California. My husband and I had visited and thought about retiring here, but we realized that we didn't need to wait until retirement to build the life we wanted. After we transitioned Sudara to a business, then I became CEO and Oregon was a great fit. Oregonians are more socially conscious as a group, and the entrepreneurial spirit here is robust and very collaborative.