Building a she shed and making a room of her own.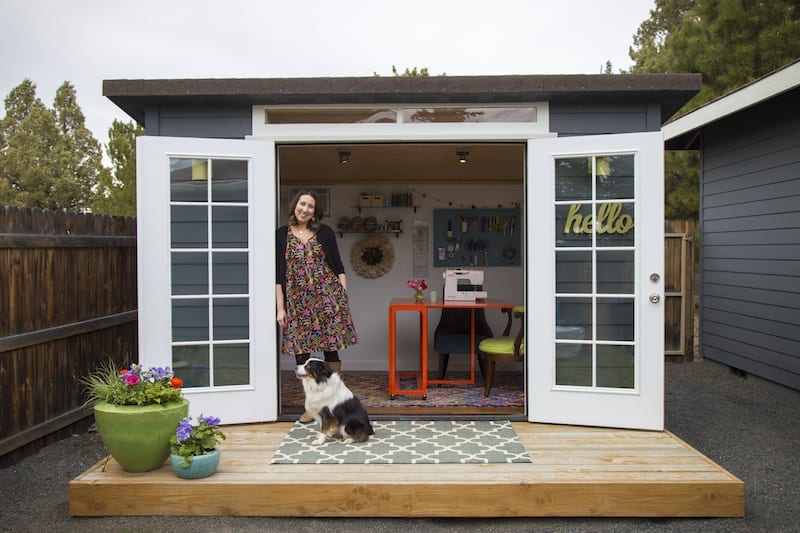 Common craft corners are usually relinquished to an existence behind closed doors. Hidden from view, they are disassociated from the airy, less cluttered parts of the home and are often neglected. "She sheds," with an admittedly kitschy name, are gaining popularity as a dedicated space where crafting materials can be organized and find their purpose. These small buildings outside the main home are named in the same vein as the "man cave" and are often built by and for women. The outbuildings offer a sanctuary of sorts, plus a dedicated space to pursue hobbies and crafts.
Valerie Yost, who lives in Bend, had the idea for her shed when she picked up sewing again after having kids. "I love to sew, and I have accumulated a lot of fabric and miscellaneous craft things throughout the years," she said. "There was absolutely no space in the house for that, and you know, if it's not handy and practical, you don't use it."
Built on a rarely used side yard on her property, the ninety-six-square-foot building houses all of her sewing materials in creative and efficient ways. Building the shed inspired Yost and her husband to use the rest of the side yard in a new way. "We've kept adding on," she said. "This was basically a dirt side yard that was never used. We added grass and the fire pit, and it's a more usable space."
She sheds are growing in popularity right now. Rick Lovely, who owns Tamarack Sheds in Bend, said that he's seen an increase in people, especially women, looking for these kinds of spaces outside the home. They're easy to put together and can be designed to fit each person's need or style.
Though Yost is aware of the she shed trend, she doesn't think of her space that way. She just calls it "The Shed."
Small spaces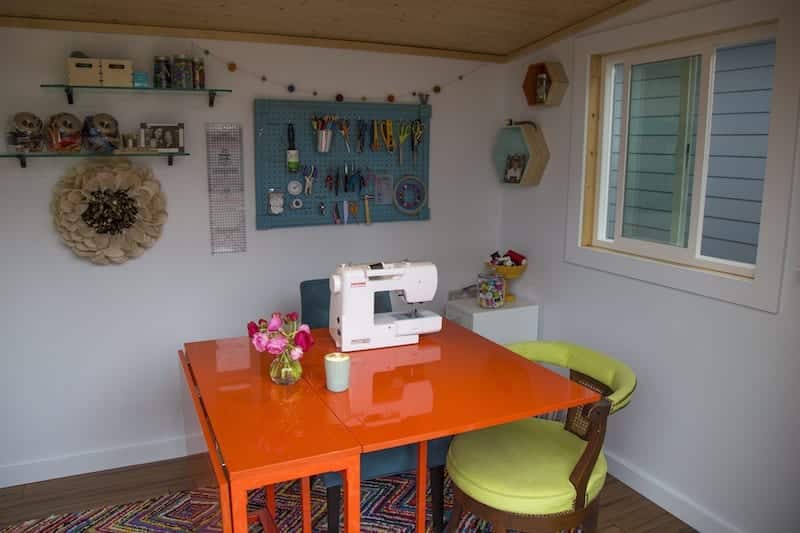 White walls and a natural wood paneled ceiling keep the space from feeling small. "I knew since it was such a small space that I wanted it to be a white interior, but I love color so I wanted to have pops of color," said Yost.
Hiding clutter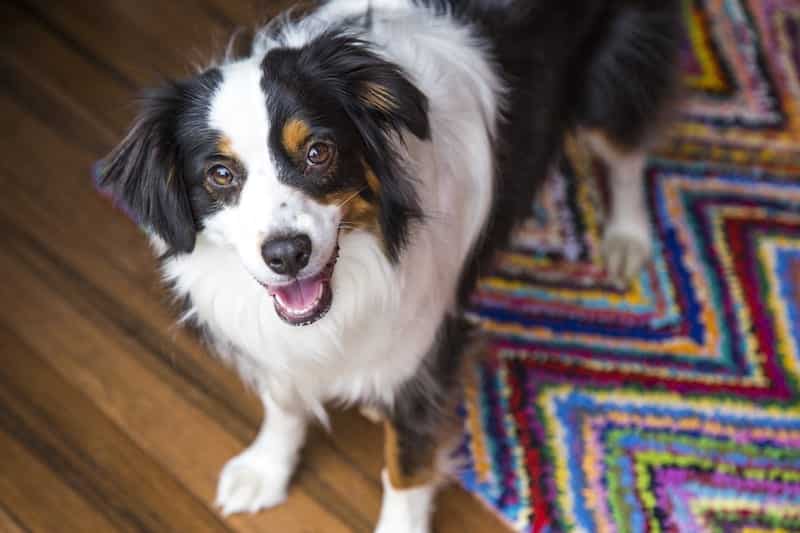 Repainted lockers salvaged from Craigslist hide yards of fabric and other sewing supplies. "This rug is really fun because it adds color, but it also hides thread really well," she said.
Thrifty finds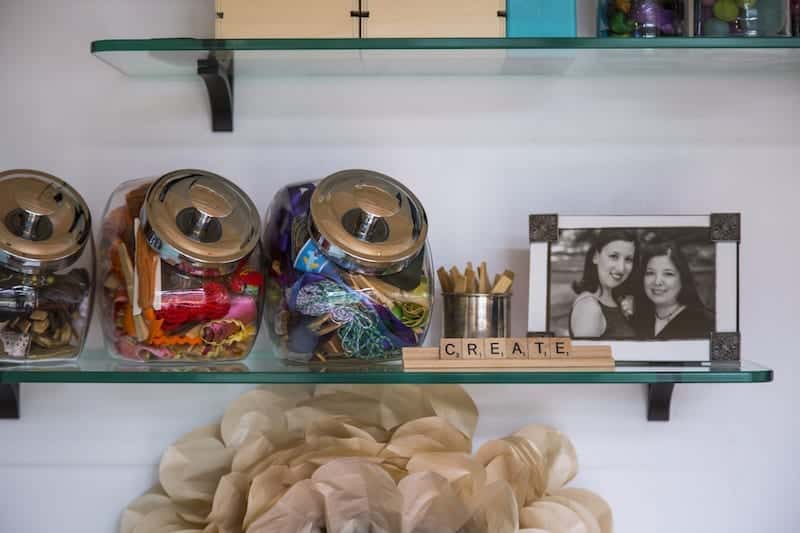 She purchased bamboo floors on clearance from Lowe's. The table was another Craigslist find. Colorful ribbons are stored in clear glass containers, and a repainted frame turned into a pegboard to hold tools. The shed is dotted with "lots of things I've collected, and find pretty ways to use," said Yost.
Modern Comfort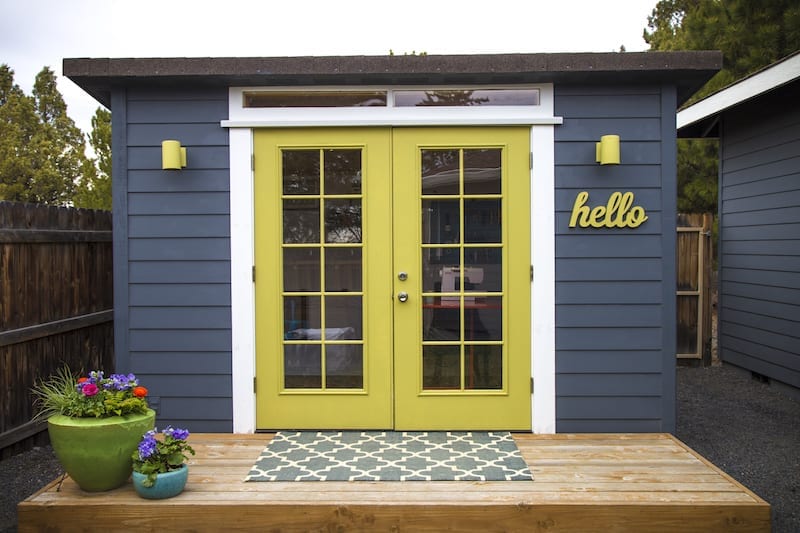 Central Oregon has a wide range of weather and temperature. "We decided to add a little wall heater and an air conditioner, so I should never have an excuse for not being out here," said Yost. With that addition, Yost began also using the space as an extra guestroom.
Creative inspiration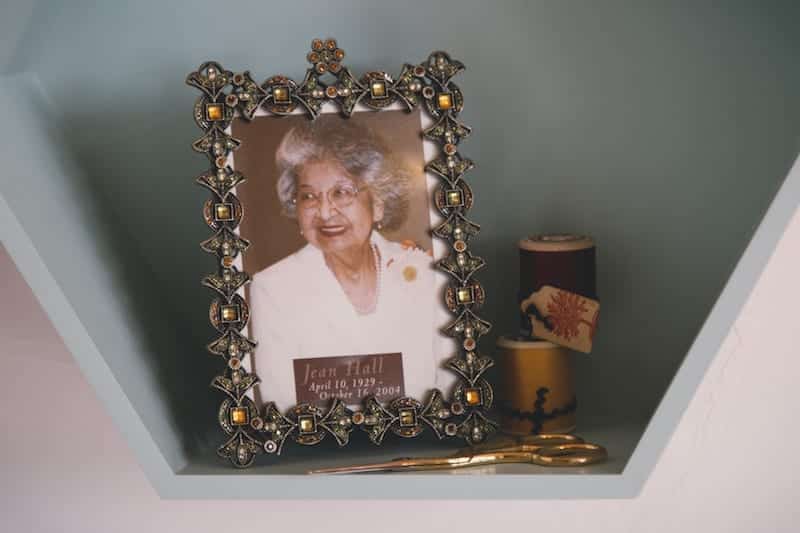 A framed picture of her grandmother, who originally taught her how to sew, sits on a shelf in the shed. "My grandma, she was a really important person in my life and was a master seamstress," said Yost. "[My grandma] being able to sew anything for me—I wanted that for my own kids."