These eagerly anticipated releases belong on your bookshelf in 2020.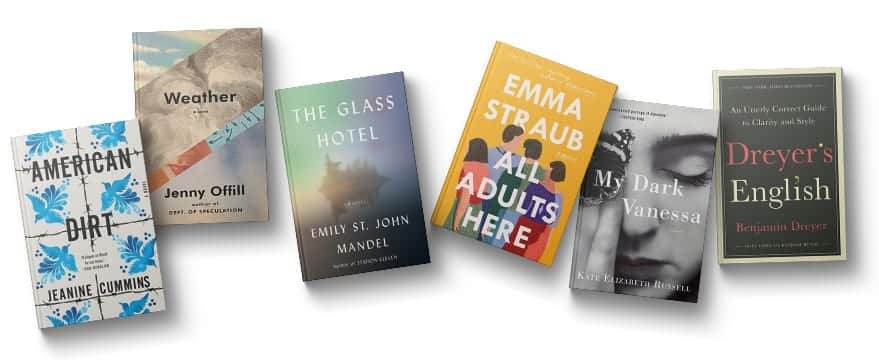 1 American Dirt by Jeanine Cummins American Dirt is already being called the next great American novel. The novel follows a middle-class family from Acapulco, Mexico as they flee north to the United States, hoping to escape the wrath of a brutal drug cartel. I haven't read any of Cummins' earlier work, but with raving blurbs from authors like Kristin Hannah, Stephen King and Julia Alvarez, this novel is definitely on my to-read list.
2 Weather by Jenny Offil Jenny Offil's novel Dept. of Speculation was noted as one of the best books of its year by the New York Times and has been passed around as a quiet favorite in the literary world. Her newest novel Weather follows a librarian who agrees to answer letters written to an old mentor who is too busy to answer her own fan mail.
3 The Glass Hotel by Emily St. John Mandel When people ask me what book they should read next, Emily St. John Mandel's Station Eleven is my first recommendation. That means that The Glass Hotel has large shoes to fill. Still, I have high hopes for Mandel's latest novel that involves Ponzi schemes and mysterious disappearances at sea. Like Station Eleven, I have a feeling that this most recent novel will be one of those hard to summarize, yet must-read books.
4 All Adults Here by Emma Straub In addition to owning and running Books Are Magic, a popular bookstore in Brooklyn, novelist Emma Straub manages to write contemporary novels to great acclaim. Her next work, All Adults Here, is a family-centered epic that is already garnering great reviews.
5 My Dark Vanessa by Kate Elizabeth Russell Fifteen-year-old Vanessa's affair with her teacher is a source of strength and confidence, until a former student shares a secret. Vanessa is not the only one to gather her teacher's affection. Now she must reconcile her memory with the knowledge that she has been manipulated. Russell's debut novel examines the power of memory, identity, and our willful need for self-deception.
6 Dreyer's English by Benjamin Dreyer OK, it's more of manual than a novel and it was technically released in 2019, but… if you've argued over a semicolon, debated the validity of the Oxford comma, or taken issue with a split infinitive, this offering from Random House's copy chief is a must-have. Dreyer puts style and personality back into the tired world of style guides, adding humor and anecdotes designed to both entertain and educate.