A visit to downtown Bend's Smith Rock Records is an experience rife with nostalgia as customers step into a space packed with new and used vinyl albums, CDs and cassette tapes. Vintage music posters, memorabilia and tapestries decorate the walls, the smell of incense cloaks the air and music softly plays over the surround sound system. The store sits in the O'Kane building, a two-story structure built in 1916 and placed on the National Register of Historic Places in the 1980s—all appropriate to the throw-back feel of this classic destination.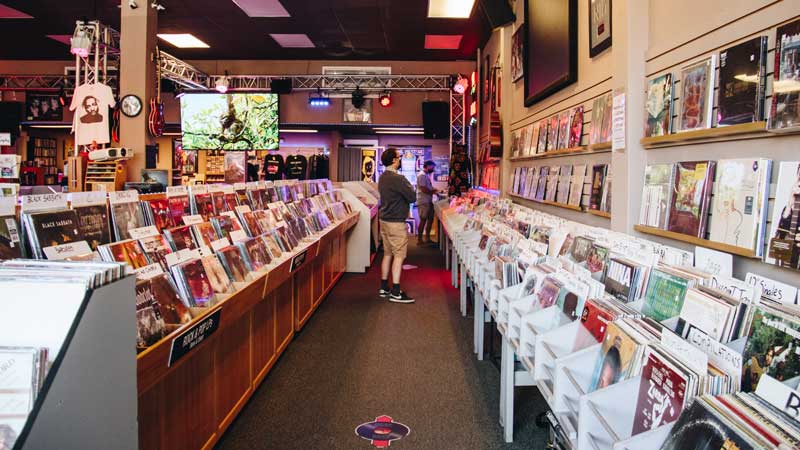 While a trip to the record store might seem like a thing of the past for many, vinyl sales have actually skyrocketed across the U.S. in the past couple of years, thanks in part to shifting habits during the pandemic and a growing number of music lovers preferring analog formats to listen to their favorite tunes. The spike in interest and sales has been a boon for stores like the one in Bend, which in 2020 changed owners and rebranded under a new name, Smith Rock Records. 
Less than two years ago, the future was uncertain for Bend's Ranch Records, as the downtown record store was known, in business since 1996. Then-owner John Schroeder had been eyeing retirement for a couple of years, and with rumors of pandemic shutdowns looming last February, he briefly considered calling it quits on the store. Luckily for Schroeder and audiophiles around the region, another music lover was more than ready to step in. "I had no apprehension in taking it over," said Patrick Smith, a Central Oregon native with a long history in the local music scene. Smith, who also does sound production for concerts, had discussed buying the store from Schroeder in the past, and pandemic or not, he was still interested. Schroeder began to show him the ropes, and by the summer, Smith was officially the new owner.
Smith thanks his mom for introducing him at a young age to music, which has been an important part of his life ever since. "The radio was constantly going when I was growing up," said Smith, who grew up in Bend and Redmond. "And she gave me some of her 45s when I was real little." After college in Eugene and stints in Seattle and Portland, Smith returned to Central Oregon, where he has helped with a sound and audio production company and been sales manager at audio equipment store Stereo Planet, among other jobs. As someone who appreciates music in its richest forms, including vinyl and CDs, Smith understands why the formats are making a comeback. "Hardcore music folks, they never stepped away from the record," he said. "Records sound a lot more realistic. When someone hits a cymbal, it sounds like a cymbal."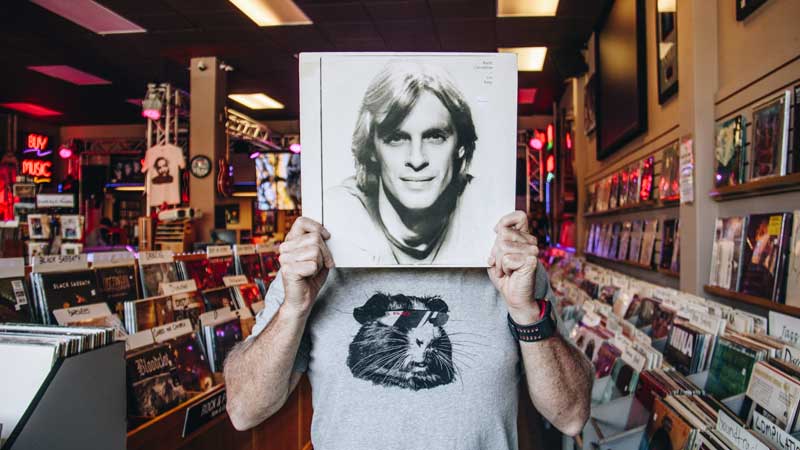 After taking over the store last June, Smith renamed it Smith Rock Records—which includes his own last name, the word "rock," and is a nod to Smith Rock, a favorite climbing destination for Smith, who lives between Redmond and Terrebonne. While some loyal customers questioned the name change, Smith was quick to explain that Bend has been home to record stores of many names over the past few decades. In the early 1980s there was Great American Record and Plant, which split into Great American Record for music and Stereo Plant for audio equipment (today it's called Stereo Planet). When Great American Record left town in 1982, Schroeder managed a store called Rising Run Records that popped up in its place. That store's name later changed to Paramount Records and after it eventually closed in the early 1990s, Schroeder and a partner opened Ranch Records. While Smith has kept the "Ranch Records" illuminated sign in the window of Smith Rock Records for old times' sake, he's reorganized the shop to make it more inviting to customers and made other upgrades, such as adding concert-quality trusses with stage lighting on the walls and adding wheels to displays to easily rearrange the space. Smith hopes to begin hosting events like album singings, acoustic shows and small concerts as soon as this winter.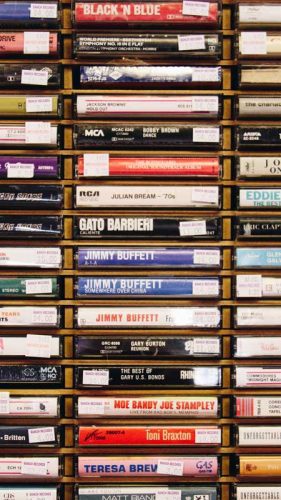 Business has been steady through the pandemic, Smith said, with lines forming outside during times when the store capacity was limited. The holidays last year saw lots of gift-buyers and there were plenty of tourists over the summer, in addition to locals, he said. "The pandemic has helped quite a bit. People were just in the vinyl-buying mood and people really needed music," Smith said. In 2020, vinyl sales across the country grew to 27.5 million records, rising thirty percent from 2019 and outpacing CD sales for the first time in thirty-four years. While Smith can't predict the future of the record industry, he said he expects more classic record collections to surface in the coming years as the Baby Boom generation ages and passes on their belongings, boosting used inventory for shops like his. At the same time, artists today are producing more vinyl when they release albums, expanding new inventory for record stores. In the first half of 2021 alone, 19.2 million new records were sold.  
Check out the latest inventory and see what the vinyl resurgence is all about at Smith Rock Records, 117 NW Oregon Avenue in Bend, or visit facebook.com/smithrockrecords for store updates.