Is this winter a precursor to Central Oregon's new normal?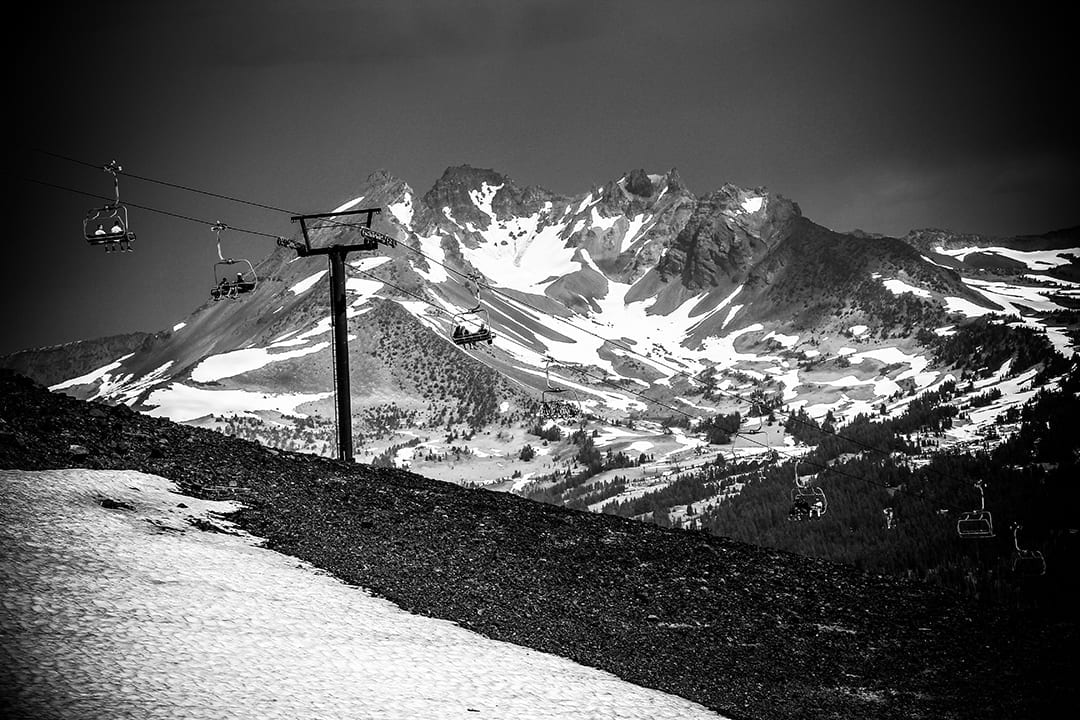 When it comes to snow, Central Oregonians are something like Eskimos. We have an entire vocabulary dedicated to the frozen white crystals (the "pow was totally blower, bro") and whole industries dedicated to leveraging it for recreation. While the novelty of shoveling snow by the foot off your roof wears thin quickly, even those who never click into a ski or snowboard find something to appreciate about the abundance of snow that falls around Central Oregon.
It's the reason that our most recent drought is a cause for concern, not only among skiers, but also scientists, retailers, resort owners and anyone else that benefits from Central Oregon's position as a winter tourism destination.
As of early February, snowpack in the Deschutes basin was less than half of the annual average, with little hope of recouping the shortfall before the onset of spring. The winter that wasn't comes on the heels of an epic Central Oregon winter last year when snow loads collapsed roofs and shoveling seemed a daily occurrence.
Yet, the barren winter of 2017-2018 is only three years removed from one of the warmest and snow free winters on record in Oregon, 2014-2015. That winter, or lack thereof, is linked by scientists to an intense wildfire season that followed, severe stream flow reductions and drought conditions that affected everyone from fishermen to farmers across the state.
Though no one is predicting an end to winter altogether, projected changes in global climate are expected to result in significant temperature increases in Oregon. Under the most extreme cases, winter temperatures could increase by an average high of 4.5 degrees Fahrenheit by 2050, while summer temperatures could increase as much as 6.3 degrees. By 2080, winter high temperatures are expected to soar by as much as 7.4 degrees on average, with summer highs jumping by a sweltering ten-degree average.
Northwest climate scientists believe that the "worst-case" scenario model can be avoided, but even the most conservative estimates predict a sea change in Oregon's climate over the next century, according to researchers at the Oregon Climate Change Research Institute (OCCRI). Under the "low emissions model," which assumes that the world will find a way to cap and ultimately reduce its greenhouse gas pollution, Oregon's average winter high temps would increase by more than three degrees by 2050. By 2080, that jumps to four degrees warmer than today's average winter highs. Compare that to the last one hundred years, when Oregon's average temperatures increased an average of roughly two degrees.
"When I started working on the subject twenty years ago, climate change was about what would happen in the future, and now we're surrounded by evidence of climate change," said Phillip Mote, OCCRI director and a climate research at Oregon State University.
Mote's team at OCCRI is charged with quantifying and localizing climate change research specific to Oregon. A multitude of state and federal agencies, including the Bureau of Reclamation and the Portland Water Bureau to name just a few, rely on its research to inform their operations. The publicly funded institute releases a semi-annual report to the Oregon legislature, which spells out some of the observed impacts of climate change in Oregon. The most recent report was released in 2017 and contains some dire predictions. For snow lovers and farmers and others who rely on water, the report is particularly concerning.
According to Mote's research team, Oregon's snow levels are expected to rise, and most of the state's high country is expected to move from a rain-snow mixture in winter to a predominantly rain dominated weather pattern in winter. By 2080, all of Oregon, save parts of the Blue Mountains, are projected to become rain dominant. That's right, most of Oregon won't see snow—at all—in another sixty years. In the meantime, the frequency of warm winters is expected to increase as part of a pattern of increased variability and propensity for more extreme weather, the report found.
While there is no guarantee that we will see another warm winter next year—or even the following year—the current drought offers a window onto some of the economic impacts and the reality of living with a winter that barely musters a whimper.
At Elk Lake Resort, owner Wendy Prieve said her business, which caters to snowmobilers and cross-country skiers, is down almost 35 percent from last year. The resort is booked full to its projected close on April 1, but Prieve is concerned that some of those guests will cancel their reservations if the warm weather trend continues. As of early February, there was only a five-to-six-inch base around the resort. The resort has largely idled its sno-cat transport that picks up guests at a locked gate near Mt. Bachelor, because there isn't enough snow to make the journey. Snowmobile trails that access the resort are worn almost to dirt.
"Snowpack is so poor and non-existent that the local snowmobile clubs have stopped grooming," Prieve said.
Prieve and her husband Dave, who purchased the resort in 2013, are weathering their second drought in four seasons. While closing for the winter is an option, it's not their preference. The winter season allows them to keep key staff on payroll and provide a needed service to guests. Prieve isn't holding out a ton of hope that Mother Nature will rescue them this year. She is already talking to the Forest Service about opening the locked gates on Century Drive early, which would allow guests to drive directly to the resort, something that hasn't happened ever before. If the warm weather continues they might just start renting paddleboards, said a half-joking Prieve.
Nearby at Mt. Bachelor, the conversation rarely turns from weather—good, bad or otherwise. As Oregon's highest ski resort and one that attracts frequents storms, Bachelor is somewhat insulated from the impacts of climate change and drought. This year, the resort opened prior to Thanksgiving and has only suspended operations due to winds and ice removal. Compare that situation to lower elevation resorts such as Willamette Pass, which had yet to transport a single skier on its lifts as of mid-February. In Southern Oregon, Mt. Ashland also didn't open this year. It was the same situation at Warner Canyon, a one-lift ski community owned resort that services Lakeview and surrounding areas.
Though Mt. Bachelor is clearly in better shape than most, the year hasn't been without its challenges, said Mt. Bachelor President and General Manager John McLeod. "We are down from last year and where we would have hoped to be this year, but we are not down as far as we could be," McLeod said in January.
While weather will always be the biggest variable in its operations, Mt. Bachelor has already taken steps to hedge against warming winters. In 2016, Mt. Bachelor's parent company, Salt Lake City-based Powdr Corp., acquired Sun Country guiding and rafting service in Bend. The resort has also added summer chairlift rides and high elevation dining at its mid-mountain lodge restaurant. It has also constructed a disc golf course and invested heavily in a downhill mountain bike course.
"We are in the business of adapting to what Mother Nature serves up, and that's always been true. If there's an increase in variability, we have to increase the rate at which we adapt our operations." McLeod said.
For Central Oregon powderhounds, that may mean waiting longer for snow to arrive, traveling farther to get to it and coming up with more four-letter words for rain.