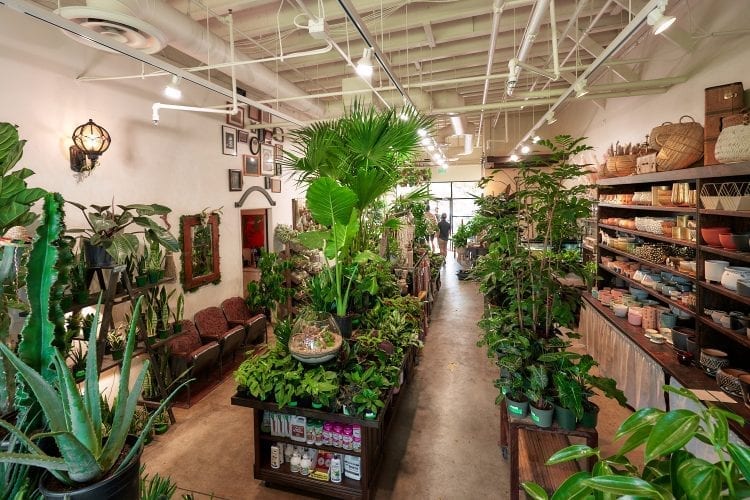 The owner of Bend's whimsical new plant shop, Somewhere That's Green, has had a passion for plants blossoming since he was a child growing up in Philomath, a small town near Corvallis. In elementary school, John Kish planted seeds and brought his own crosspollinated plants in for show and tell. In high school, he bonded with a plant science teacher and dove headfirst into a project restoring the region's prairie ecosystem. And in college at Oregon State University, he worked on a project fighting the gall virus from harming grapevines while studying sustainable and ecological horticulture.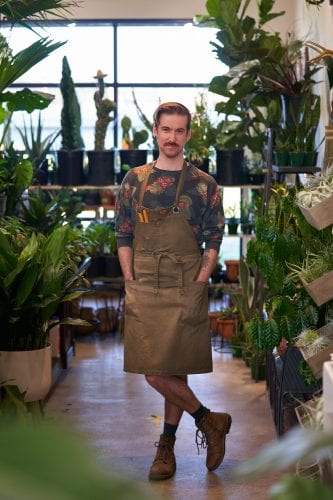 By the time he was 21, Kish's love of plants was playing out in New York City, where he was busy keeping 5,000 holiday poinsettia plants thriving at Rockefeller Center. "I was the interior landscaper, there to install and maintain the plants," Kish said. But it wasn't plant life that brought Kish to the city—he was part of a demanding Broadway conservatory nurturing another passion, theater. When his 18-hour days with instructors and classmates were done, he would hurry over to Rockefeller Plaza to begin tending to the plants. Long days balancing horticulture and theater until 1 a.m. didn't last, and soon Kish was working at bars and coffee shops, with horticulture as only a hobby.
After a few years in the city, Kish traveled to Ecuador with a group called Dramatic Adventure Theater. He would get to see the Amazon, while visiting an impoverished village, running a theater production during the visit and re-awakening his love of nature. "Seeing the Amazon was always a dream of mine," Kish said." After the trip, he was ready to return to Oregon.
Kish bounced between Bend and Portland over the next few years, getting involved in theater, including at Cascades Theatrical Company in Bend and by starting his own production company, Topsoil Theatrics. Meanwhile, a dream of someday opening his own plant business was quickly becoming more vivid. Things started modestly—he acquired plants and sold them at pop-up shops within other stores, starting at Revolvr during a First Friday in late 2018, and expanding with markets and coffee shops. By last summer he had moved into Bend's DIYcave makerspace with the budding business, Somewhere That's Green, a name from a song in Little Shop of Horrors. Kish's Topsoil Theatrics had a production of the musical slated for May, but the pandemic shut things down two weeks into rehearsals.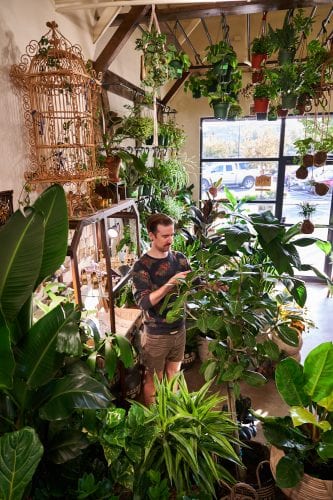 With theater on hold, Kish focused on selling plants, and amid COVID-19 his customer base was quickly expanding. He launched a plant gifting program called "Purposeful Plants" allowing customers to gift plants for delivery to others in town, and planned a fun drag-queen-themed live class on repotting plants, acting as his alter-ego, Fertile Liza. This summer, with the plant business outgrowing DIYcave, Kish took an opportunity to move into a space on Powerhouse Drive in the Old Mill District. In a ten-day span, Kish along with Matt Marson (Kish's fiancé and new co-owner), Kish's father and others quickly revamped the space, building shelves for pottery and moving in more than 500 species of plants. By early July, they were open for business in the new location.
The new shop is cozy and imaginative, packed with plants large and small and a wall of pottery from local ceramicists, including Cook's Pottery in La Pine. Tote bags bear Kish's favorite plant, the giant rhubarb, which he also sports a tattoo of on his left forearm. The shop stocks four main plant varieties: topicals, arids including succulents and cactus, aquatics and air plants (no soil).
When customers purchase a new plant from Somewhere That's Green, they're also buying insight from Kish, Marson and two other staff members, Daniel Young and Jonathan Stockman. Staff will help repot plants into ceramic containers, drill drainage holes and offer to help in the future if the plant ever struggles. "We want you to be successful," Kish said. In addition to selling plants, Kish is a plant consultant of sorts, making in-home visits to assess lighting and space, and offering recommendations for which plants would thrive in Central Oregon homes.
As new customers trickle in daily, Kish is feeling grateful for the shop's word-of-mouth success and the future. Ongoing workshops are planned (only some are taught in drag), as well as plant swaps and the possibility of other events aimed at bringing people together around their passion for plants. "Plants bring peace and growth," said Kish, who is quick to tout the benefits of getting your hands dirty and tending to a plant, watching it grow. "There's something really rewarding about it."