Time, travel and experience combine to create a unique home overlooking the Deschutes River.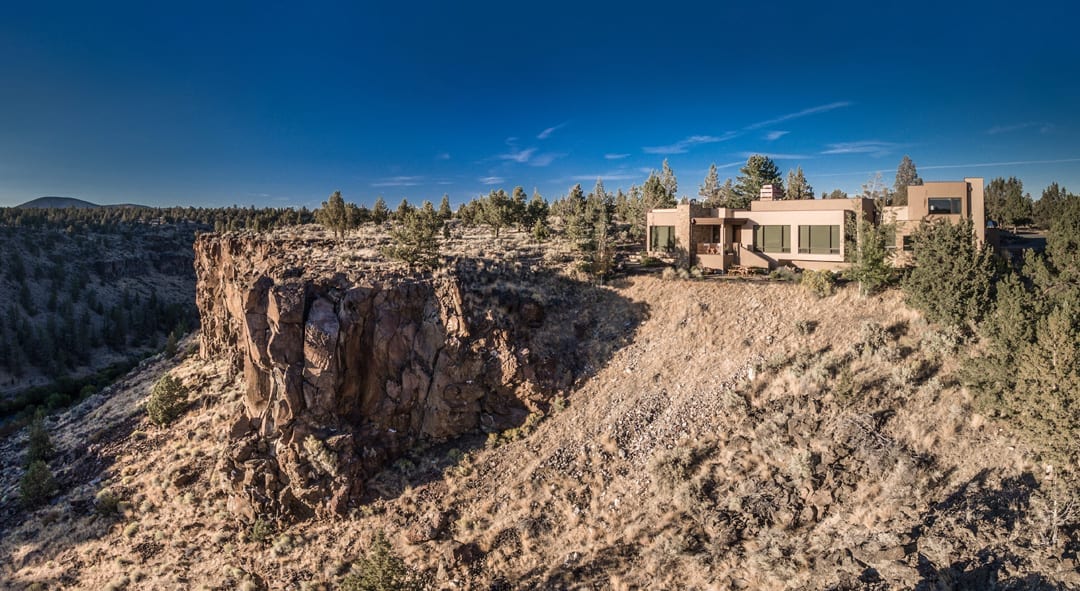 When then-Portland couple Randy and Lynn started eyeing a second home to eventually retire to more than a decade ago, they fell in love with a view. The house, on the other hand, needed more than a little work. A rickety A-frame perched on a picturesque canyon, the home survived twelve more years as their part-time residence in Central Oregon while they maintained lives and careers in Portland. But when the windows started leaking water, the couple knew it was time to start over from the ground up.
"It was like a three-story waterfall," said Lynn, recalling a particularly strong rainstorm that prompted nearly all the windows to fail. Windows weren't the only problem. The quirky A-frame design was not conducive to their lifestyle or tastes. "It was not a house for growing old in," said Lynn. "But we bought it for the location," added her husband Randy of the house and eighteen-acre site overlooking the Deschutes. (The couple asked that their surname not be used to preserve their privacy.)
Working with Bend-based architect Scott Gilbride and general contractor Bryan Jolly, the couple first had the A-frame demolished and then quickly started construction under an unusually tight schedule designed to minimize noise pollution that could disturb some resident golden eagles, a federally protected bird whose breeding patterns are easily disrupted.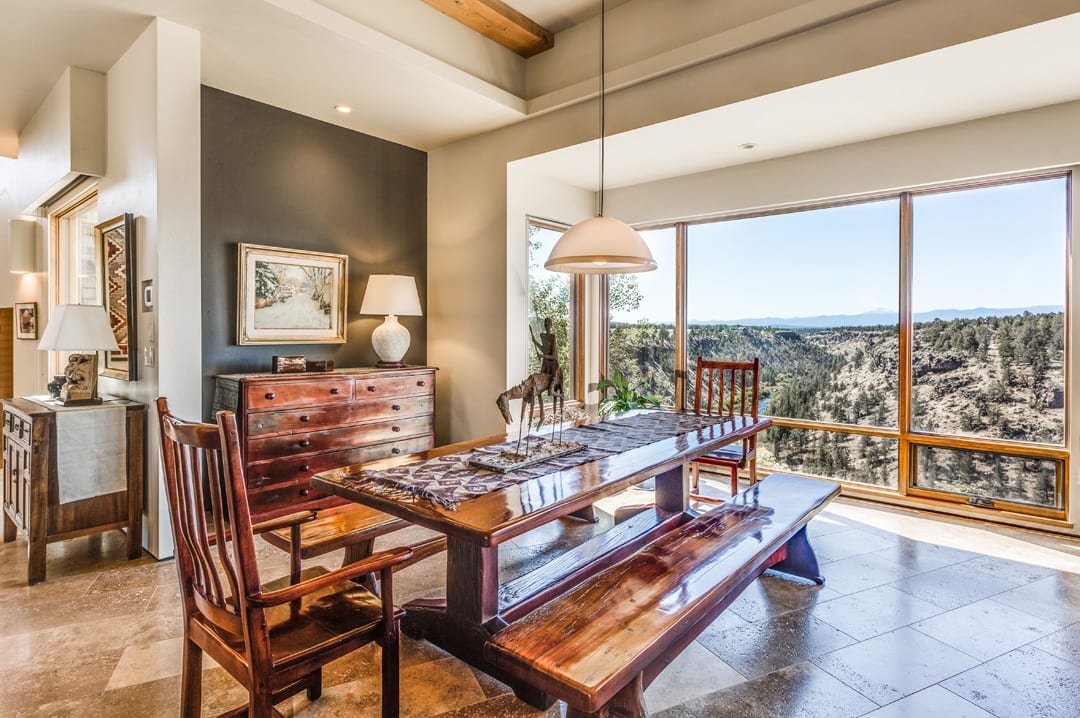 "We had to have the building up and the envelope enclosed in about four months before the nesting season began," explained Jolly.
Lynn who, as a military brat, was raised in Albuquerque and Libya, had originally wanted a Southwest-style home complete with portal (porch cover), vigas (exterior beams) and kiva (a small, rounded fireplace). "I'd been designing this house in my head since I was 15 years old," she said, "but thankfully Scott talked me out of that. It just would not have worked here."
Instead Gilbride reinterpreted the Southwest style into a Pacific Northwest modern design with a flat-roofed, horizontal stucco structure that, like its Southwest counterparts, is designed in the same hues and materials as the surrounding area and has a layout intended to interact with the outdoors. "It needed to land softly on the site," said Gilbride. "That site is ridiculously gorgeous."
The neutral stucco and stone not only help the home blend into its site but also let the location remain the star. "The house was built to support the view," explained Randy.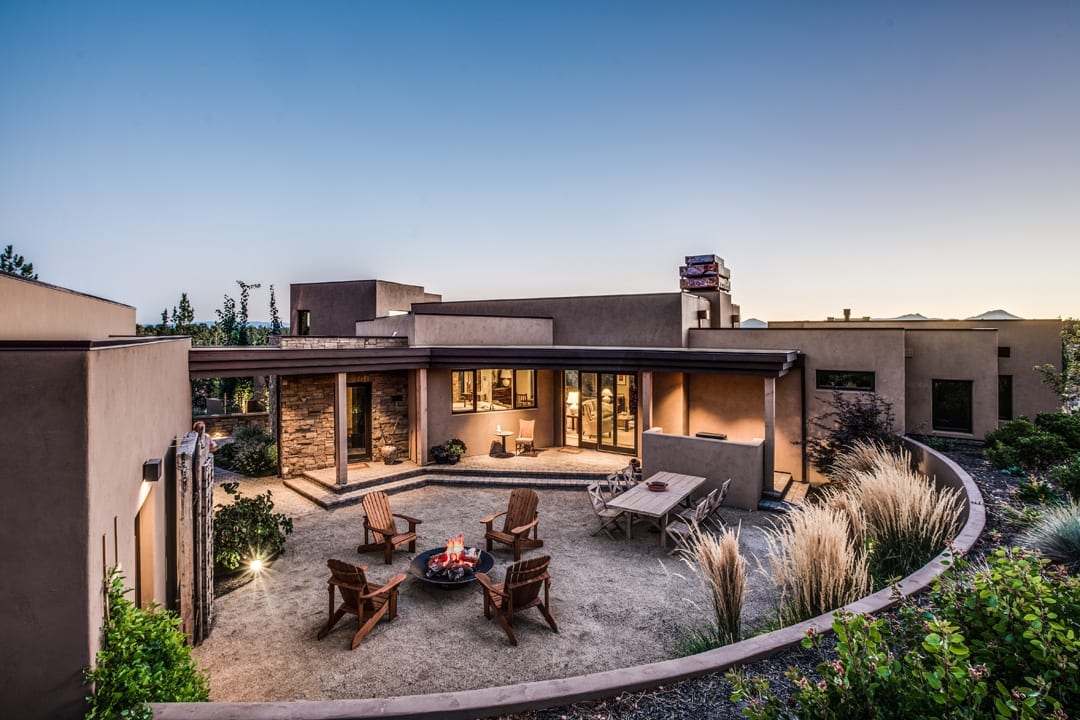 The neutral palette and materials continue inside the 2,600-square-foot, two-bedroom, two-bath home using natural colors as well as stone and wood. (Beams in the living room ceiling were repurposed from the old A-frame.) Inside, the couple had specified they wanted an open and informal ambiance that would be easy to live in and easy to care for. Large windows let in the view; tile floors are a practical nod to Lynn's Southwest influences. The only flight of stairs leads to Randy's home office, and the expansive kitchen is open to the dining and living area.
The neutral palette also provides a perfect foil to the couple's world-wide range of inherited or discovered possessions that include a lighting fixture from Libya, artwork from Africa, Navajo rugs and Hopi kachina dolls from the American Southwest and furniture that Randy discovered while on a business trip in South Africa. The handmade furniture is crafted from rare Rhodesian teak harvested from salvaged railroad ties in South Africa. Randy and Lynn's collection includes a Rhodesian teak dining room table, bench and chairs as well as various other tables around the home.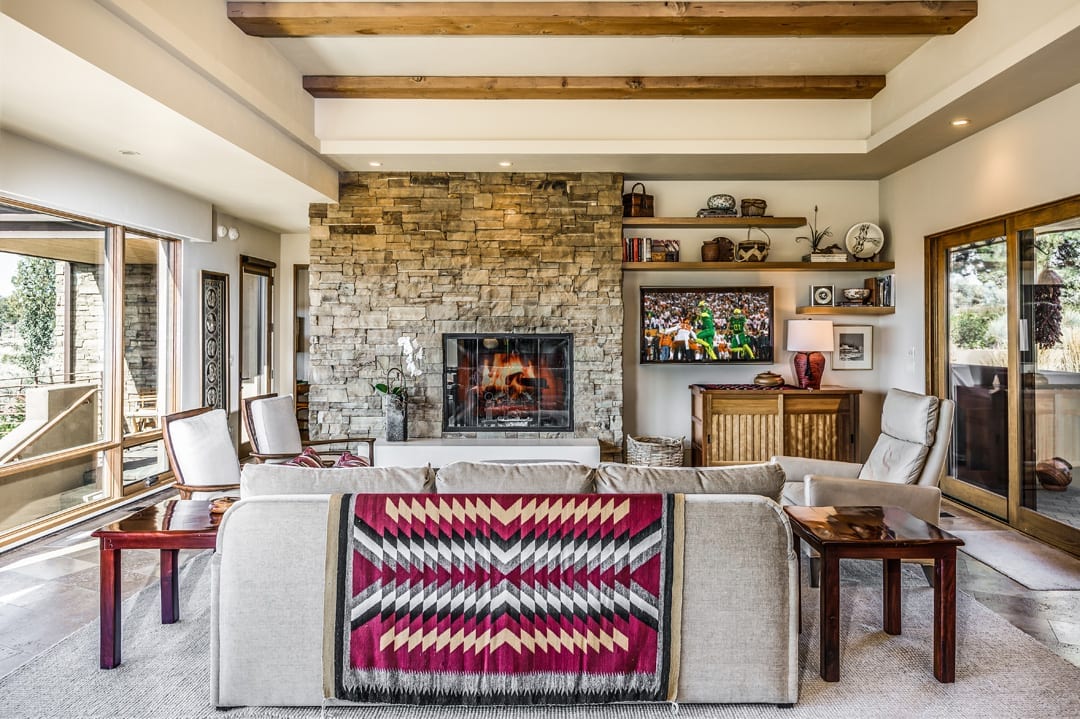 The home and the couple's collections were further threaded together by interior designer Scott Brown of J.S. Brown Interiors, who added such elements as a massive wood door from India that serves as a piece of oversize art on the back patio and objets d'art elsewhere that unify building materials and the owners' tastes.
Weaving together the site, their collections and their history, the couple created a home that blends seamlessly into an iconic desert landscape, creating a unique retreat designed to stand the test of time.