Sponsored Content
Marie Saldivar and her husband Kurtis met in the vast, Joshua tree-lined landscape of the Mojave Desert. They were part of a community of outsiders, artists and dreamers where many people were looking for alternative housing. "The desert is this liminal space that attracts outside-the-box thinking and problem solving, usually on a shoestring budget," she said. It was here that Steel Hut Concepts' first Quonset structure came to fruition in the form of an art studio/guest space. "We were looking for something that was financially attainable and that we could have agency over," Saldivar said.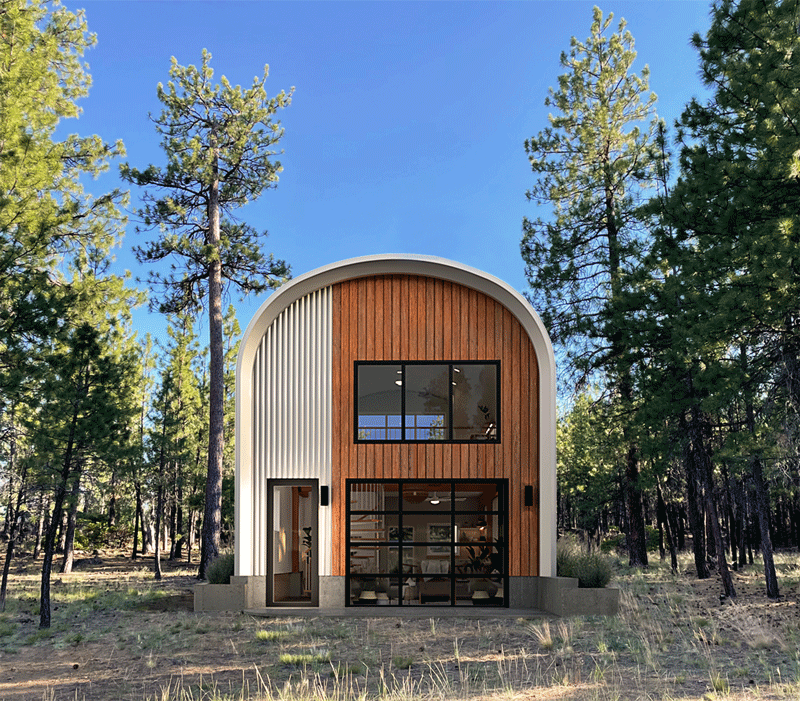 The word "Quonset" comes from an Algonquin First Nations word meaning "small, long place," referring to the narrow peninsula known as Quonset Point, Rhode Island, where these structures were first manufactured. The Quonset hut was introduced during World War II as a packable structure deployed for housing and barracks, utilitarian and solution based space. "We're still borrowing that same historical thread; they're extremely affordable, they're extremely sustainable, and we're building for under $200 a square foot," she said. Quonsets are long, arched buildings—these are particularly made of steel—and are architecturally sound in the clever yet simplistic design. Saldivar describes the buildings as, "an ultra-modern cathedral meets giant Airstream. The exterior can read utilitarian until you step into the vaulted interior, a simple arched elegance." All buildings from Steel Hut Concepts are made from 80 percent recycled steel, and spray foam insulation made from recycled single-use plastic and soy protein. "Everybody should have access to contemporary design and attractive, sustainable housing," she said.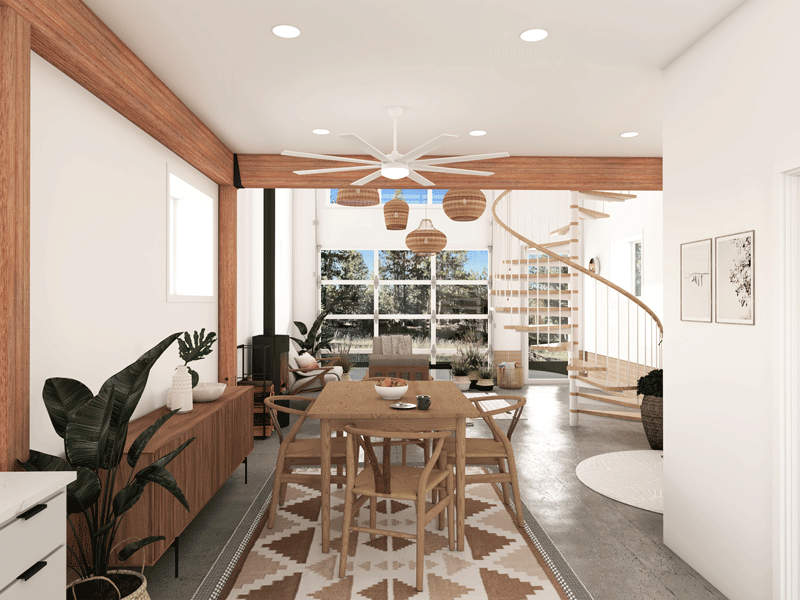 Saldivar is also a realtor for Cascade Sotheby's in Central Oregon, and she is keenly aware of the uptick in recent costs for custom homes. "We're seeing price per square foot costs upward of $800 for custom new construction, which is unobtainable for most and certainly doesn't lend to the long term health of our communities," she said. Steel Hut is a design and build model taking on custom projects in the region. The company is scaling the business to include grab and go plan sets which will be available on their website for out of region clients, or handy consumers who want to take on the project as homeowner builders. Their plan sets integrate Quonset shells manufactured by SteelMaster Buildings, a seamless collaboration making the process as streamlined as possible. From $3,200, someone looking for an affordable and green home can find a building plan on the Steel Hut Concepts website, and make that dream a reality in an ethical way. Steel Hut Concepts residential use structures create significantly less waste in comparison to other custom builds, because the Quonsets are predetermined to scale. "That's a really exciting part about using this modular shell system—you can preemptively reduce a lot of the materials that are going to end up in the waste stream," she said.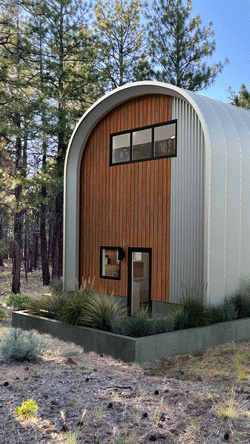 After obtaining a plan, the shells are an affordable alternative to traditional custom builds, ranging anywhere from $15,000 to $30,000 depending on size, meaning buyers and prospective Quonset owners have a massive advantage on the attainability of their new home. The zero-timber optionality also reduces the cost and keeps the building fire resistant. After that, the process of permitting, hiring builders and engineers, or building by yourself—as the buildings are all DIY friendly—is a simple step to having a dream home, ADU or garage. 
There is one building option currently available for purchase, and in less than a year, about a dozen floor plans should be available for prospective homeowners to begin imagining their dream living space. Presently, Steel Hut Concepts sells many of the Quonset plans to out of region buyers, but Saldivar is hoping there will be even more demand for these builds in Central Oregon. 
The scalability and customizability of the buildings is what makes the Quonset form less of a noun and more of a verb. They can be made bigger, smaller, taller or shorter. "The sky's the limit. Think multiple stories, think row houses, think different pods connected with breezeways. It's just infinite," Saldivar said. As the buildings are all permitted to be used as primary residential spaces, there is nothing holding buyers back from stepping into a totally new frontier of housing.
The sustainable actions taken to reduce waste—eliminating factors such as timber costs—and the availability of the buildings is a game-changer for the future of housing in Central Oregon and beyond, Saldivar said. The team at Steel Hut Concepts is steadily brainstorming new, innovative ways to create access to clean contemporary designs, healthy for our communities and our planet.  
Saldivar said her husband is a "jack of all trades" builder, mapping out the technical side of a project, while she is more detail-oriented. Steel Hut Concepts started as a passion project that is now seeing traction. "The market is changing, and consumers are looking at housing through a more creative lens," Saldivar said. "I'm always dreaming of my next hut."
Steel Hut Concepts | steelhutconcepts.com |
 

503-473-4114