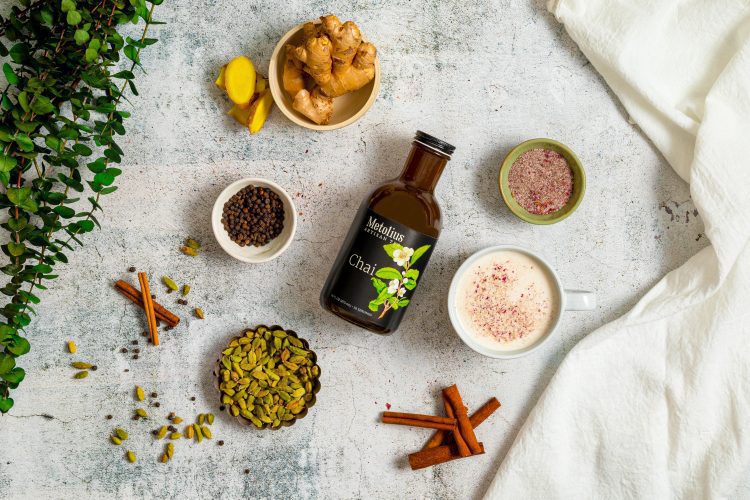 Bend-based company Metolius Tea brewed into existence in 2010, when founder Amy Stahl began mixing potions based on her love of fine tea and plant medicine. Bend Magazine sat down with her to talk about challenge and growth, the search for amazing chai, and her desire to place equal value in both what her company does as well as how they do it.
Tell us about Metolius Tea's beginnings.
My journey started in the study of plant medicine. At first, my teas were "book" designs: teas that, based on my research, might cure a headache or ease a stomach cramp. A teahouse downtown graciously let me build their apothecary menu, giving me the opportunity to interact with hundreds of customers as they were drinking my tea. I quickly realized my teas needed one more important quality to be effective: they should taste good! That's when I flipped my priorities: I made teas to taste lovely. The medicinal and functional qualities of the plants still informed my designs, but they acted as the underlying architecture.
What makes Metolius Tea special?
There are companies who blend tea on cheap leaves with fake flavoring, and there are companies who source high end, pure teas, but few companies blend with beautiful, high-end leaves and avoid synthetic flavorings like we do. That's what made us special when we started. Now I believe we are also special for creating a remarkably kind company culture and developing organized and responsive customer service. As I've grown as a company owner, I've placed equal value in what we do and how we do it.
Share a major turning point for your company.
I really found myself as a teamaker the day I designed our earl grey. At the time, I enjoyed drinking high quality, single estate black teas, and I enjoyed bergamot flavored earl grey, but I noticed the conspicuous absence of a well-crafted, quality earl grey. Since I couldn't find it, I made it: hand-picked leaf and bud black tea, bergamot essential oil, Madagascar vanilla bean and bright, beautiful bachelor's buttons—all farm direct from small production farmers. In 2017, we reached another pivotal milestone. I could not find a chai that I loved, even though cardamom and ginger are my favorite flavors. I spent one crazed-year designing our chai. I filled a pink notebook with hundreds of drafts, research on solubility, chemistry and aromatics, and drawings of processes. In my final months of refining the recipe, Palate Coffee became our first chai customer. Chai now represents over 65 percent of our business and we sell it to hundreds of coffee shops across the country.
How did you name your company?
My first company name was "Lovely Goat Plant Medicine." When I approached Tetherow Resort about serving my tea in their restaurant, the owner, Chris van der Velde (who would one day introduce me to my husband and officiate our wedding) communicated to me in a series of Dutch swear words that I had better change the name if I wanted my tea at Tetherow. So, I came up with a new name. Water is essential to tea. I used to drive to Sisters once a week to bring tea to Sisters Coffee Company and Angeline's Bakery. I would keep on driving to the Metolius River, where I'd go jogging along the river, making wishes, being with the grand old ponderosas, cataloging the medicinal plants along the river's edge—rose, Oregon grape, elder. While I did just change the name so Chris would buy my tea, Metolius has come, like a river, to represent both where we came from and where we are going. While we have stayed "plant-forward," true to our organic roots, we have grown into a company with viable goals to enrich our world with our work and through our products.
How much tea per year does Metolius currently sell?
We are about 90 percent wholesale facing with approximately 300 wholesale accounts across the country, and we do some direct retail sales through our website, MetoliusTea.com. It's kind of crazy to think about. Ten years ago I was living in odd little backyard places around town—yurts and tree houses and such—and I had my mason jar collections of locally wildcrafted plants. Now, as I look out the window of my tea factory, I see my team unloading three pallets of organic Peruvian ginger that we will brew in our chai.
What have been your most significant challenges over the years?
It's been full of challenges: losing confidence as I came to terms with my limitations, then gaining confidence as I came to terms with my strengths and how to leverage them. Waiting. I know we are making real progress year over year, but it isn't flashy like a time lapse in a movie set to a single song. It is stable: uncomfortably, painstakingly real-time growth, accompanied by the requisite untamable queue of emails, meetings and details that feel miles away from my plant passion origins.
What do the next ten years hold?
This year we are launching a not-for-profit line of teas to be initially sold through our wholesale customers, with 100 percent of the profits going to schools and nonprofits in tea growing regions. I want to find more people who are doing environmental and social justice work in tea-growing regions. If we can partner with them and leverage what they are doing, that would be my dream come true.