Red Duck Foods is an organic condiment company based in Bend and Portland that aims to become a national brand.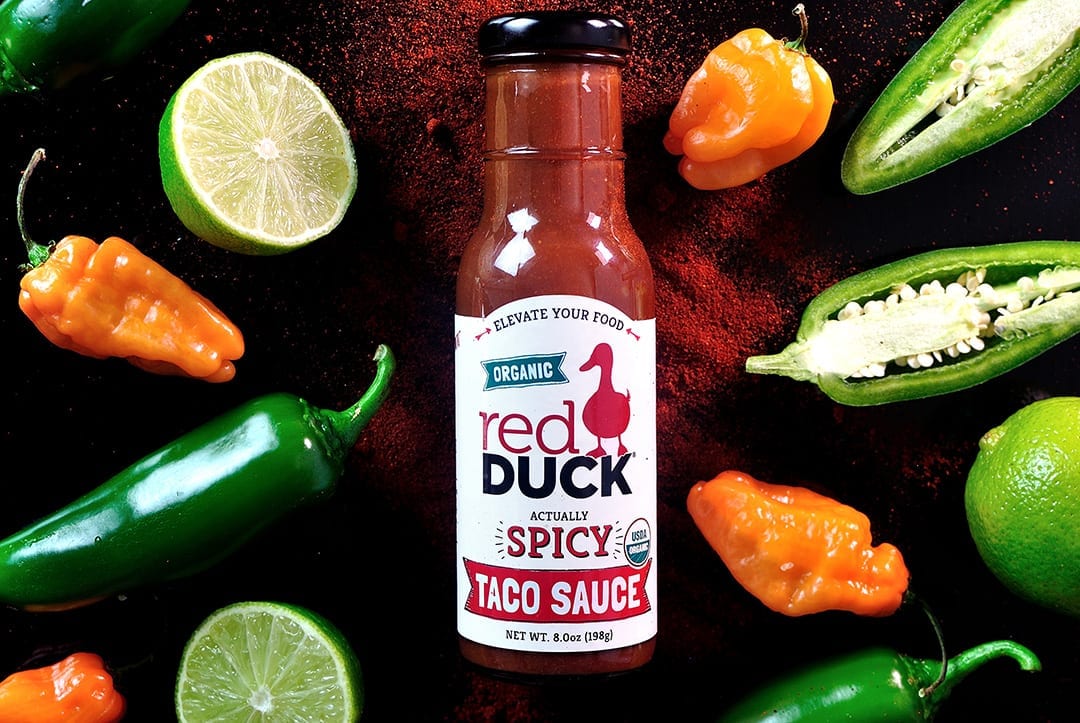 Six years ago, Karen Bonner met up with two of her classmates from the University of Oregon's MBA program at Rennie's, a beloved restaurant and bar near campus. They were brainstorming business ideas for a project for their entrepreneurship class, and the trio's attention turned to the ketchup on the table.
"We started talking about condiments and why you would pour a bottle of high fructose corn syrup on really delicious, consciously sourced food," Bonner said. The group landed on the idea of an organic condiment company, which they aptly named Red Duck Foods (the color of ketchup plus their school mascot).
Now Red Duck's eleven condiments—which have extended far beyond ketchup—are sold around the world. The company, based in Bend and Portland, also launched three taco sauces earlier this year; the sauces will debut across all Whole Foods stores in August.
A School Project With Legs
While still at UO, Bonner and her project partners, Shannon Oliver and Jess Hilbert, began tinkering with ketchup recipes in their kitchens. "We'd take it to classes when we'd present the idea and people told us they'd buy it right then," she said.
Producing the condiments was a group effort—the trio would make the ketchups in a rented commercial kitchen, then hand ladle it into bottles. Their friends and family were fans, but they knew they were on to something after they ran a successful Kickstarter campaign in May 2013. The campaign raised $25,525 and was supported by more than 600 people around the world. By the time the women graduated with their MBAs the following month, their three flavors of organic ketchup were available in Eugene stores.
At that point, Bonner, who now lives in Bend, faced a choice—to pursue this fledging startup or move on with her original career plans. She ended up turning down a job offer at Intel and passing up a PhD program to follow the condiment experiment.
"We were really excited about the opportunity to build something from the ground up," said Bonner, who is Red Duck's chief financial officer.
A National Brand
Red Duck continued to grow, with the founders initially driving around the state, their trunks filled with ketchup bottles that they personally delivered to stores. Bonner noted that a few key milestones put them on track to create a much bigger brand.
For instance, Red Duck was picked up by two national, natural food distributors, which allowed them to introduce their products to more places—and stop delivering themselves. They also got into the Bend Whole Foods store about four years ago, and the manager there championed their brand to other locations in the region.
More recently, the company also became a certified B Corp, a recognition of Red Duck's commitment to environmentally and socially responsible business practices.
"We want our company to have delicious products, but we also want everything to be done the right way," said Bonner. Looking forward, the founders anticipate that Red Duck will continue to grow, adding products and expanding their availability.
"We want to build our brand recognition to the point where we're the preferred sauce in everyone's refrigerator," said Bonner.