Amy and Courtney Wright embrace healthful cuisine and yoga without sacrificing flavor at Sunny Yoga Kitchen in NorthWest Crossing.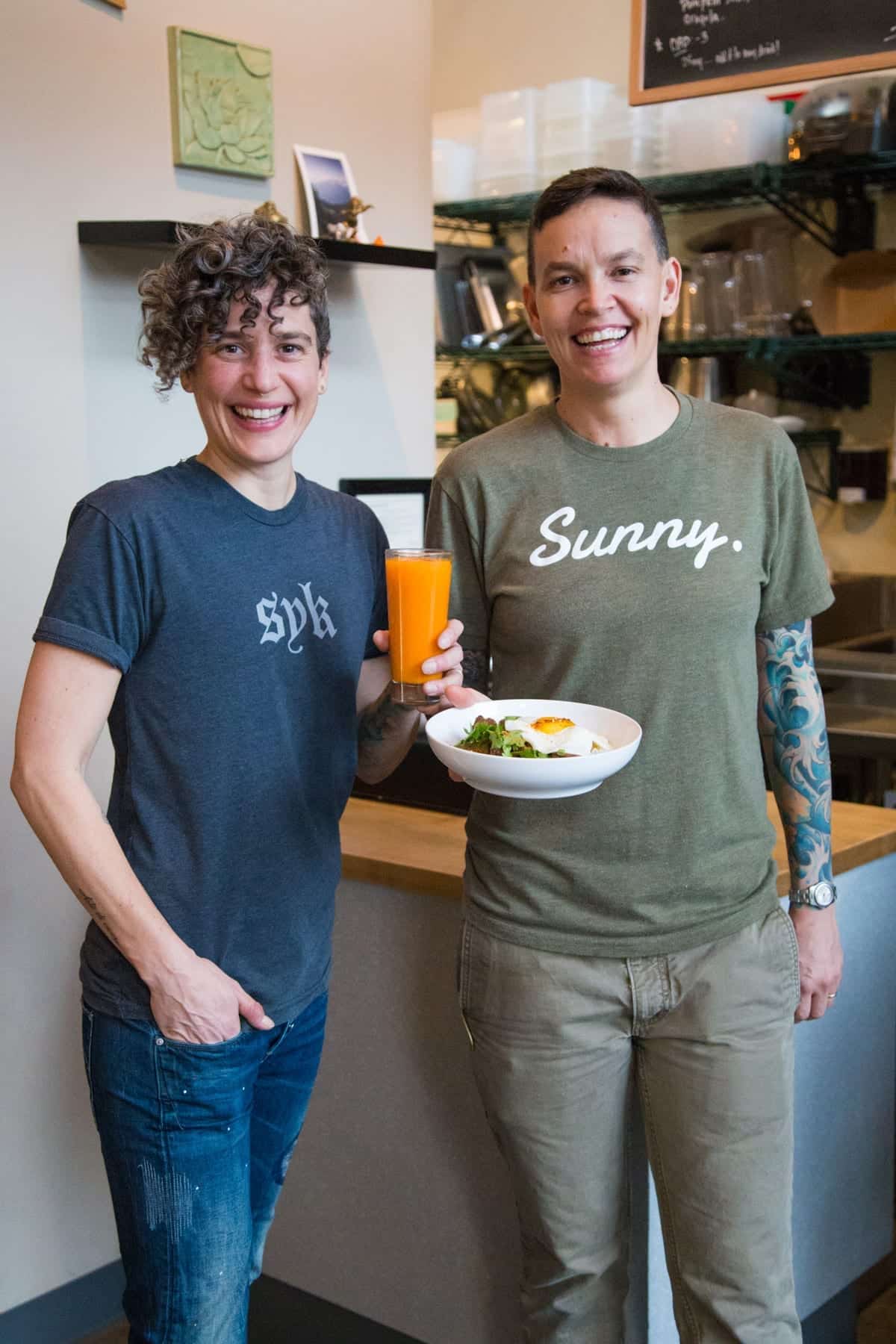 It's about 4 p.m. in NorthWest Crossing, and Sunny Yoga Kitchen is closed after lunch, but the aroma of pork, sesame oil and chilis, just beginning to braise in a hot pan, has wafted onto the sidewalk of this tidy, planned neighborhood. The fragrance is headily distracting. If this were a cartoon, passersby would be levitating, their noses gliding along the entrancing, vapor tendrils.
There's a knock on the door. A woman asks if the eatery-yoga-studio offers gluten- and dairy-free dishes. Chef Amy Wright explains that the menu is entirely gluten-free, and she favors using avocado, nut cheeses, cashews and nutritional yeast as a cheese alternative. She shuts the door and returns her attention to the pork, which she has marinated for two days in an amino-acid packed protein concentrate from soybeans.
Beyond the kitchen, barely bigger than a Eurovan, the rest of the 1,000 square feet seats twenty. Hours before, Vinyasa yoga students were exploring rhythmic, moving meditation on the smooth wooden floor. Given the establishment's big-picture goal—to build a thriving community by helping people strengthen their minds and bodies through yoga and fresh, nourishing food—one might expect this endeavor to be heavy on the passion, light on the palate. Think again.
"I appreciate it when people are excited that this is not typical, yoga-inspired food," said Wright. "People try it and are surprised. They expect it to be a little more on the 'crunchy side' or 'ski bum' side. We want to be different, but not afraid of being ourselves."
Wright's partner in the business and in marriage is Courtney Wright, who performs a work trifecta: yoga teacher, prep cook and server. They met in 2008, the day Amy reported for her first day as a server at Restaurant Muramoto in Madison, Wisconsin, and Courtney was tasked with training her. Within two weeks, Amy was managing the enduringly popular sushi and Asian-fusion spot in the food-focused city. Chef Shinji Muramoto's influence on Amy is evident in Sunny Yoga's Shinji salad of cabbage, peppers, arugula, cilantro, sesame seeds and vinaigrette.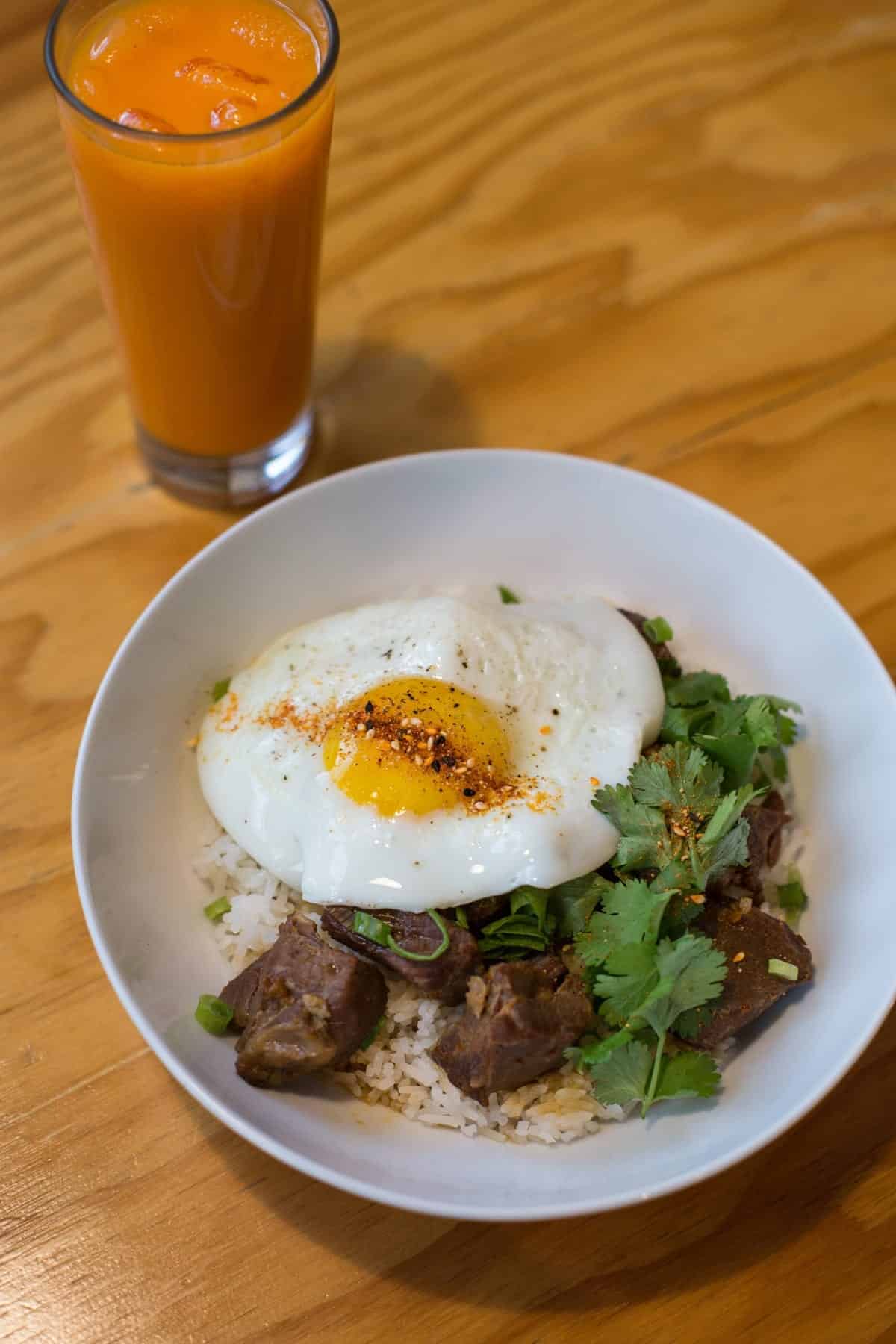 Her fluency in Asian flavors was built atop the culinary foundation she'd developed from 2000 to 2007 at the acclaimed Zuni Café in San Francisco, famous for chef Judy Rodgers' evolving hybrid of Eurocentric cuisine. During that time, the café and Rodgers won several James Beard awards, including outstanding restaurant in the country in 2003, and outstanding chef in 2004.
Amy, a liaison between floor staff, management and Rodgers, took it all in. "When you work somewhere for so long, you tend to learn everything," she said. "It's where I got my chops."
In 2012, Amy moved with Courtney to Portland, where Amy helped chef Vitaly Paley and his team open Imperial Restaurant and Portland Penny Diner in the Hotel Lucia, downtown. Courtney was teaching yoga and serving at nationally recognized chef Jenn Louis' restaurant, Lincoln. The Wrights frequented Yoga Pearl, which sparked the idea to open a restaurant-yoga studio.
Both snowboarders, they fell in love with Bend, moved here in 2013, and opened their business in 2014. They were grateful that it was popular, but Amy found herself working 100-hour weeks. The stress contributed to an inner ear infection and a crippling, five-day bout of vertigo.
"It was the first time in twenty-seven years of working that I'd called in sick, and it was to my own restaurant," said Amy, who learned that she was allergic to dairy, a contributor to ear and throat problems.
The following year, Courtney had surgery to remove her thyroid after a cancer diagnosis. "It was another huge sign to not drown ourselves in work," Amy said. "Instead of expanding and hiring more people, we decided to [stop] doing dinner, and focus on lunch and having more energy to nourish and rest ourselves."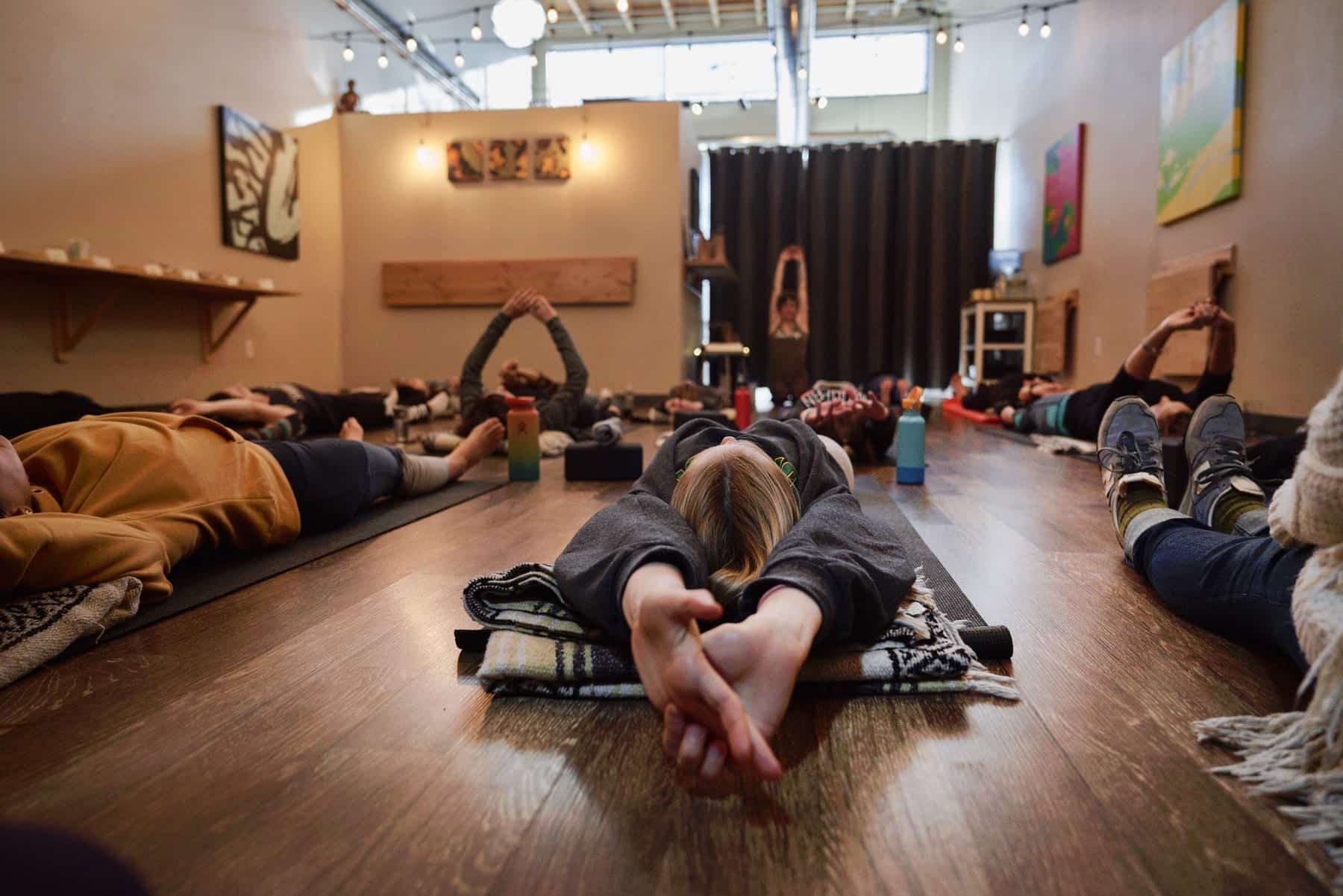 They cut sugar from everything on the menu ("except for the Burmese pork, because it's so amazing," Amy said). For everything else, Amy raves about monk fruit sweetener.
Like other healthy alternatives that also pack great flavor, such as liquid aminos as a substitute for tamari, monk fruit sweetener is significantly more expensive, but Amy believes it's worth it. She hopes it gains popularity, which also will help bring the price down.
The Wrights are also proponents of using locally made Ablis CBD oils in their juices. Derived from hemp, the oil has no THC, and thus no psychotropic effects. Amy endorses it as a healthful way to manage the pain of being on her feet all day in the kitchen.
They discovered the oil after Max Bendis, national sales director of Ablis, became a fan of the Wrights' food, especially the Burmese pork and the golden juice: carrot, orange, local turmeric and ginger over ice.
Bendis said, "They are two of my favorite people in Bend, they are so awesome, so nice and have really good food."