Miyagi Ramen raises the bar for trending, savory noodles and more.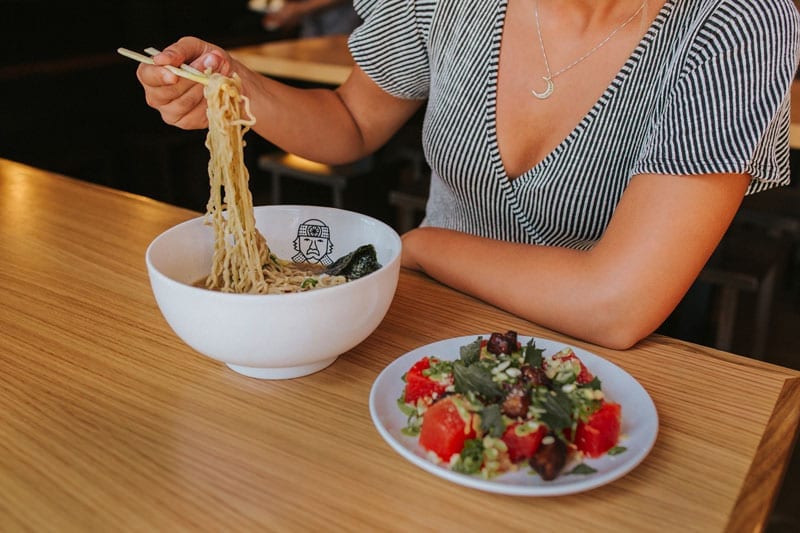 Bars of scarlet neon in the sprawling, thirty-foot high, street-arty mural flickered on. Aromas wafted from twenty-gallon stock pots. A line wound out the door, despite a downpour. When Miyagi Ramen opened in The Box Factory this summer, those behind it wished they could claim it reflected calculated smarts. Instead, they followed the same strategy — which is to say they didn't have one — as in 2017 with Bos Taurus, a Bend twist on a classic steakhouse.
"It just kind of felt right," said James Meskill, a partner, along with 10 Barrel Brewing founders Chris and Jeremy Cox, company president Kyle McKee, and George Morris, executive chef of Bos Taurus and Miyagi. "We all really enjoy ramen, and it was a great excuse to go around and eat ramen in Manhattan, in Portland, when we're traveling." (Meskill also works with brew pubs around the country as director of operations for The High End, the craft brands of Anheuser-Busch, which bought 10 Barrel in 2014.)
They didn't stop at U.S. borders, though. When they'd asked Morris, who in the past two decades has worked at some of the nation's best restaurants, if he could be a brothy-noodle shogun, he replied, "I can cook anything you want, but if you want me to cook ramen, you've got to send me to Japan." They did.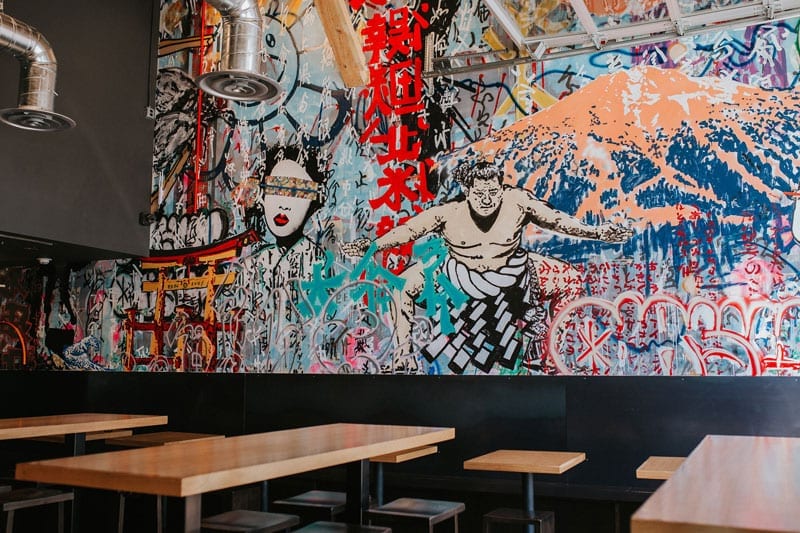 For two weeks, he did nothing but taste the iconic dish throughout Tokyo, visiting five shops a day, texting the partners with images and details of everything inspiring him. Back in Bend, at a table tucked into a corner of the buzzy eatery, Morris described three dishes that set a new bar for him: coriander Dan dan ramen at Ippudo; spicy miso ramen at Misoya Hachiroshoten, where the wok-charred bean sprouts added a rich, smokey flavor, and tonkotsu at Gogyo, notable among discerning Japanese ramen-eaters.
Morris pays tribute to these on his menu. His tonkotsu includes an egg cooked sous-vide (vacuum sealed in a pouch and immersed in precisely heated water), allowing the viscous yolk to swirl amid chashu pork (pork belly braised in soy sauce, sake, and mirin), nori, pickled burdock root, bamboo shoots and scallions. An umami-packed smoked shitake mushroom and cashew ramen with spicy tofu and baby bok choy, is a vegan option that also has broad appeal.
You might not even mind developing monstrous atomic breath from nibbling the tare "Godzilla" wings, roasted with garlic, toasted rice and togarashi (a mix of spices typically including mandarin orange peel, sesame, poppy and hemp seed, nori and ground sansho). The steamed buns, baby soft and swaddling chicken, pork or tempura miatake mushrooms, with burnt scallion mayo, pickles, hoisin and barrel-aged Sriracha is the Asian equivalent of the perfect slider.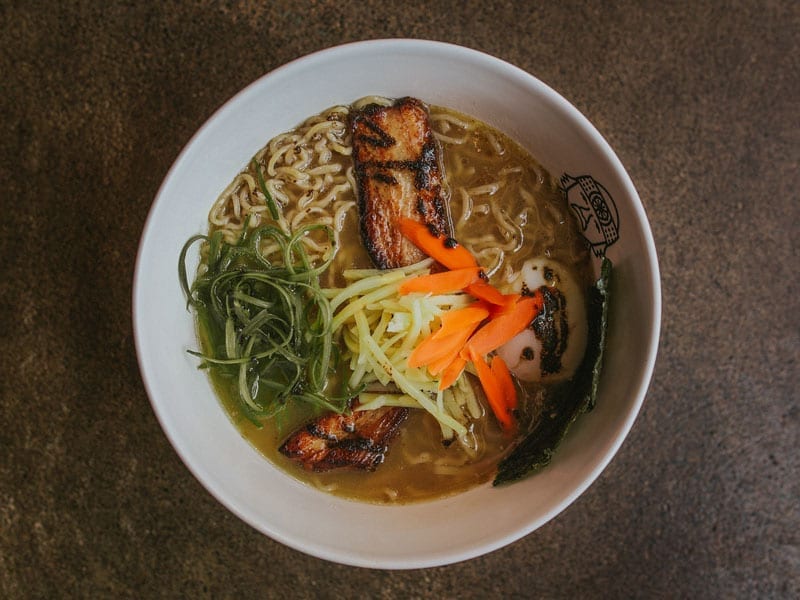 Morris' inventive, compressed watermelon and crispy pork belly salad, which he developed while at the acclaimed Fatty Crab in New York City, will prompt you to assume a tournament-winning "crane" stance. The chef's menu also harkens back to his days as a (non-Karate) kid. On every birthday, from age 6 to 13, his parents would take him to Benihana. Just before the chefs would launch into their theatrics, flipping shrimp from the tableside hibachi into their red, cylindrical hats, there'd be a salad.
"It wasn't anything great, but the dressing was to die for," Morris said. His "Benihana" vinaigrette for local greens with shaved radish and pickled burdock root is an homage to that memory.
Like the kid from the movie, Miyagi strives for excellence while also keeping it casual. And like the 1984 surprise hit film, its family friendly (see: Little Ninja ramens), and reasonably priced. "What's most important is quality food, service and fun," said Morris. "We wanted to create a place where we could enjoy ourselves."