'Tis the season to dust off those hand-written recipe cards and recreate the aromas and flavors of fond holiday memories. At the end of a long day serving up dishes to paying customers, local chefs unbutton their coats and hang up their aprons for some well-deserved time with family. As quickly as they're home, their toque is back on to whip up dishes for a new set of clientele—those who may be more apt to give critique, but also help out a little, in the kitchen. Local Bend chefs shared some of their favorite holiday meals with us—dishes they make at home, and if we're lucky, may share at their restaurants this festive season.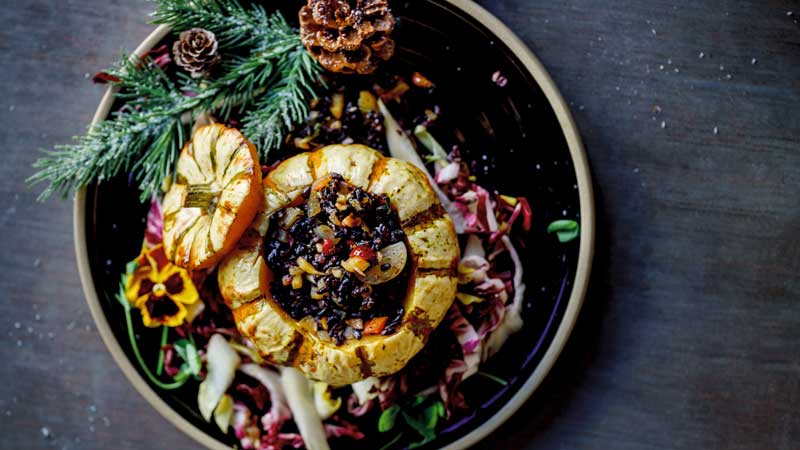 Considerate Dining
A quick note before continuing on to four amazing dishes from some of our favorite local chefs. The last year-plus has been an unprecedented time for restaurants, during which understaffing and long lines have become daily occurrences. When we reached out to local chefs and owners this season for holiday dish recommendations, many were busy hurdling labor shortages and managing shifting COVID-19 guidelines. Let's all do our best at being gracious, patient guests. Kindness and generosity should be our go-to approach when dining out this season—and every season.
Strata
Brian Walczyk, Chef at Washington
On Christmas morning as a kid, Brian Walczyk's mom would make strata, a baked casserole made with bread, eggs, cheese, and any other ingredients you may have on hand. "Christmas day for me was always the most anticipated day of the year so I've always associated strata with family being together and winter break," said Brian Walczyk.
Now, Walczyk makes strata for his son and continues to instill the importance of enjoying the fun of a free day spent with family. "Growing up, my mom would make one with bacon and one with just cheese because my sister didn't eat meat," said Walczyk. "What I make now is with lacinato kale, Italian sausage, reggiano, mozzarella, and jack cheese."
This dish is ideal for the relentless pace of the holidays as you can use leftover bread and have the meal prepped the night before while still wowing your guests with gourmet breakfast. Keep a lookout for Washington's brunch menu around the holidays, as this Walczyk tradition is sure to make an appearance.
Eggnog
Cliff Eslinger, Executive Chef of 900 Wall
Cliff Eslinger knows the start of the holiday season has arrived when the leaves begin to change, the town quiets down, and he and his wife, Sara, make the first batch of eggnog in October. "Eggnog ties to the downshift of summer and the start of the best months to live in Central Oregon," said Eslinger. 
The recipe is simple: mix egg yolks and sugar, whisk in the milk and cream and finish by adding brandy and dark rum. Eslinger recommends leaving the ingredients in a glass receptacle and letting them sit in a cooler for at least a week and up to a month, shaking every other day. Time removes the harsh mouthfeel taste, leaving only the sweet cream flavor with a hint of spice. Finish this holiday classic with freshly grated nutmeg and a small spoonful of whipped cream. Find eggnog along with other seasonal dishes at 900 Wall this holiday season. 
Lamb Osso Bucco
Thad Lodge, Owner of Marcello's Cucina Italiana
When Marcello's Cucina Italiana closes for the day during the busy holiday season, owner Thad Lodge enjoys sharing the afternoon with his family. He slow roasts and braises lamb for the traditional northern Italian dish lamb osso bucco. "The hours of slow roasting and braising the lamb offers a great opportunity to sip on wine and spend time enjoying company," said Lodge. 
Lodge's version of the dish is made with root vegetable stew, red wine, garlic, carrots, celery and mushrooms. He typically serves the dish with local chanterelles but recommends simply finding the best in-season mushrooms. "Another part you can get creative with is, traditionally you do the dish over polenta, but it's also fantastic over any type of pasta or even mashed potatoes," said Lodge. "It's fun to play with."
Lamb osso bucco will be served at Marcello's Cucina Italiana in Sunriver this holiday season.
Stuffed Baby Pumpkin
Jamar Adams, Chef at Solomon's at Tetherow
Jamar Adams has created a beautiful and delicious fall dish with a baby stuffed pumpkin. Adams roasts the baby pumpkin then stuffs it with festive flavors of hazelnut and cranberries and trumpet mushrooms to create vegetarian "meatiness." The dish is topped with chimichurri and lemon tahini. 
 The plate is a creative twist on the flavors of his grandma's holiday cooking, which Adams ate growing up, along with a twist on a long-time friend's acorn squash dish. "My grandma used to always do a pumpkin stuffing that had a lot of similar ingredients so that's where the stuffing part of the pumpkin comes from," said Adams. "The similar flavors remind me of that."
 The dish is always an option for a special meal through the fall and is a great vegetarian option to serve for holiday festivities. Solomon's will be hosting a four-course pre-set Thanksgiving dinner on November 25 with the stuffed baby pumpkin as a vegan main course.