Photo Kevin Kubota
Editors Note: This article was originally published in May, 2021
Lew Hollander is a ninety-year-old retired U.S. Navy physicist and world champion endurance athlete who knows a thing or two about aging. Turtle Rock Ranch, Hollander's home in Terrebonne, Oregon, is truly a sight to behold. The seventy-six-acre plot of land Hollander affectionately calls his "playground" has pristine views of the Cascade Range, private river access, a trail network and a perfect view of the nearby Smith Rock State Park. Hollander purchased his ranch in 1981 and has been living there full time for ten years. Before that, he called Santa Cruz, California his home, and he chose to live in Central Oregon because of the equally idyllic sunny weather.
Advice on Athleticism and Aging
Hollander is passionate about the topics of athleticism and aging. "You are designed to die at thirty-five or forty. Your pituitary slows down hormone production, you stop repairing, you stop replicating cells, you get old, and you die. Okay? That's the plan…and we don't like that plan," said Hollander, who moves better than most people thirty years younger than himself. 
"So you want to know how I get around?" he asked with a chuckle, as if he's been asked the question many times before. The incredibly accomplished Ironman triathlete, marathon runner and a hall of fame-inducted endurance equestrian rider has held multiple Guinness world records for being the oldest and/or fastest person to complete these races, of which he claims to have completed "thousands." His life as an endurance athlete is so prolific that he has been nicknamed "The Ironman's Ironman."
"Look at me," Hollander said as he twirled his arms around his body and fully above his head, "No pain. Every morning I jump out of bed with no joint pain, none. You know why? I run up this hill every day with this beautiful lady," Hollander said, as he pointed along the steep ridgeline that bordered his property with one arm, and put the other around his wife, Karen.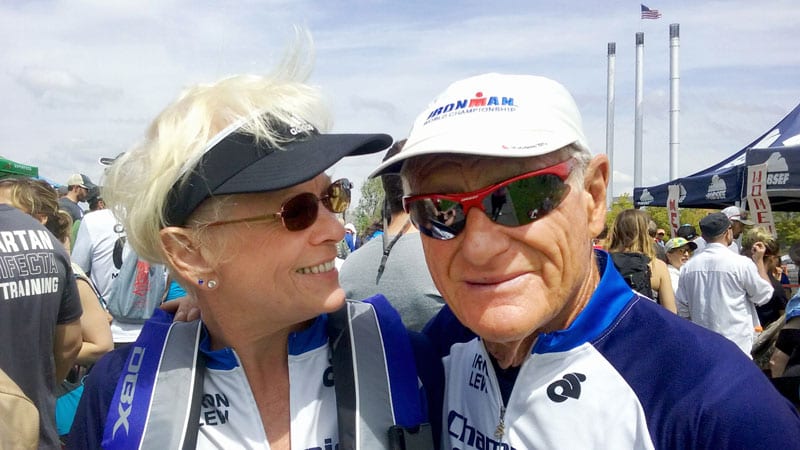 "It's that moment when I can't breathe that I say 'I have to make it to that next tree,' then when I do, I'm really dead! But I keep pushing. That's the secret everyone asks about." Hollander's secret philosophy for staying fit in old age is a simple one; if you are not exercising until you are out of breath, you might as well not exercise. "If you can still hold a conversation during a workout, something is wrong," Hollander said.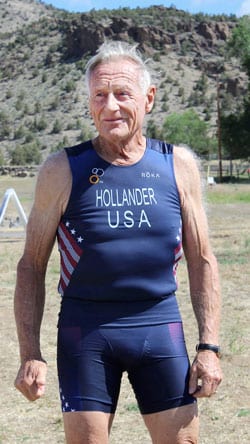 How it All Began
Hollander first got into ultra running back in 1976 when a friend and fellow competitor did something that Hollander thought was impossible during an endurance equestrian race. "I thought no one could run 100 miles in one day. No one. Sure enough, I complete the race on horseback, and I see him run all 100 miles right alongside his horse," said Hollander. "Right there, it was like a dream was born."
He says he's nearly lost count of how many titles, ribbons and trophies he's won. An entire wall of his home is covered in awards, of which he claimed were "just a tiny fraction" of his total collection.
It is rare to find a man as accomplished in one field as Hollander is in two. He is also a retired physicist who worked for the U.S Navy and Lockheed Martin. "I was three or four when someone asked me what I wanted to be when I grew up, and I knew then I wanted to be in the sciences," Hollander said.
Hollander had a chemistry set in his room growing up, and even remembers getting a cough and realizing later that it had been caused by storing chemicals—considered toxic by modern standards—in his room. His early interest in chemistry was brought on by an innate curiosity of reactions; specifically, explosions. His first homemade compound? Gunpowder.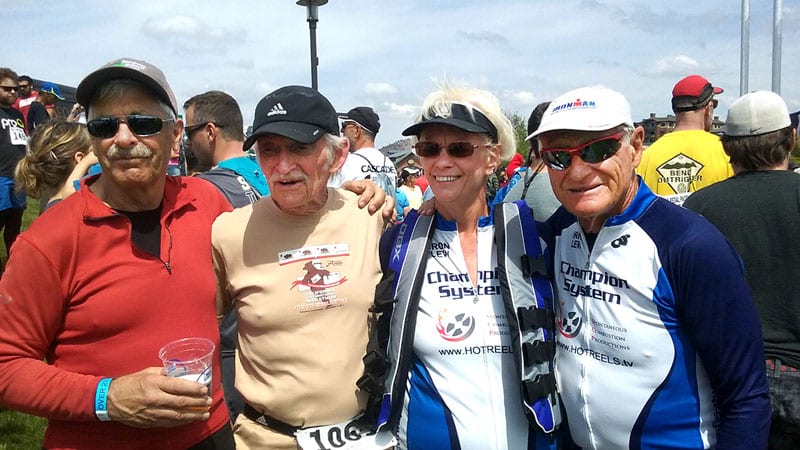 Lew was eventually able to create an explosive compound that detonated on impact, and he was selling it to other kids at school. "I was about nine or ten," said Hollander. "We were playing football one day and I had my explosives in a jar. I told the other guys to watch out for it, because it might explode. Some kid said 'you can't make explosives' and it was this kid I didn't like, so I said back 'you light it, then.'"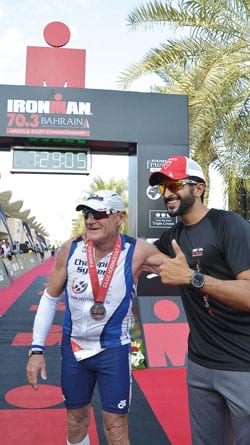 Nobody was seriously injured, but some kids—Hollander, included—walked away with a few scars from that day. "We had different rules back then," he added. 
Hollander would eventually switch interests and obtain his Master's degree in physics at the age of twenty. Although he wouldn't be making any more bombs, he would go on to study the effects of the hydrogen bomb after live testing with the U.S Navy. Hollander has accomplished more in his life than most people dream of. Still, he has an incredibly optimistic attitude about what he can accomplish in the future. "I'm very excited. I genuinely believe that my best years are yet to come."
You can read more about Lew Hollander's life in a book by Dana Burnett called Use It Or Lose It (Pathways To Healthy Living), The Incredible, True Adventures of Lew Hollander, a Senior International Triathlete.
Lew Hollander has racked up an impressive list of achievements, including:
• Thirty Pole Pedal Paddle completions
• Tied for the oldest person to complete the Championship Ride
• Completed the Hawaii Ironman dozens of times and holds the record for the fastest person above age 70
• Personally invited by Bahraini Prince Sheik Nasser bin Hamad Al Khalifa to compete in the Bahrain and Dubai half Ironmans
• Thousands more medals, certificates, ribbons and records
Click to read more Community articles with us!