The classic white picket fence has been a symbol of American culture since the late 1800s—offering enough security to pen in a golden retriever, and a short height to allow for friendly conversation with neighbors. While there's some truth in Robert Frost's line, "Good fences make good neighbors," from his poem "Mending Wall," there is more to modern fencing than the creation of a simple barrier along a property line. Whether constructed by professional builders or whitewashed by a gang of fooled school children, under the tutelage of Tom Sawyer, fences today not only serve a purpose, but offer an opportunity for homeowners and builders to flex their design muscles and create something beautiful. In Central Oregon, fence styles run the gamut, with horizontal, vertical and diagonal wood designs in various colors and stains; ornamental iron fencing or iron details; and standalone panels or barriers to bring privacy and decor to a stylish backyard.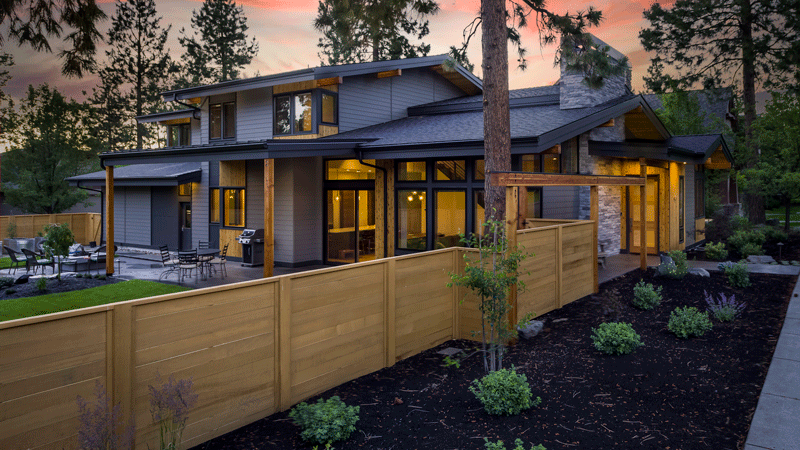 Functional Entry
Gates offer a designated entry point into and out of a fenced area, and when executed well, are a crucial element and the most interactive component of a fence, according to Tim Davis, the owner and operator of Cedar & Stone, a Bend company specializing in artisan, residential fencing and gates. "I really love a well-swinging, cleanly latching gate," said Davis, who has honed his expertise in fence design and construction for the better part of the past decade. "That satisfying snap when the gate latches. I know my gate is closed. I don't even have to turn around." With a creative mind and keen eye for detail, Davis helps his clients match form with function, with well-designed gates and fences in a variety of styles.
Aesthetics and Material
Today's trends in fencing include simple, minimalistic designs with clean lines, and mixed material fences that combine wood with iron, cinder block or corrugated metal each offering a mix of curb appeal and privacy. Long-lasting, low maintenance fence varieties include those made of vinyl, aluminum and composite materials. 
One Central Oregon company executing custom fencing in the region is Between the Boards, which has operated for more than fifteen years. When considering the current trends, Nathan Jacobson of Between the Boards said popularity in design can vary. "It changes month to month. We'll do seven horizontal fences one week, then we'll do ten vertical fences the next," Jacobson said. Where modern vinyl fencing has been the less common option, ornamental iron fencing and the natural taste for various wood fences make up the bulk of their work, Jacobson said. "Cedar fences are what most customers are looking for. The horizontal fences have become much more desirable, for both fashion and durability," Jacobson said. 
For Davis, material type, color and orientation of the fence are all considered when designing a custom project. When acquiring lumber for wood fences, Davis hand selects each board and powder coats the hardware himself to ensure the highest quality. He also partners with local fabricator Damien Teitelbaum of Bent Metal Works, for custom steel frames for gates, adding another element to highly functional fences that can feel like art.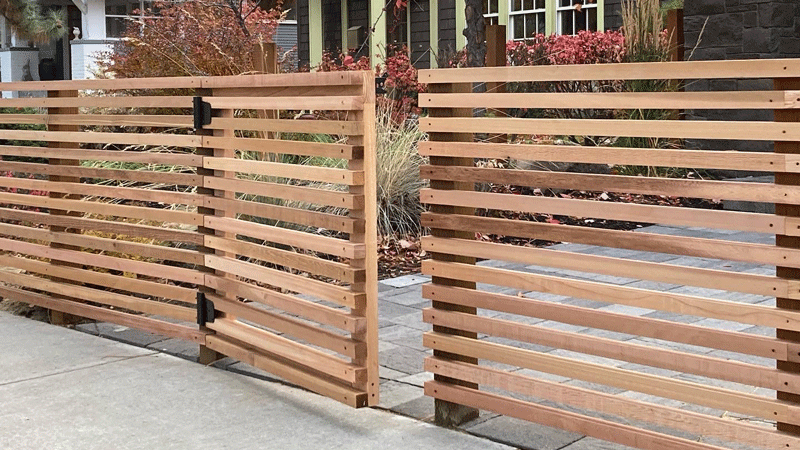 Privacy
There's a delicate balance when building a fence for the purpose of privacy. Too little fence leaves a property exposed, but too much fence disrupts the landscape, obstructs views or can feel confining. Additionally, some Bend neighborhoods have HOA regulations guiding whether fences can be built and the design guidelines of doing so.
Cedar & Stone has embraced creative ways to offer privacy without violating HOA regulations. Davis constructs privacy barriers using beautiful off-set horizontal panels. Using ingenuity and the same functional art approach, Davis can give homeowners the privacy they desire without devaluing the aesthetic or interfering with wildlife migration.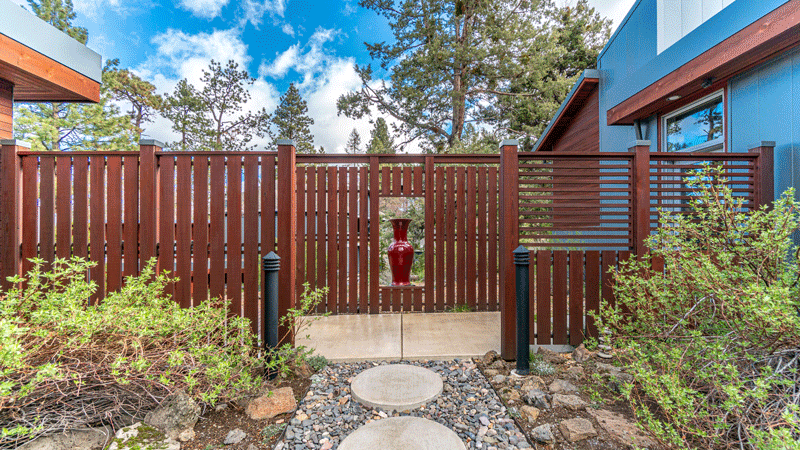 Durability
An investment in quality fencing means that the structure will hold up to temperamental Central Oregon weather, which can be brutal on poorly constructed fences. "So many fences in the world are awful," Davis said. "The gates sag, they drag, you have to lift them up to get them to latch." It is the duty of a skilled builder to address potential wear from wind, snow, rain and sunshine when construction is first happening, lessening the chance that bad weather turns a good fence into an eyesore. For Davis, solid construction can include digging holes as deep as two feet and using 120 pounds of concrete per post to ensure a sturdy foundation. In many designs, Davis also includes a feature when an entire panel of fence can be removed by removing just a few screws. Without harming the integrity of the fence, this component allows access for future landscaping projects which might require large equipment. Features like these show how fences have evolved from the early days of a simple white picket fence into a design element that meets the tastes of the modern homeowner. 
---