The Office Group is a nonprofit in Bend that counsels at-risk students and prepares them for life after high school and college.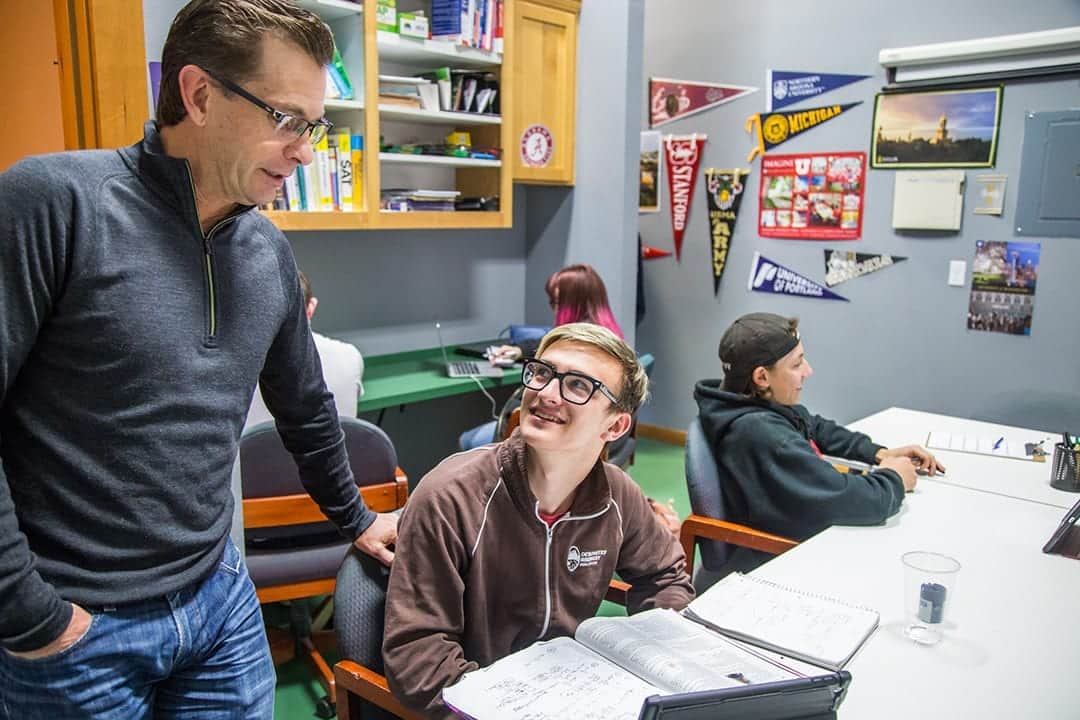 Three years ago, Dustin Follett was a 17-year-old junior and two-sport athlete at Summit High School—everything was seemingly going according to plan. There was just one problem: there was no plan. Follet, like many of his peers, hadn't thought beyond his high school years. None of his family had graduated college, so the path forward was particularly unclear.
It was right around the time that Follett discovered The Office Group, an off-campus counseling service aimed at helping students facing social, economic and other obstacles navigate the transition between high school and adult life by ensuring they graduate high school and are prepared for the next phase, whatever that might be.
Fast forward three years and Follett is a computer science major at Eastern Oregon University and excited about what the future holds for him. He says before The Office Group, he never thought college was an option for him.
"I can honestly say, with 100 percent certainty, I wouldn't be here without The Office Group's help," explained Follett over the phone, as he finished his classes for the day. "They helped me prep for the SAT exams—my family could never have afforded a private SAT prep course—and they coached me with my college application essays. Also, they drove me to visit different college campuses, even one out of state."
Success stories like this are not uncommon for the four-year-old counseling nonprofit that locals Brad and Melissa Kent started with Summit head football coach Corben Hyatt and his wife Kristal.
Brad and Melissa approached the Hyatts about helping them start The Office Group in March of 2014, and by July of that year, they had recruited ten students. Since then The Office Group has grown every year. To manage numbers, they now require prospective students to receive a nomination from a teacher, counselor or coach before they can apply. Currently, thirty students from five different local high schools in Central Oregon are represented at The Office Group.
Hyatt says working at The Office Group was a natural fit, since as a coach he had to make sure his football players were academically eligible to play. Even now, it's Hyatt who holds The Office Group students accountable. He makes sure they're going to classes, and he checks in with them about their exams and grades.
Follett also credits Hyatt and the Kents for finding extra college funds to help pay his tuition at EOU, and it was The Office Group that helped his family wade through the myriad of complex federal tuition aid requirements.
Both the Hyatts and the Kents say the Office Group couldn't do it without their faithful cadre of forty volunteers, who help with everything from homework to college and career counseling. So far, sixty-nine students have gone through The Office Group program and they're represented at thirteen different colleges and universities on the West Coast, with one earning admission into the Air Force Academy and two others who opted to enlist in the Marines and Navy.
"What we're trying to do is level the playing field and give them the resources, so they can be successful. That may be college, it may be the trades or military. We want them to have options and put them on a successful path post-high school," Hyatt said.