When it comes to space, we don't always have as much as we might like. Do you live in a tight housing development, condo, apartment or ADU and yearn for outdoor space of your own? Whether your dwelling includes a backyard, balcony, deck, patio or front porch, a few simple steps can transform your outdoor space into a well-loved, go-to place imprinted with your own DNA.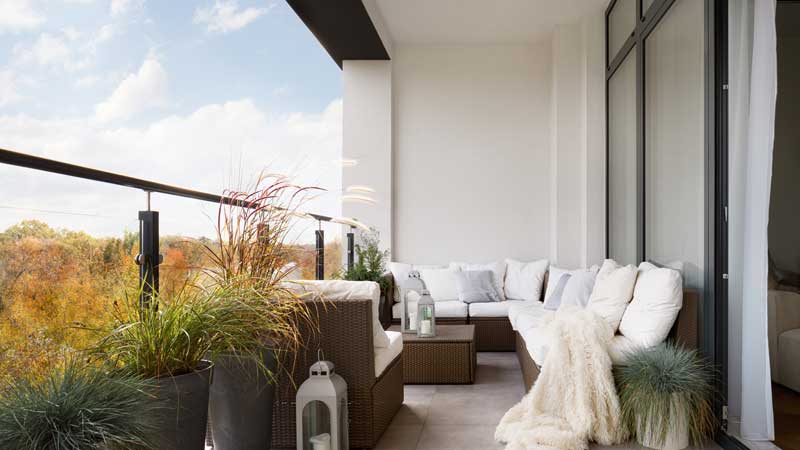 First ask yourself, what do you hope to achieve? A place for chilling? Entertaining guests or barbecues with the family? A play area for the kids?
Once you've established the purpose, you'll want a plan. Decide whether you'll need the help of a design professional or prefer a DIY approach by gathering ideas from sites on the internet like Houzz or Pinterest, going on home tours or seeing how others have created their own outdoor living space. You'll discover that good design ideas are surprisingly similar whether your space is large or small. It's a matter of scale.
Steal Ideas from the Indoors
One enduring idea is to replicate your favorite indoor room, whether it's the living room, dining room or even the bedroom. Consider traffic patterns and arrange furniture on an outdoor area rug around a patio coffee table or facing a firepit or artwork. Or set up an eating bar with stools and a buffet for food and drinks, cutlery and serving platters. If your space is a covered porch, why not consider a futon for both sleeping and enjoying your morning coffee upon waking?
If your space doesn't allow for a grouping of furniture, a bench or a couple of chairs and a small side table will suffice. Add a freestanding umbrella or hang a colorful sunshade overhead for protection against the elements. Other space-saving outdoor escapes include gazebos and leafy arbors.
In any arrangement, remember to incorporate lighting—candles, LED light strings, non-breakable lamps and even hardwired sconces and overhead fixtures. Think about storage for brooms, step ladders, garden tools and other things you'd like to have handy. Seek out furniture that can double as storage.
Plan for Mother Nature's whims
The obvious difference between inside and outside living is weather. On Central Oregon's high desert, think of your outdoor space in terms of three seasons. Spend time learning about durable materials for our climate. Wrought iron and aluminum are safe bets for tables, synthetic woven wicker for chairs. Teak and cedar are traditional choices for outdoor furniture but require more upkeep. One relative newcomer to the outdoor furniture scene is recycled plastic—look for Adirondack and smaller chairs in vibrant colors that never fade, are strong and last for decades with minimal care. For temperature swings, buy portable or overhead fans for hot weather and heat lamps for cooler days and nights.
Pleasure in the Details
Once your basics are in place, consider the many options for enhancing enjoyment.
Incorporate greenery
If you have ground space, even a small patch of lawn is a good choice for the kids and dogs, plus it keeps dust at bay and your outdoor space green. The downside is it requires upkeep.
If you have a blank wall or a place to add a screen, consider a vertical living wall. Here's one place it's worth the expense to hire a professional. Plants in a vertical garden should be selected with care—they need a water source but can become a favorite feature throughout the seasons.
Planter boxes and pots add a pop of color to Central Oregon's earthy palette. Put them on wheels and place them out of the way in corners. Incorporate shrubs, trees, perennials and herb gardens as space allows.
Birds, bees, windchimes and gurgling water
Get hours of enjoyment from watching hummingbirds chase each other around a feeder or install a bird bath and watch them flick water off their feathers. When the wind blows, as it often does in Central Oregon, chimes create music for the soul. Plant a butterfly garden or perennials that attract big beautiful bumble bees.
One of the most calming aspects of your outdoor space can be a water feature. The types of features available for home gardens are nearly limitless, from waterfalls that spill over a permanent rock formation to a portable yet elegant ceramic fountain.
Find the fire
Firepits have become insanely popular—they create warmth, light and a place to gather. Portable firepits the size of a carry-on bag can cast a long glow over the tiniest space. A table-top firepit can double as an eating area. And don't dismiss the possibility of a fireplace. You can find a custom or prefabricated version to fit a small space that will throw off living room-like warmth and atmosphere.
Remember the art
Enhance your retreat with art. Consider free-standing sculpture or wall art, traditional or abstract, in metal, glass or other materials. Let your imagination roll and infuse your private place with your own aesthetic.
With the housing world trending toward compact living and smaller homes, expand that space into the outdoors we all crave.