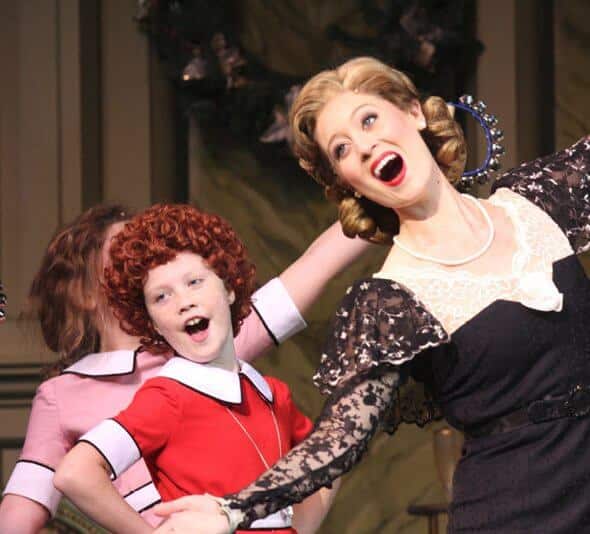 It's a rare movie or play that connects equally with adults and children without pandering to either. Yet Annie, the story of an irascible orphan with spirit of a wild horse and the voice of an angel has been doing it for 40 years on the stage and screen.
Audiences in Bend will have a chance to experience it firsthand when America's most beloved orphans sings and dance her way across the stage and into the heart of Oliver Warbucks when Thoroughly Modern Productions (TMP) brings Annie The Musical to the Tower Theatre, January 27 through February 4, 2017. Familiar tunes like "Tomorrow" and "It's the Hard-Knock Life" get a lift from Annie's unflinching optimism. Originally a comic strip by Harold Gray, Annie became a Tony Award-winning Broadway musical that opened in 1977 and ran for nearly six years. It's been a favorite of musical companies worldwide since then.
"This will be a different Annie than people expect," said David DaCosta, founder and artistic director of Bend-based TMP. "We're maintaining the tradition of Annie, keeping it in the 1930s but without the visually huge stage sets (of the Broadway production)," he said. "It will have a more personal feeling like today's contemporary musicals."
DaCosta brings twenty years of experience as a performer and as director of children's th
eater in Boston and other cities. After to moving to Bend in 2011, he partnered with musician Scott Michaelsen and choreographer Dakota Weeda to found TMP in 2011. The company is involved in several productions a year, including two shows geared for families and featuring young performers from TMP's intensive workshops where participants learn the stagecraft of acting, singing, dancing, set design and stage management. Workshops are held at the Terpsichorean Dance Studio owned by Weeda. Recent TMP credits include The Little Mermaid, Shrek the Musical, Peter Pan, Beauty and the Beast and The Wizard of Oz.
For Annie, TMP cast forty children for twenty roles so that two performers learn and take turns performing each role. "The kids are fully functional parts of all the shows," DaCosta said. Abby Busch, 11, and Katey James, 9, both of Bend, will share the role of Annie. In addition, TMP cast twelve adults for such parts as Oliver Warbucks and Miss Hannigan. – Lee Lewis Husk
Annie The Musical | January 27-February 4, 2017 | Tower Theatre