For years yards were synonymous with lawns. That's changing as more people are extending their relaxation and entertainment space beyond the four walls of their home. So how do you transform a backyard from space to a place? That takes a little magic.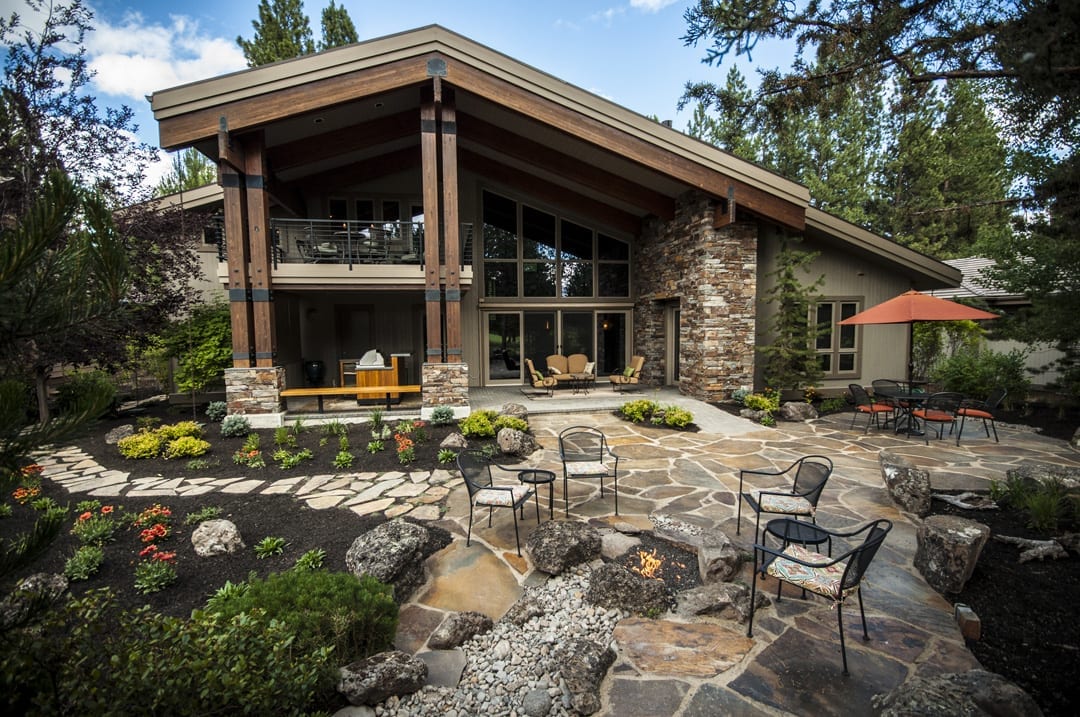 For homeowner Paul Nicholas, magic happened when he found landscape designer Suzanne Day Audette to work with him on transforming the backyard in ways that would complement the Broken Top home's architecture and divvy up space according to activities and visual preferences.
"When I bought the house, the outside didn't seem that welcoming," said Nicholas. The yard backs up to the golf course and originally had a lawn without much else of interest, except what he calls a "bad water feature." He felt that removal of the grass and water feature would be more thoughtful of water usage and compatible with the desertscape. He had no specific ideas when he hired Audette, other than to build the backyard around activities he and his family enjoy and also incorporate hardscapes for people with mobility challenges.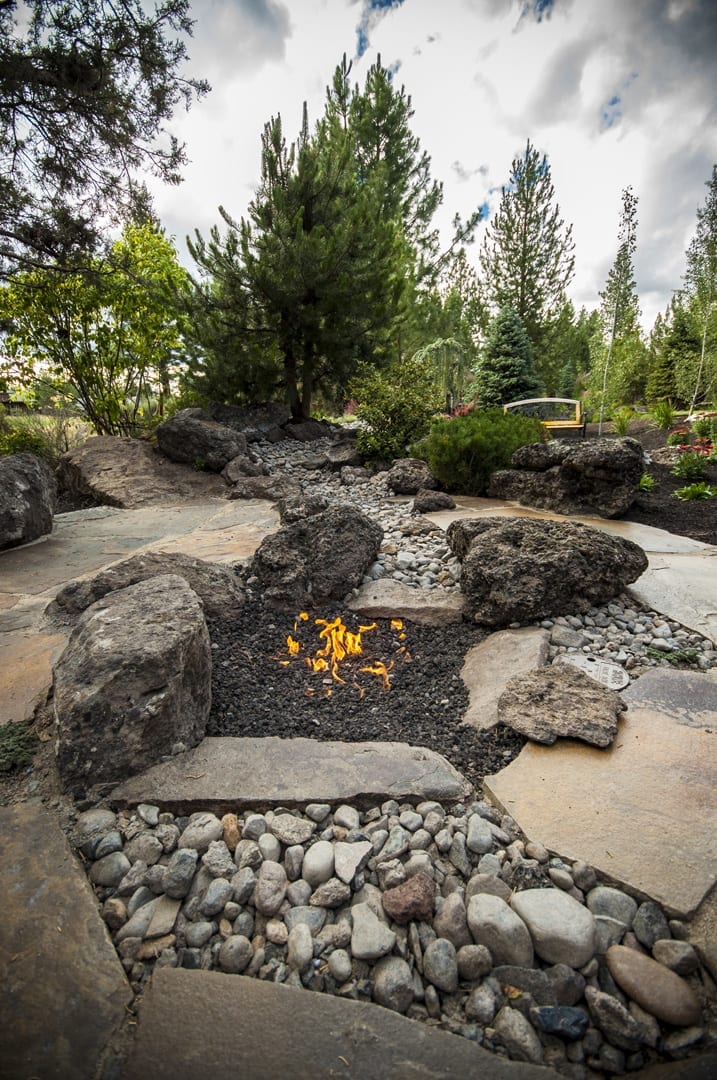 To find the right designer, Nicholas bypassed several landscaping firms that saw his project as not much more than a patio. Newport Ave. Landscaping, which would eventually do the work on the yard, put him in touch with Audette for her vision and concepts. "Suzanne and I bonded instantly over art, ideas and outcomes," he said. "Having a designer with a masters degree in landscape architecture with a sensitivity about who and how the space would be used made all the difference."
Both Audette and Nicholas agreed that a dominating theme would be to contrast the human-made environment with the chaos of nature. This meant that the outdoor space would start with a formal patio to reflect the formal interior of the home, and then become more chaotic in meandering paths, a dry creek bed that replaced the water feature, and xeriscape (low water use) plants, shrubs and trees. "As you journey farther from the home, formalities start to disappear and disorderly nature takes over," said Audette.
They also added a unique and difficult-to-accomplish fire feature set into the ground where it blends into the dry creek bed. "This is a pretty radical design for Broken Top," Audette said of the many requirements they had to navigate to build it. Like other high-end developments in wildfire zones, Broken Top allows only gas-fueled fire features and asks homeowners to clear low-hanging limbs and use noncombustible rocks. In addition, Nicholas had to hook into the natural-gas line in his home rather than at the barbecue or propane tank. The cost of running a line from a home can range from hundreds to thousand dollars, according to Audette.
Nicholas believes the cost was worth it. When turned on at night—a feat accomplished by moving a couple of rocks aside to run the controls—the flames form a ring like a campfire. The gentle warming makes it great for a summer evening, he said.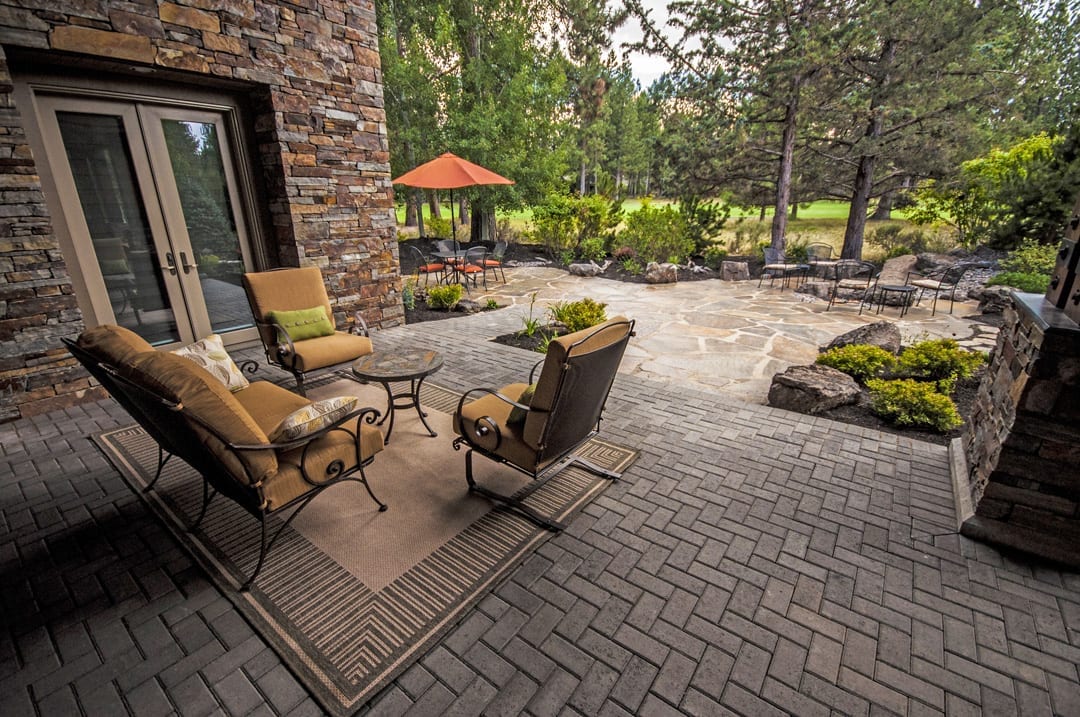 Besides the firepit, the outdoor design includes a covered and built-in barbecue, refrigerator, counter and bar stools. There's a meditation bench at the edge of the property and a table for playing cards. When the weather is too hot or cold, the covered patio just outside sliding doors provides a comfortable shelter for sitting and enjoying the yard away from the weather.
Nicholas, who works in informational technology, likes to paint large, bold and colorful paintings. In the perennial beds, Audette said she took cues from "the explosion of color in Paul's paintings," incorporating things like Paprika yarrow, Russian sage, daylilies, Shenandoah switch grass and blanket flower. A path of wandering stones leads visitors around the side of the house to a woodland garden of serviceberry, vine maple and rhododendron.
For Nicholas, the transformation from an ordinary backyard to a place where magic happens is complete. On many summer nights, he can be found grilling and entertaining outside and getting comfy around his unique firepit.