dishes prepared by kelly alexander, heather renee wong, kailey fisicaro
The Dutch oven has been around since the 1700s, but the classic cooking vessel has exploded in popularity in recent years. Look around and Dutch ovens will catch your eye everywhere. You'll see them recommended in recipes, staged on stovetops in stylish kitchens in Instagram posts, and viewed as a must-have registry item by couples who love to cook.
For cooks who love the "low and slow" method, a Dutch oven evokes a sense of well-insulated, evenly cooked joy. These old-fashioned lidded cooking pots are usually made of cast iron, offering the benefits of temperature control and of long, slow cooking.
One of the most enticing features of Dutch ovens is their versatility. They're amazing for recipes that use a combination of cooking methods, so that you can proceed through sautéing garlic until just fragrant, to browning meat, adding sauce and pasta, bringing to a boil and layering on cheese to finish cooking in the oven.
The renewed interest in these centuries-old kitchen accessories comes at a time when many Americans are trying to slow down cooking again. For decades now, we've been in a hurry in the kitchen, feeling the need to make things quick, easy, disposable and shelf-stable. While a can of sauce or store-bought stew may be nice to have in a pinch, there's something to be said for recipes that are still quite simple, but fresh and truly homemade. That's the line of thinking for Matt Perry, owner of Bend's Savory Spice Shop franchise.
"A slow cooker or Crock-Pot is basically the newer version of the Dutch oven," Perry said. "You can leave it without leaving fire on in your house."
But with so many people staying in and working from home through the pandemic, he added, more people are comfortable turning back to slow cooking in a Dutch oven because they can keep an eye on things.
Dutch ovens are a great vehicle for some delicious recipes on the stovetop, in the oven or even over a campfire. In addition to the versatility mentioned above, they're a kitchen item to be treasured, as they can last a lifetime. A blender you get in your twenties might not see you through college, but a well-cared-for Dutch oven can take you through decades of holiday brunches and dinners.
Perry has had a Le Creuset Dutch oven for about ten years and uses it often to make a Savory Spice Shop pot roast recipe, Thai coconut curry soup, chili and other foods. Le Creuset Dutch ovens are one of the brands lauded for their ability to last generations. And there's just something about using a Dutch oven that makes cooking that much more special.
  If you're already the proud owner of a Dutch oven, you're well aware of just how rewarding it is to cook with one.
"It's just a nice way to cook that has pretty simple steps where the result makes you feel like you're a really good cook," Perry said.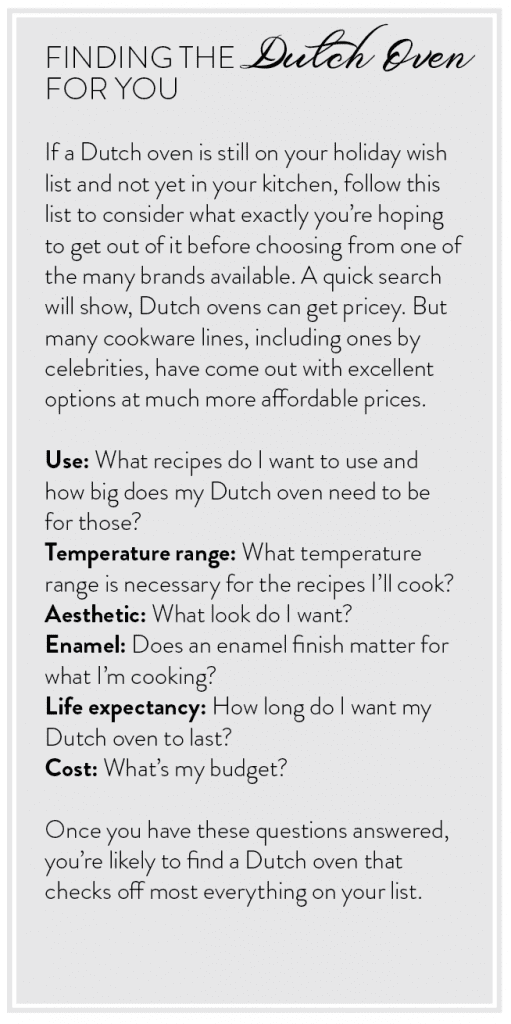 During the holidays, in addition to braising roasts or other meats as a main course, Perry said he's sure to make mulled cider in his Le Creuset every year. Part of what makes cooking with Dutch ovens feel so impressive is the way delicious scents are sure to emanate from them.
"It's a great way to take a piece of meat or vegetables, and you can put so many flavors in and let it meld it together for hours," Perry said. "That's ideal for flavor. You think about historically the types of food we love from different cultures, like curries or Mexican moles, or chili from around here, it's all about low and slow pots with liquid, meat and vegetables, and the longer they cook the better those flavors get."
At Savory Spice Shop they offer a spice set called "one pot wonders" that works well for low and slow cooking—whether that's in a Dutch oven or an electric slow cooker.
As the public's recent obsession with bread-baking has shown us, Dutch ovens are also an amazing conveyor for homemade no-knead or sourdough loaves. According to the King Arthur Baking Company, the secret is the steam that the insulated, lidded Dutch oven traps inside. Steam is key to a wonderful bread crust, and what makes cinnamon rolls made in a Dutch oven an absolute delight, especially as a holiday morning treat for a full house.
Dutch ovens offer us a time-tested way to complete many of the cooking traditions we love around the holidays: taking our time making a meal, filling the house with the smell of rich savory or sweet flavors and having the ability to feed a crowd with something warm and made with heart.
Try these other tasty Dutch oven recipes!