A year ago, most families spent their days away from home: in classrooms, gyms and offices. Designing spaces for kids meant choosing fun bedroom colors and décor, and homes were more of a refuge to enjoy after the school and workday finished. The COVID-19 pandemic and stay-at-home guidelines have brought a new normal to how families live in their homes. These days, busy families need to incorporate work, school, play and fitness into their home life, and seek spaces that flex to accommodate more activities—especially for kids.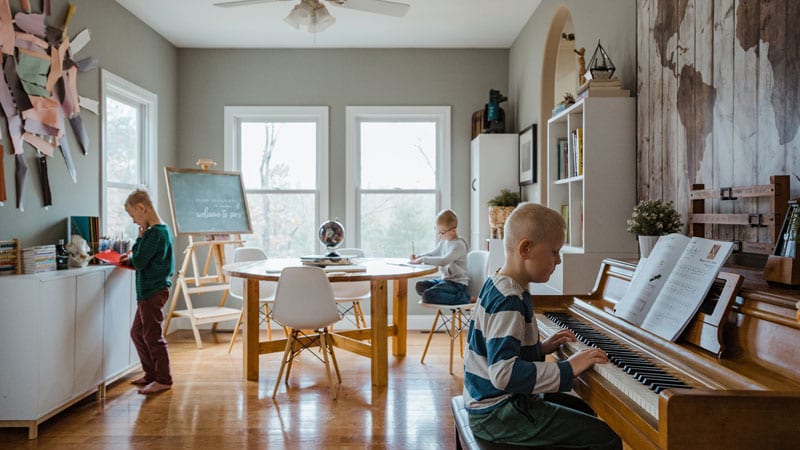 Design for the younger generation now involves much more than choosing paint and bedding. From toddlers to teens, kids need quiet spaces to study and read, loud spaces to move and blow off steam, creativity stations for messy art projects, and ways to connect virtually with friends. Their parents need room, too, for home offices and exercise. How can one household do it all while keeping kids organized, happy and productive?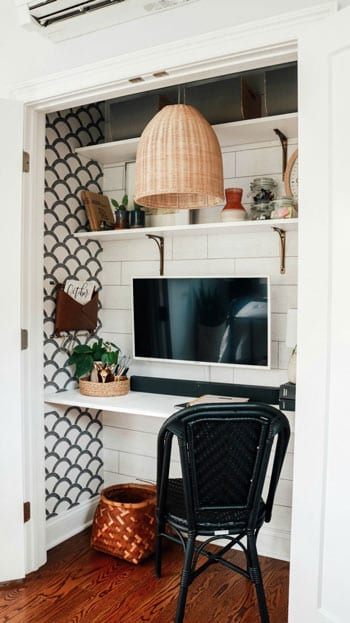 CREATING FLEXIBLE KID SPACES
Designers suggest the first step is a fresh look at underutilized spaces. Attics, basements, even that nook under the stairs can be reimagined into kid zones. Cluttered closets can transform into study spaces (AKA a cloffice, or closet-office) with a countertop desk backed with corkboards or whiteboards. An empty wall can become a climbing gym, studded with rock wall hand and footholds. And that nook under the stairs? Perfect for a cozy reading hideaway.
Sometimes the best way to find extra space is to look up. Lofted platforms double the usable space. Small lofts create play areas with storage below, or loft the whole bed. Keep it low for little ones with easy access steps and a slide, or raise it up college dorm-style for teens, with an inviting study area or a hammock hung below. Even the ceiling can come into play, with monkey bars or hanging rings.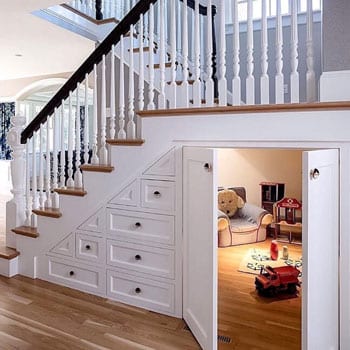 Creative use of partition walls makes dividing shared spaces easier. Whether used to split a bedroom for two kids, or separate a playroom into quiet and active sides, partitions offer extra wall space for hanging dress-up costumes, displaying artwork, or creating a felt or magnet board. Free-standing bookshelves make effective partitions, with catch-all baskets to scoop up everything from Legos to laundry. Extending desktops from the middle shelves on both sides of the bookshelf makes matching work areas for kids who share the space.
DESIGNED FOR LEARNING
When kids learn at home full-time, their study area matters more than when they just did homework. Blending academics with home décor means even the walls can inspire curiosity and learning: try a chalkpaint wall for everything from spelling lists to Venn diagrams, or a world map mural for future globe-trotters.
Choosing furniture to fit each child starts with considering individual needs. Is one child extra fidgety? Choose a wobble stool or a balance ball for their desk. Got a budding artist in the house? Set up an art table with easy-to-clean hard surfaces, and a pegboard to corral art supplies. How about the child who needs some alone time? An indoor teepee works well as a designated quiet spot, equipped with a weighted blanket and comfortable cushions.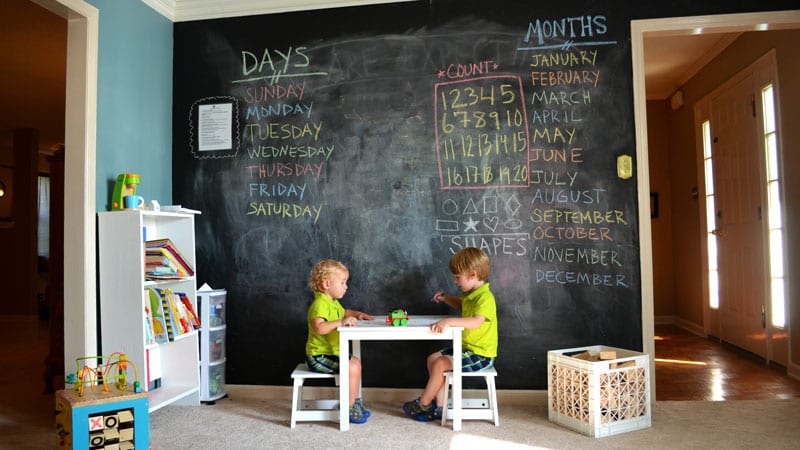 Size matters when it comes to chairs and desks: feet should reach the floor easily, and the table edge should meet their lower ribs. Look for chairs with adjustable height that can grow with the child—and consider adding a second one for mom or dad to pop in and help with lessons. Lighting matters too—desk time is easier on the eyes with proper task lighting from a 40- to 60-watt bulb aimed at the work surface, plus softer ambient lighting.
Managing kids' digital lives should be part of the design plan too—for both learning and socializing. As social distancing keeps kids apart from friends, multi-player video games let them stay connected. Kids appreciate a gaming space with low comfy recliners, and dimmable lighting. Mounting old skateboards as shelving in the game area serves two purposes: they're just the right width for controllers, headphones, and game boxes, and they're a subtle reminder to head outside for some fresh air and exercise.