---
Late July or early August, when warmth has folded itself into Central Oregon's evening air, beer gardens reemerge as the scene for beer lovers.
---
This beer garden scene ranges from chill to carnival, casual to canine-friendly. Here are our top five picks for soaking up sun and libations this summer at local breweries' beer gardens.
Worthy Brewing Company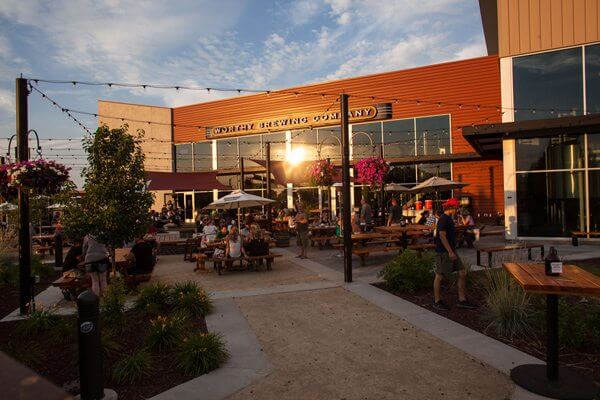 Address: 495 NE Bellevue Drive, Bend
Summer Hours: 11:30 a.m. – 9:00 p.m. on weekdays, 11:30 a.m. – 10:00 p.m. on weekends
Dog-friendly: Yes, leashed only
Minors: Allowed all hours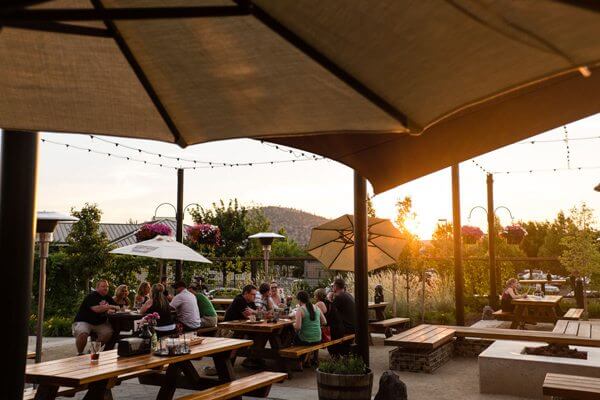 If you don't mind waiting for a table on a Saturday night, Worthy is a lively place to gather with friends for grub, beer and music on Bend's east side. Worthy's take is a well thought-out and cleanly landscaped space surrounded by a wood-framed fence. Amid the small trees, shrubs and hanging flower baskets are several wooden picnic tables beneath a canopy of strung lights. On either sides of the seating areas are plots of grass for kids and adults to play lawn games. To alleviate the crowd at the indoor bar, Worthy has a small outdoor station that pours four of their best-selling beers. There's also a small stage with live music on the weekend.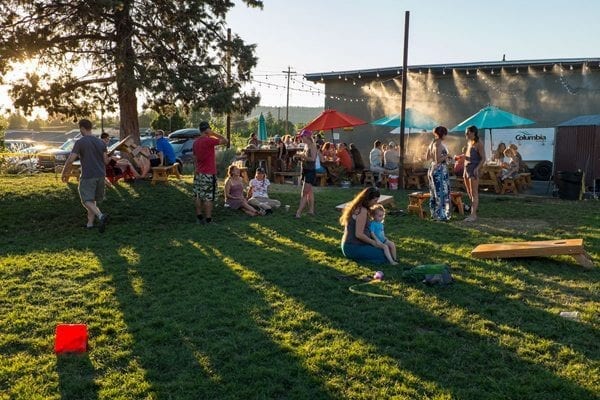 Address: 50 SW Division Street, Bend
Summer Hours: 11:30 a.m. – 10 p.m. every day, except Monday from 4:00 p.m. -9 p.m.
Dog-friendly: Yes, leashed only
Minors: Allowed all hours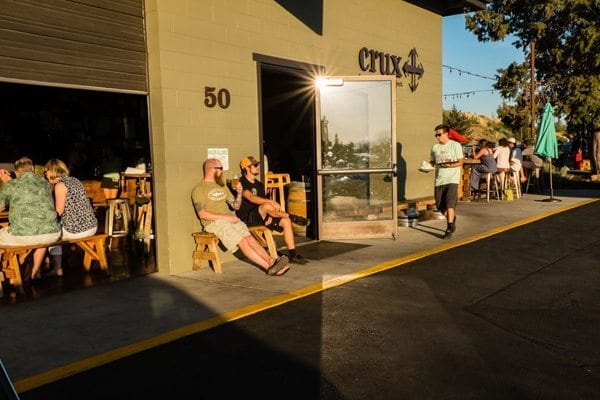 Crux's outdoor seating area feels a lot like your fun friend's backyard. With a spacious field and equipment for the game cornhole, it's the perfect place to bring the kids and the dogs. There is a beer style on tap for any beer lover. Saison and barrel-aged fans, in particular, will be thrilled. Notable is the happy hour, beginning a half-hour before sunset and ending a half-hour afterward, with a dollar off draft beers and two dollars off appetizers. Gather by the fire pit with a glass of discounted beer and watch the sun set over Crux's gorgeous view of the Cascades. Crux has a menu of soups, salads and sandwiches, and provides service to part of its outdoor seating area. However, the local favorites are the Broken Top BBQ truck and El Sancho Taco Shack out back. At least one of these is open every day, usually mid-afternoon through nine or ten at night. El Sancho's tacos have a cult-like following, but check their Facebook to make sure they are not at a festival.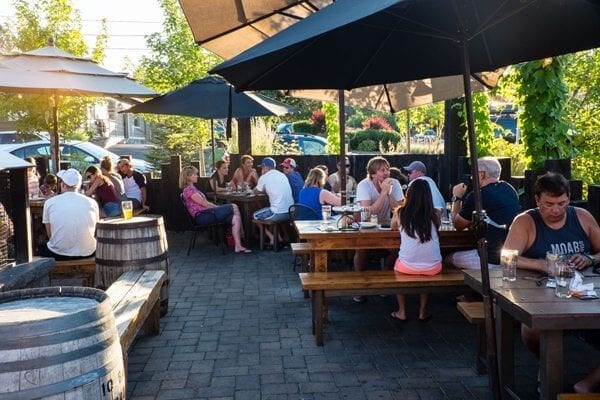 Address: 1135 Northwest Galveston Avenue, Bend
Summer Hours: 11 a.m.-11 p.m. on Sunday-Thursday, 11 a.m.-12 p.m. Friday and Saturday
Dog-friendly: Yes, leashed only
Minors: Allowed all hours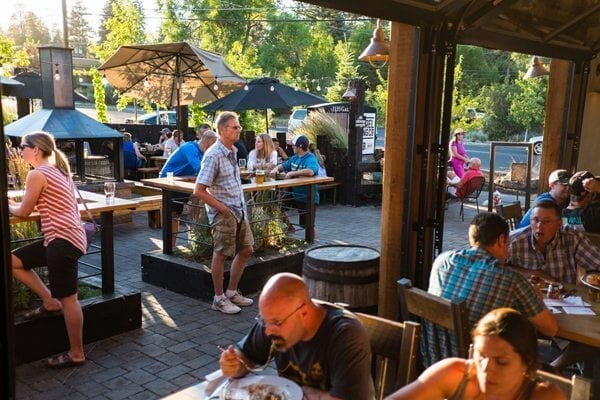 10 Barrel's Bend pub, more a restaurant than a brewery, sets the standard for beer patios in Bend with a cozy courtyard with wooden tables enclosed by a rustic wooden fence. The centerpiece is a large stone fireplace with benches surrounding it. While you'll almost certainly be waiting to get a table here, there is an open seating area with a few tables near the outdoor bar for those over 21. 10 Barrel's location is ideal for the 20-something crowd traipsing through a neighborhood on Northwest Galveston where doughnuts, Mexican food and other bars are just a short stroll away.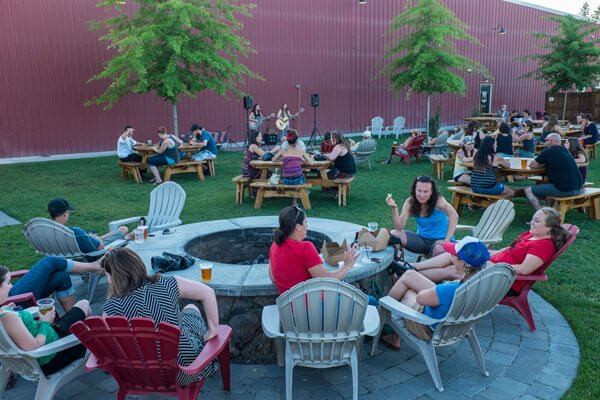 Address: 70 Southwest Century Drive #100-464, Bend
Summer Hours: 12 p.m. -10 p.m. every day
Dog-friendly: Yes, leashed only
Minors: Allowed all hours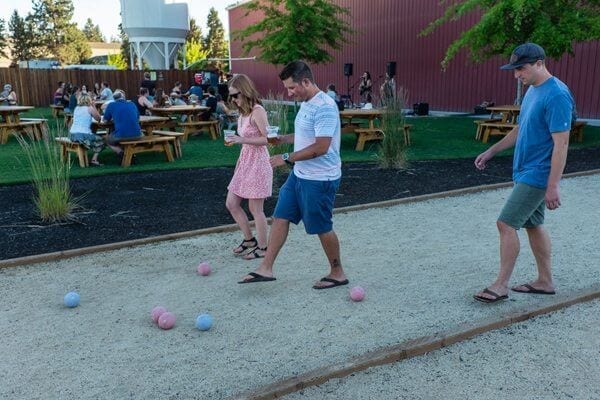 The Biergarten at GoodLife Brewing is nearly its own park. The extensive grass lawn is partly fenced in, with the dark red, barn-like brewery bordering one side. As you enter the space, you'll find a bar to your right that has a handful of GoodLife's staple beers on tap. There is a smattering of picnic tables and lawn chairs scattered throughout, still leaving open space to roam. A family-friendly space, the Biergarten is complete with a round stone fire pit, room for two cornhole competitions and two sand courts for bocce ball. One food cart, Big Ski's Pierogi, is always available onsite, in addition to the classic pub food offered by GoodLife inside the Bierhall, featuring soft pretzels with beer cheese sauce and beer-battered doughnut holes.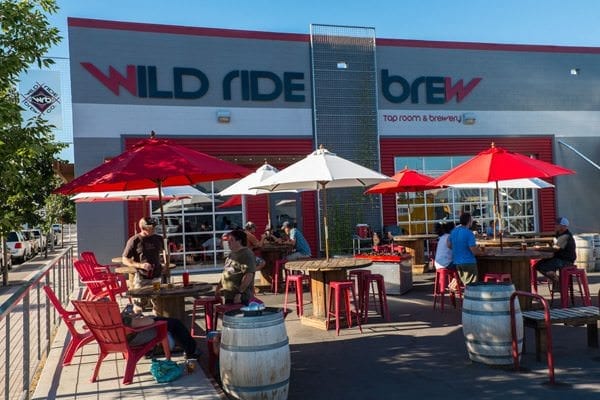 Address: 332 Southwest 5th Street, Redmond
Summer Hours: 11 a.m. – 10 p.m. every day
Dog-friendly: Yes, off-leash allowed (but not recommended)
Minors: Allowed all hours
The tall tables and bright red stools of Wild Ride's al fresco-focused brewery are essentially in the parking lot. And yet, it works. It's a basic, no-frills kind of spot that lets the beer speak for itself. Wild Ride sticks to the beer and leaves the food to its two food cart vendors onsite that rotate every three to six months, according to bartender Shane Sturza. The current rotation includes Food Fellas, McBain's Fish and Chips and The Jerk Kings. "We both do what we do best," said Sturza. The service at this Redmond brewery is impressive. While outside patrons are left to their own devices at many establishments, they are attended to often by Wild Ride's staff, making sure you're never left without something to quench your thirst.
---
Click here to read more about our local food and restaurant scene.