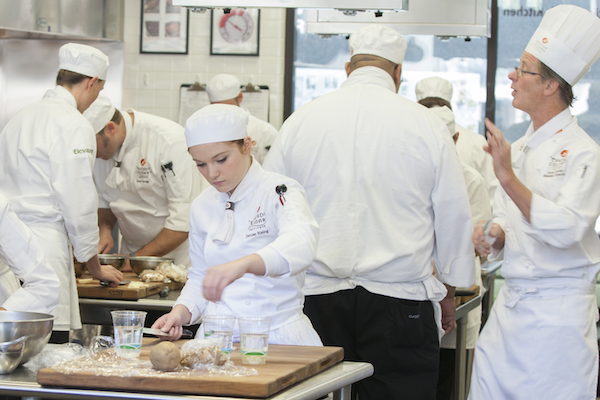 A white tablecloth experience isn't typically associated with college, but for diners at Central Oregon Community College's Cascade Culinary Institute student training restaurant, Elevation, the courses are upper level. Located on the COCC campus in an airy, modern $3 million building, lunch and dinner is served in fine dining style, with largely organic, seasonal and local ingredients.
Staff members are students in the midst of their two-year culinary training. Students are required to work in the front of the house (dining room), as well as the back of the house (kitchen). "This cross training not only broadens the learning experience, but also allows students to understand the importance of communication and respect," said chef instructor Thor Erickson. Though small service blips in the dining experience do occur, they are mitigated by a staff that is ready to remedy any situation. Review forms encourage feedback. Erickson said that students benefit from hearing guests' expectations and experiences.
Because the goal of the establishment is education over profit, the fine dining, seasonal menu is presented at light fare prices. Smoked wild salmon cakes ($8) with an Asian touch are the perfect density and DINING texture. A white bean and root vegetable cassoulet ($12) highlights the best flavors Central Oregon soil can grow. Tender filet mignon ($20) is grilled to the temperature of one's desire with prime steakhouse accuracy. Even if much of the staff can't yet legally drink, Oregon wines and beers are plentiful, and the desserts are worth reviewing.
"Guests enjoy themselves so much, they sometimes forget that they are at a culinary school," said Erickson.
Lunch Thursday and Friday, starting at 11:30 a.m.; dinner Wednesday-Friday, 5:30 p.m. to close. Reservation-only: elevationbend.com