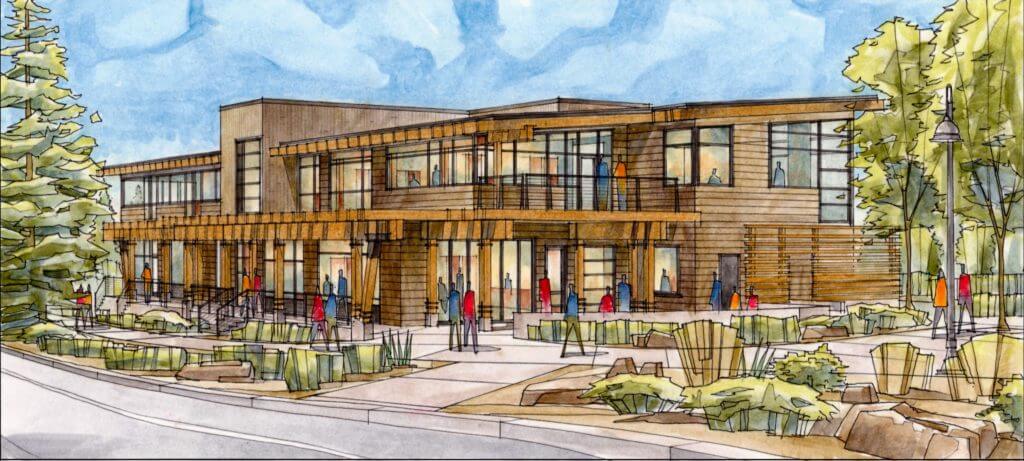 Just in case you were wondering about the construction in Northwest Crossing—so were we. It's been almost a year since builders broke ground on the Trend Building at 900 NW Mt. Washington Drive, now the project is nearing completion.
Slated to open sometime in Summer 2016, the new mixed-use building at the intersection of Mt. Washington and NorthWest Crossing Drive brings a new restaurant, offices and retail space to the heart of the planned community located on Bend's Westside.
Leasing the largest space on the first floor, a new restaurant will feature a bar, patio and takeout window to serve up food for the neighborhood. Ted Swigert, owner of Drake Restaurant downtown said the space was designed with Bend locals in mind.
"It's a fun, creative neighborhood, and we're hoping the location will reach residents," Swigert said, "We're going with creative, American cuisine that's more approachable for families."
Designed with post and beam construction, the modern 14,000-square-foot building incorporates a simple and linear design. Architect Darren Thomas incorporated floor-to-ceiling windows that will display views of the Cascade Mountains while flooding the space with natural light.
"This will introduce Northwest contemporary design in office buildings," said Shayne Olsen of Sace Inc., the company developing the property, "It's something that hasn't been done yet on this scale in Bend."
The commercial corner houses thirteen spaces on two stories, and Olsen said he is expecting tenants to move in sometime in May 2016.